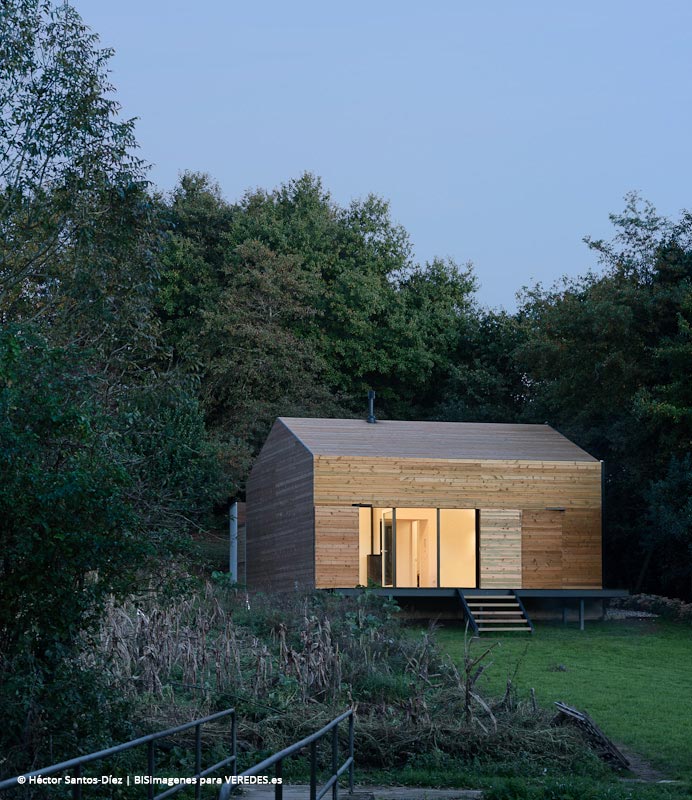 One of the secrets better avoided the City of Santiago de Compostela we find it on the banks of the Rio Sarela … To only a kilometre of the Cathedral, it is precisely in this place where there takes place the exceptional singularity of the survival of the last contact between the historical city and his rural territory of origin, with a wealth of shades in the transition between the urban and rural thing that they turn into one of the most singular spaces from the environmental point of view of the immediate environment of the city.
A place where there is mixed the agrarian thing, the domestic thing or the industrial thing, combining to the perfection his public use as source of resources, of spaces of work and of entertainment, as well as of fishing, game and enclosed bath.
At present, a fluvial walk accompanies in his tour the Sarela doing of this magic place one of the spaces of public use in direct contact with the nature more emblematic of Santiago. A path completely embraced by oaks and typical vegetation of the Galician banks: alder-trees, birches, willows, etc; in that we can find still to day of today former mills and factories of tanning of leather.
With the aim to promote this territorial relation with the city there develops the Special Plan of Conditioning and Reparation of the Rio Sarela and his environment, and that will be of direct application in the area of our action.
In this context, with direct access from the fluvial walk and to scanty meters of the river, there arises the opportunity of the rehabilitation of a housing with alpendre and approximately 700 meters of estate, constructed at the beginning of the 60s, of modest construction.
In spite of his important condition of abandon and conservation, it is not difficult to imagine the vitality and spatial wealth of last times. Surrounded with areas of culture, his scale and position have established a relation with the environment that somehow we must recover and promote…
This relation will have as silent protagonist the wood that so generously it embraces and accompanies on his environment… The surrounding One of wood of pine cuperizado crosses the closings renewing his skin and providing to the necessary set of the character and uniformity. A great large window fits the space… A system of exterior shutters they leak and classify the different degrees of intimacy and relation, simultaneously that provide to the set of his gatherings of great dynamism and protection. A room, a bath, a space in double height, a lucernario, a chimney and a furniture – stairs complete the scene… Little more it would be necessary to add to this project with vocation of imperfect and spirit of integration…
Work: Rehabilitation of Housing Sarela_Rehab.
Location: Río Sarela, Santiago de Compostela, A Coruña, Spain.
Authors: 2es+_oficina de arquitectura (Álvaro Marín Durán – Alfonso Castro Lorenzo)
Construction company: Emac Proyectos y Obras
Promoter: Private
Typology: House. Private work.
Year: 2016
Photography: Héctor Santos-Díez | BISimages
+ dosesmas.es