Lodging and museum are structured in a building catalogued Well of Cultural Interest. A reversible and functional rehabilitation, with grafts that put in value the original building.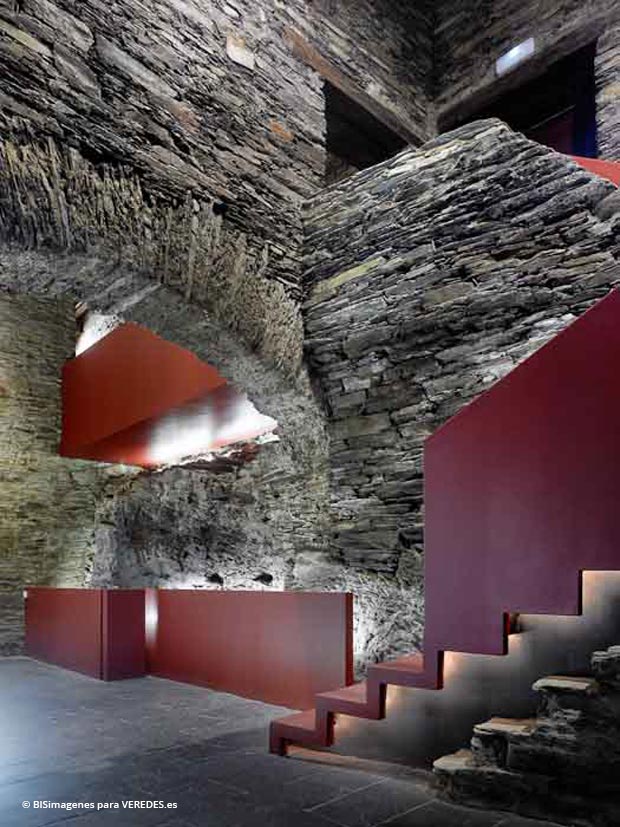 Girders recover, soils of wood and carpentries in good condition supporting his architectural original configuration. The axis preexisting north – south of the building distributes to both sides the uses of lodging and museum.
Two cores of communications connect the most public spaces with the most private and all of them with the services in the different plants of the building.
Clear reading of constructive new elements opposite to traditional technologies of construction.
The linear piece that contains the stairs, distributes the uses of the lodging and connects three plants simultaneously that the stairs of the museum establishes a tour that thinks up for spaces of different forms and heights, across the tower, corridor, and the choir of the chapel accentuating the spatial interior wealth of the building.
There are used sustainable means of energetic contribution, as solar collectors and a half of regulation of energetic capture in the new fronts.
The new elements regulate the environmental comfort at the time that they organize spaces, generating a new public building comfortable and easy to live.
Work: Rehabilitation Casa Grande lodging – museum in Lusío
Authors: Hermo Iglesias Veiga Arquitectos | Víctor Hermo Sánchez, Juan Iglesias Veiga, Iván López Veiga
Collaborators: Ana Mª Arbones Suances, Mª Carmen Carballeira Rodríguez, Anabel Ortiz Conlledo, Celsa Pesqueira Sánchez, Natalia Poveda Santamaría
Year: 2007-2009
Location: Samos, Lugo
Promoter: S.A. de Xestión do Plan Xacobeo
Construction Company: Dicsa
Structure: Francisco Carballo _Carolo Losado
Facilities: Eduardo Gómez Ramos and César Themudo Goday
Photography: Héctor Santos-Díez | BISimages | Iglesias Veiga arquitectos
+ iglesiasveiga.es
Búsqueda para satisfacer el conocimiento de la actividad arquitectónica y tangentes que se generan. La idea es crear un espacio para divulgar los diversos proyectos en busca de nueva inspiración y de intercambio.