Since in all our works we depart from a series of determining, that we analyze and introduce in our project to obtain of a "simple and direct" form the solution final that better one adapts to the place and to the needs of the client, in this case an equal young woman with a son.
Determining of the clients.
Two were the things that were worrying the clients, first to support the major possible height in all the spaces since we were departing from an approximate height of 3,20 meters.
Secondly there were his needs like users of the attic, three rooms, two baths and to be able to enjoy the terrace that had been eliminated, partly, by the previous owners.
Determining of the configuration of the attic.
Since already we have commented in the previous point on the maximum height it was 3,20 meters but there existed three porticoes that were reducing of punctual form this height to 2,70 meters.
The existence of these porticoes that in a beginning could look like a hándicap was the key to come to the final solution since we choose to use the porticoes and the fronts as the elements that would help us to delimit three zones of the housing, zone by day (he cooks, to be and terrace), zone of relation (baths, dressing room and distributor) and zone by night (rooms).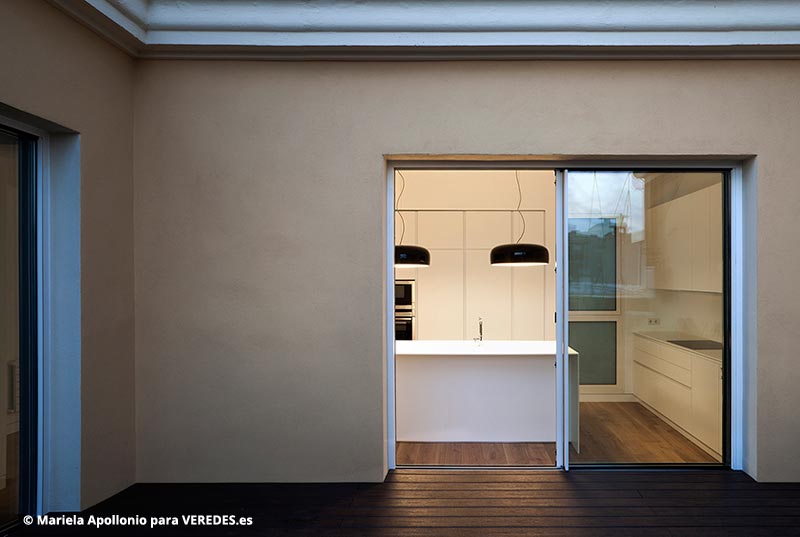 Offer.
After presenting several proposed our clients one chooses to create a great central space occupied by the kitchen – dining room zone for the one that one accedes to the housing that close to the zone of being they form the zone by day.
These two stays enjoy the exterior space of the terrace that now yes happens to be an important part of the attic, one of the principal worries of the clients and ours from a beginning.
A space that nothing more to enter the attic appears as the great protagonist.
The zone of relation formed by both baths, a dressing room and the distributor's zone to the rooms, is the only zone of the housing in the one that diminishes the height.
This helps us to solve the air conditioning and all the facilities of the housing without concerning at a height of the most important spaces.
Finally one finds the zone by night formed by three bedrooms of very similar size illuminated across the court of apple.
Work: Reform of attic in Valencia
Architects: DG Arquitecto Valencia (Isabel Roger Sánchez + Daniel González López)
Location: Valencia, Spain
Year: 2014
Construction: ELO construcciones
Kitchen: Buraglia
Photography: Mariela Apollonio
+ dgarquitecto.blogspot.com.es
Búsqueda para satisfacer el conocimiento de la actividad arquitectónica y tangentes que se generan. La idea es crear un espacio para divulgar los diversos proyectos en busca de nueva inspiración y de intercambio.