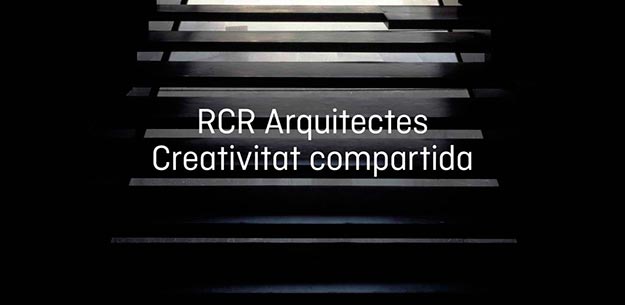 The next exhibition that will shelter the Museum ICO in Madrid, "RCR Arquitectes. Shared creativity", it will show more than 25 years of professional path of the Catalans Rafael Aranda, Carme Pigem and Ramon Vilalta, at the head of the study of architecture RCR Arquitectes.
Between the works that will be in this new exhibition of the year 2016 in the Museum ICO one finds the Museum Soulages, in Rodez (France), for which RCR Arquitectes got last October 28 the First Prize in the PAEI (Prize of Spanish International Architecture 2015), inside the modality of architecture, which grants the Top Advice of Architects' Colleges of Spain.
RCR believes a telluric architecture that seems to have be expelled by the volcanoes that Olot surrounds. Realized with materials of enormous expressiveness (I steel cortén, natural stone without refining, seen concrete, big surfaces of glass …), his buildings are founded with the landscape that they agree, desmaterializando the limits between interior and exterior to obtain a major communion of his inhabitants with the nature. Models, sketch, diverse elements of construction used in his buildings and audio-visual they constitute a part of the materials that shape this sample. Between them, the drawings, sketches and water-colors play a basic paper in the phases of project and materialization of his buildings.
"This one is the first exhibition of the three that will shelter the Museum ICO throughout the year 2016. We are sure that it will provoke so much interest as those of previous years, since it is a question of one of the Spanish studies of architecture with more prestige and international projection. With " RCR Arquitectes. Shared creativity " we want, from the Museum ICO, to continue bringing the Spanish current architecture over to the whole company, that pivotará this year between Catalonia and Andalusia, wherefrom we will bring from October the work of Sevillian Cruz & Ortiz".

Mónica de Linos, Director of the Foundation ICO.
The exhibition of the Museum ICO "RCR Arquitectes. Shared creativity" is the merger of the samples "RCR Arquitectes. Shared creativity" (Palau Robert, from March 26 to September 13, 2015, with more than 70.000 visitors) and "RCR Arquitectes. Papers" (Arts Santa Mónica, from May 19 to September 13, 2015), organized, respectively, by the Department of the Presidency and the Department of Culture of the Autonomous government of Catalonia of Catalonia, in collaboration with RCR · BUNKA private Foundation.
"RCR Arquitectes. Shared creativity"
On February 24 on May, 8, 2016
ICO Museum
Admission free
Búsqueda para satisfacer el conocimiento de la actividad arquitectónica y tangentes que se generan. La idea es crear un espacio para divulgar los diversos proyectos en busca de nueva inspiración y de intercambio.