In response to both the temporality of the facility and the context where is located, Peris+Toral stands up for a detachable and reusable construction that minimizes the trace on the territory: a scaffolding system as structure and
formal solution of the project.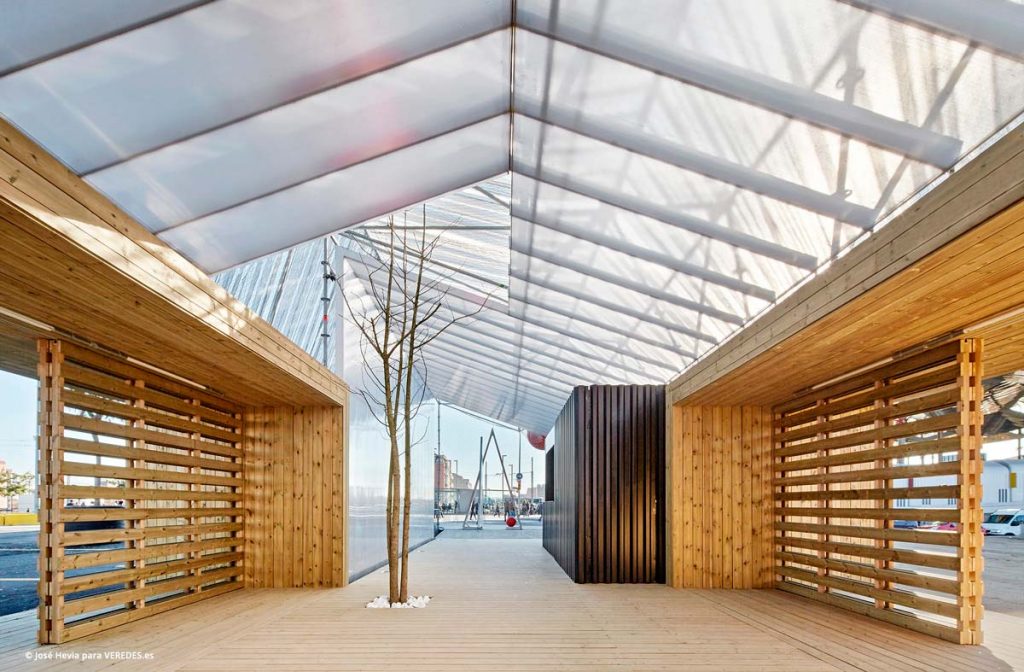 This temporary facility built a year ago by the Catalan practice Peris+Toral, is part of the provisional urbanization of the Glòries Square in Barcelona. With this project, the studio reasserts a new way of working and enhances its search for new solutions and constructive processes.
The facility is thought to be an information point, an exhibition area about the proposed project of the square and rental point of electric bicycles. Is located in a crossroads of pedestrian circulations; which crosses the square towards the sea-mountain and another which transversely connects the two nearby facilities: nursery oaks and the new pergola.
In its temporary condition, the construction is subtly integrated into the transformational environment of Glòries Square. Its linear shape, materials and its structural system highlight both their ephemeral character and the idea of permeability.
Along these lines, scaffolding acts as a support of the three envelopes necessary to provide habitability to the construction: an impermeable and translucent polycarbonate skin, a shade mesh and a metal mesh as a protection. The areas which host the internal program and services are solved by two structural prefabricated modules of site hut, whereas wood on the pavement and on the transverse thresholds provide warmer areas in the facility.
Work: Information Point in Glorias Square. A Scaffolding System for a Temporary Facility
Openning: Enero 2015
Site: Las Glorias square, Barcelona, Spain
Area: 300 m2
Budget: 168.579 €
Client: BIM/SA
Architect: peris+toral.arquitectes
Marta Peris, José Manuel Toral, architects
Collaborators: Izaskun González, student
Structure: Manel Fernández Bernuz- Fernandez aquitectes S.L.
Systems: Jaume Pastor, Eletresjota tècnics associats S.L.
Architecture: Ana Espinosa, Leticia Soriano
Builder: BENITO ARNO E HIJOS
Scaffolding: LAYHER S.A.
Twisted wire mesh: MUROX, Bianchini Ingeniero S.A.
Polycarbonate: AISLUX, Policarbonato, construcciones metálicas Pulpón
Shade wire net: SOLAN S.L. (GRUPO ALCONSA)
Prefabricated modules: BALAT MODULOS
PREFABRICADOS
Woodwork: PARKESTIL S.C.C.L.
Metalworker: TOKIO METAL S.L.
Systems: KREUM S.A.
Photography: José Hevia
+ peristoral.com
Búsqueda para satisfacer el conocimiento de la actividad arquitectónica y tangentes que se generan. La idea es crear un espacio para divulgar los diversos proyectos en busca de nueva inspiración y de intercambio.