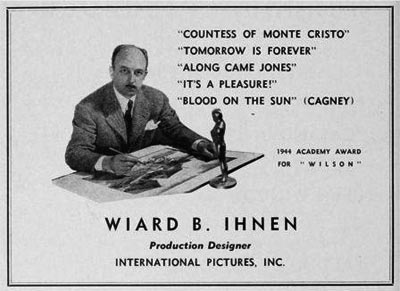 Looking for information about art directors in former magazines, I found this advertisement in a yearbook of 1945 published in The United States.
Wiard B. Ihnen, was a son of an architect, he studied this career in Columbia and later in the École des Beaux-Arts in Paris and managed to design some buildings in New York. It began to be employed at the cinema at the end of the first decade of the century at producers of the East coast and moved back in the sixties. He was married with the famous designer of wardrobe Edith Head from 1949 up to his death thirty years later because of a cancer of prostate. When the advertisement published he was forty eight years old, it had just gained an Oscar for Wilson (Henry King) and still it could not know that the same year they were going to give him other one for Blood on the Sun (Frank Lloyd)It is curious that in the list of movies it does not mention the directors and the only name is that of James Cagney, especially bearing in mind that already had worked with geniuses as Fritz Lang in The Return of Frank James (1940) and Man Hunt (1941), and also there is significant this statuette of the Oscar who has on his board of drawing, possibly added to the original photography, bearing his strange deformed form in mind.
When I see this photography with the look of sure and fixed Ihnen in the aim, I think about what he would be thinking, if it would make illusion publish the advertisement in the yearbook and if it would serve for something, if some producer saw her and contracted it thanks to this look, the drawing of the board and the hunchbacked Oscar. But it already we will not be able to know it, only we know his work that has remained fixed in the celluloid of the movies at which it was employed for fifty years.
Jorge Gorostiza, architect. Author of the blog Arquitectura+Cine+Ciudad
Santa Cruz de Tenerife, september 2012
Doctor arquitecto, proyecta y construye edificios y desarrolla trabajos de urbanismo. Desde 1990, publica numerosos artículos sobre cine y arquitectura en medios de su localidad, revistas como Nosferatu, Nickleodeon, Academia, Lateral, Cahiers du Cinema… y en varios volúmenes colectivos. Entre el 2000 y el 2005 dirige la Filmoteca Canaria. Imparte conferencias sobre arquitectura y cine en instituciones como el CAAM en Gran Canaria, la UIMP, el CENDEAC en Murcia, INCUNA en Gijón, Fundación Telefónica, la ETS de Arquitectura y el CCCB de Barcelona, las ETS de Arquitectura de La Coruña, Sevilla, Valencia y SEU madrileña, La Ciudad de la Luz en Alicante, la UNED en Pamplona, en varios colegios de arquitectos, así como en las universidades del País Vasco, Gerona, Valladolid, Málaga, Granada, SEK en Segovia y CEES de Madrid. Jurado en varios festivales cinematográficos, como los de Alcalá de Henares (2001), San Sebastián (2002), Sitges (2003), Las Palmas (2005) y Documentamadrid (2005), y comisario de las exposiciones Constructores de quimeras. (Centro Conde Duque, Madrid, 1999) y La arquitectura de los sueños (Capilla del Oidor, Alcalá de Henares, 2001).
He publicado bastantes libros y muchos artículos, he impartido conferencias, he sido comisario de exposiciones y jurado en muchísmos festivales. Si quieren saber más no duden en consultar mi blog ARQUITECTURA + CINE + CIUDAD.