Psicofetsac. ETSA CORUÑA. 12 to 16 April of 2010.
Psicofetsac is a festival of architecture organised by students of the technical school superior of architecture of Coruña that concentrates workshops, conferences, exhibitions and other activities throughout a real week. These meeting were begun to carry out in 2009 with the argument of the circus that tied all activities.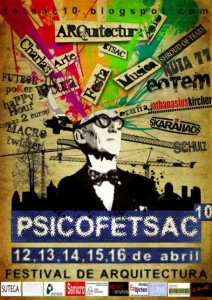 + http://fetsac10.blogspot.com
Búsqueda para satisfacer el conocimiento de la actividad arquitectónica y tangentes que se generan. La idea es crear un espacio para divulgar los diversos proyectos en busca de nueva inspiración y de intercambio.