Inside the cycle " Architects and architecture " organized by the cultural association Valle_inclan in collaboration with the Delegation of Lugo do Architects' College and with the foundation Arquia it(he,she) was projecting on Tuesday, the 26th of April the documentary one " BRASILIA AND THE MODERN UTOPIA " will be in the Assembly hall it(he,she) gives Deputation in Lugo seize 20:00. Free entry.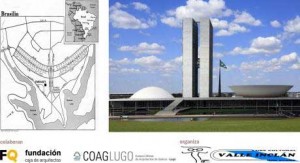 On April 21, 1960 inaguro officially Brasilea's city designed by the architect town planner Lucio Costa and declared in 1987 Cultural Heritage(Holdings) gives Humanidade for the UNESCO. Brasilia was initiated in 1956 and inagurada when three power were installed. The glory of the scheme of Brasilia, which from the air is alike a plane or a bird with the wings estendidas, is the Brazilian architect Lucio Costa, winner of the contest. Oscar Niemeyer, who is the genius responsible for most of the important buildings in this capital. Today, 102 years it(she) is still lucid and working. Elaborated from wide avenues and divided in sectors, with a backbone and dividada in sectors, there is unha reference to the town planners of the whole world of since(as,like) it is necessary to to be concebida the modern city.
Lucio Costa is one of few out-standing Brazilians who in a natural way have his(her,your) history crossed persoal with the construción of his(her,your) country. Documentary " BRAZIL and modern Utopia ", winner of 31 º Gramado's Festival of 2003, narrates the history of the urban planeamento and architect of renown, and his(her,your) participation in the construción of the modern architecture in Brazil, with numerous images of file of the years trinta a sixties, including Super-8 shots for personal trips for Lucio Costa.
Búsqueda para satisfacer el conocimiento de la actividad arquitectónica y tangentes que se generan. La idea es crear un espacio para divulgar los diversos proyectos en busca de nueva inspiración y de intercambio.