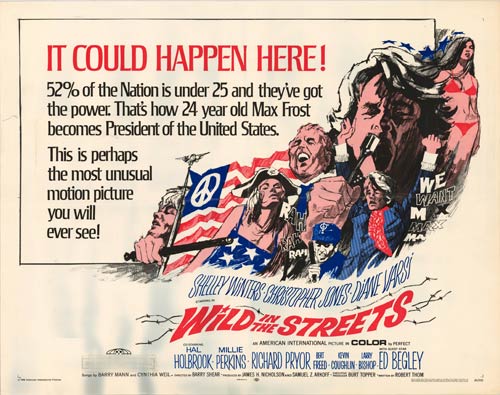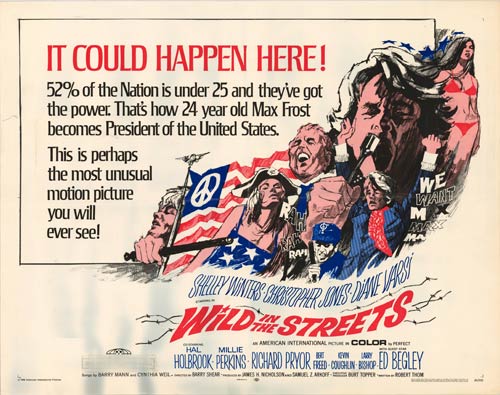 "The president" (Wild in the Streets), directed by Barry Shear, had the premiere in the convulsed May, 68. It belongs to a group of movies that will affect in the new power of an unincluded youth: Riot on Sunset Street, Dreyfuss, 1967; Privilege, Watkins, 1967; I love you, Alice B. Toklas, Averback, 1968; Alice's Restaurant, Penn, 1969; Performance, Cammell y Roeg, 1970 or Taking Off, Miloš Forman, 1971.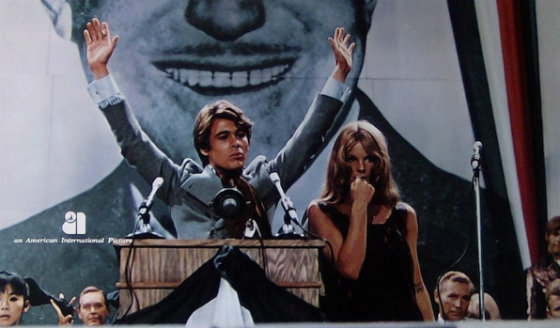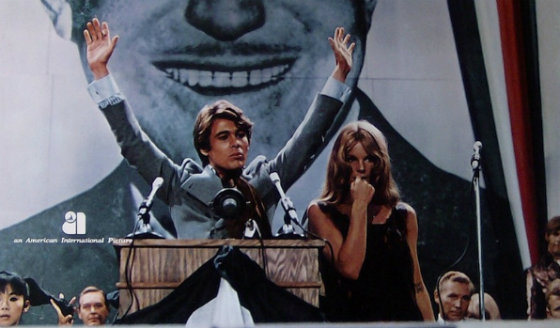 In a full electoral campaign, a political self-seeker with aspirations to the presidency of the United States, decides to include in his mítines to a media group of rock to catch the young vote. One of the promises of his electoral, conscious campaign of the incipient power of the youth, consists of reducing the age of vote at the age of 18. It is here when they begin the problems, since Max Frost, the leader of the musical group, irrumpe in scene requesting an unexpected reduction of age of vote at the age of 14. As measure of pressure, this message throws it accompanied of a call to occupying the streets on the part of the youth, which in this moment he has a silent majority.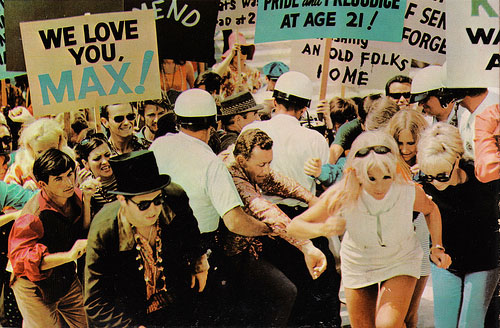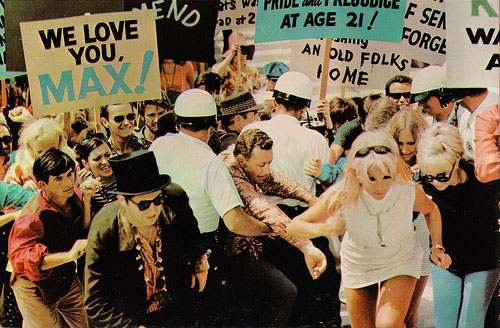 The urban space of Los Angeles, and especially Sunset Boulevard, starts being taken by thousands of young women who come to the summons, unleashing an expansive reconquest of the streets that is happening along the whole country. The awakening of the youth represents a phenomenon irruptivo, "a hidden weapon" affirms one of the young persons, whereas one of the reactionary prominent figures affirms:
El espacio urbano de Los Ángeles, y en especial Sunset Boulevard, empieza a ser tomado por millares de jóvenes que acuden a la convocatoria, desencadenando una reconquista expansiva de las calles que va sucediendo a lo largo de todo el país. El despertar de la juventud representa un fenómeno irruptivo, "un arma escondida" afirma uno de los jóvenes, mientras que uno de los personajes reaccionarios afirma:
"A pity that the youth has turned into a disease. A strange virus neither of that nor you themselves they will be able to recover".
Already nothing will return to be like before.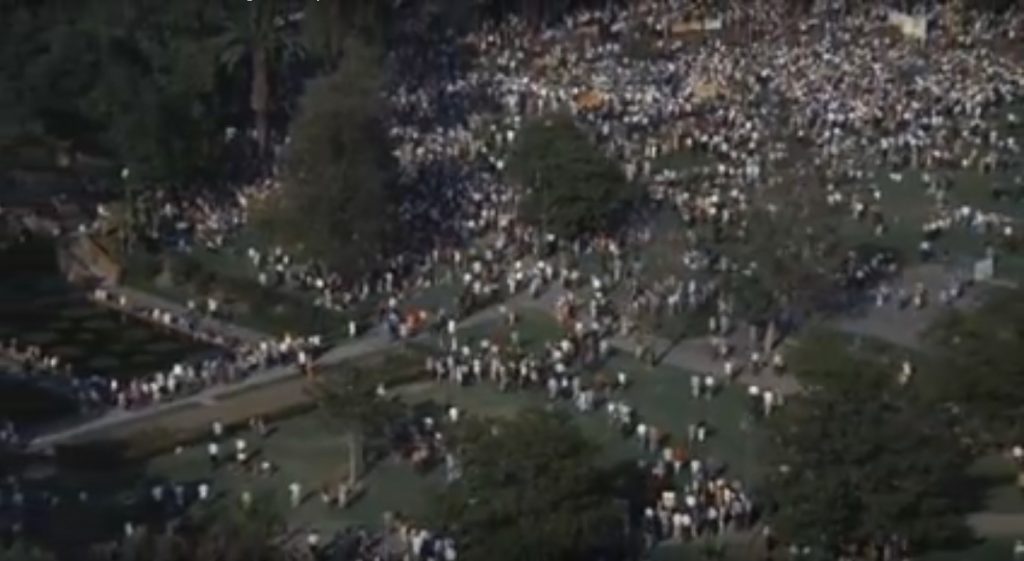 From here, and in a process that escapes from the political old woman of the hands, the leader of the group reaches the presidency of the United States. With him, there begins a series of surprising offers (retirement to the major ones of 25 years, elimination of the police, withdrawn from the army, distribution of food surpluses, etc). Surely the most powerful element is the suppression of the adult world of the scene (not only politics). To this end, they believe a few centers of internment (formally very similar to the concentration camps) in which the adults are imprisoned and agreements with LSD's daily doses, subsumiéndolos in a condition of induced happiness. The psychotropic substances understood as an access to a new type of conscience for Huxley or Roszack, will have an omnipresent presence in all the areas of the company (included the Congressmembers). The LSD, rock and freedom will be elements vertebradores of the new social model. In this to pass of the time, the inevitable question develops, what will happen when the leader comes closer at the age of 25?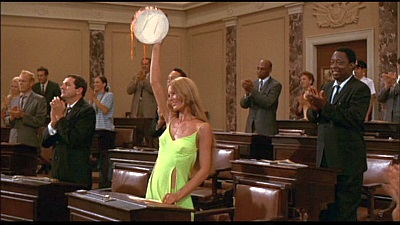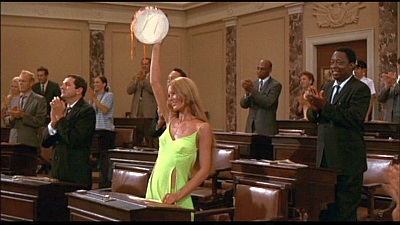 The movie in his moment generated incomprehension derived from diverse delirious situations put in scene, but that were undoubtedly a reflection of the obsessions of the youth of ends of the sixties. Nevertheless, diverse aspects can be rescued ensuing from an amazing current importance. The empowerment of the youth, the reconquest of the streets, the question of the classic parties and the resistance of the above mentioned to disappear of the political scene or the drowsiness on behalf of the company are elements that appeared in a history of fiction whom the reality, in occasions, has tried to imitate.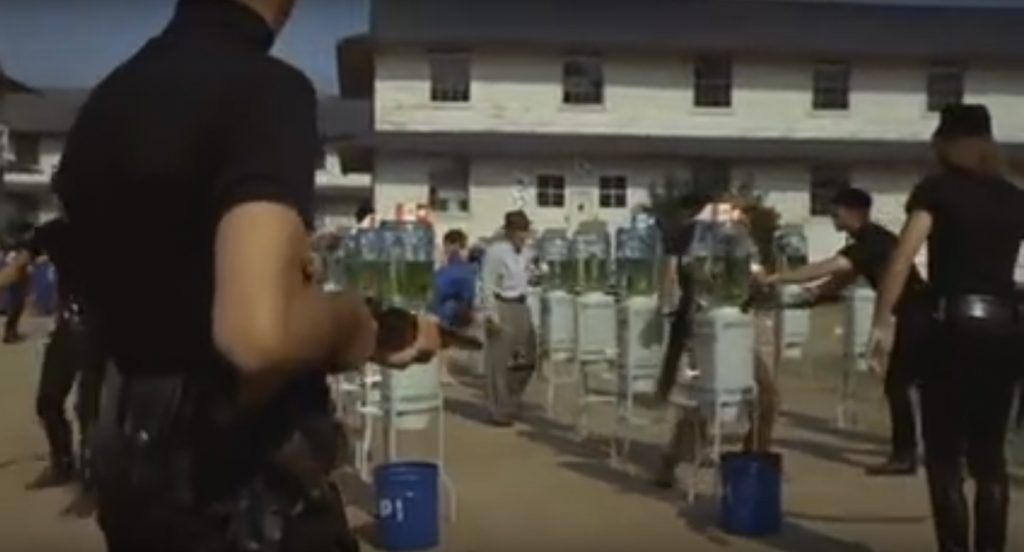 Ignacio Grávalos – Patrizia Di Monte. Architects (estonoesunsolar)
Zaragoza-Venezia. may 2017.
Ignacio Grávalos y Patrizia Di Monte fundan gravalosdimonte arquitectos en 1998, un estudio que trabaja en los diversos ámbitos de la arquitectura y del paisaje, participando en proyectos de actividad cultural, estudios de regeneración urbana, trabajos de arquitectura participativa y estudios experimentales sobre urbanismo de no conformidad. En la actualidad alternan la actividad profesional con la docente, así como la presencia en numerosos procesos de investigación en ámbito europeo.
Ignacio Grávalos es arquitecto por la ETSAB (Barcelona, 1994). Es profesor titular de Expresión Arquitectónica de la Escuela de Arquitectura de la Universidad San Jorge de Zaragoza.
Patrizia Di Monte es arquitecta por el IUAV (Venecia, 1995). En 1998 consiguió el título de máster (La Gran Escala) por la UPC y la suficiencia investigadora (tesis doctoral en curso). Ha sido arquitecta colaboradora Fund. Peggy Guggenheim en Venecia de 95-97, miembro de la comisión de cultura del COAA de 2003-06, miembro del comité cientifico Capitalidad Cultural Zaragoza 2016, profesora de Proyectos III de la Escuela de Arquitectura de la USJ de Zaragoza y actualmente es profesora de Urbanismo I. Obtienen el 1er premio concurso paseo marítimo en Torre Mileto, 1er premio concurso de ideas reforma C.O.A.A., 1er premio concurso bloque de viviendas en torre en Zaragoza, 1er premio concurso bloque de viviendas en el Canal Imperial Zaragoza, 3er premio concurso ideas internacional "Oficinas Expo 2008", adjudicatarios de numerosos concursos de estudio sobre el Casco Histórico de Zaragoza.
Creadores del programa "estonoesunosolar", iniciativa experimental de intervenciones temporales en vacíos urbanos para uso público, reconocida con 1er premio Saie Urban regeneration and development 2012, 1er premio Eurocities 2011 Participation, 1er premio Innovazione e Qualitá Urbana 2010, mención de investigación XI Bienal Española Arquitectura y Urbanismo, 2º premio SAIE Selection 10, 3er premio SMART Future Minds 2010, finalista premios FAD 2011, finalista City to City FAD awards 2012, finalista Future Cities awards 2012, ganadores convocatoria internacional "Architecture of Consequence" del NAI (ND) , obra seleccionada 6ª y 7ª Bienal Europea de Paisaje, mención XXII y XXVI premios de Arquitectura García Mercadal.
Entre sus últimas obras construidas se encuentra la escuela infantil del Casco Histórico de Zaragoza (en colaboración con S. Carroquino), que ha recibido el accésit premio Children in Scotland's Making Space Awards 2010.
Han sido arquitectos invitados a: Congreso Eurocities Culture Forum 2009, Congreso Caceres Ciudades Creativas 2009, Congreso Ciudades Creativas 2010 (Kreanta), XIX Congreso Centro Iberoamericano Desarrollo estratégico Urbano en Mérida (Méjico), Reunión Agenda 21 para la Cultura en Belo Horizonte (Brasil), Xunta de Galicia, Ayto. de Sevilla, Ayto. de Vitoria, COAC, COAG, Master Arquitectura Medioambiental y Urbanismo Sostenible PAMUS de Univ. La Salle, Universidad Internacional de Andalucia, Universidad de País Vasco, Master Progettazione Interattiva Sostenibile e Multimedialità de Roma3, Master in Paesaggistica-Unifi/AIAPP/LUS Univ. di Firenze, Univ. Di Trento, Ayto. de Turín, Ayto. De Napoles, Milano Made Expo 12, SAIE 12 Bologna, Politecnico de Milán, Cité de l' Architecture de París, DAZ de Berlín, Master Public Space Berlage Institute de Rótterdam entre otros.