We live through moments of indecisions and uncertainties, but also of new ideas that can stimulate us towards important changes. Let's not leave us to go for the inertia and let's bet for an architectural clear and round innovation. The groups, architects and arquitectas that appear in this book, this way do it and his works and actions can use us as modal.
We form a part of a world different from the one that till now we knew. A world of flows, networks and new technologies. We possess the tools and the means to realize important transformations in the spaces in which we unroll ourselves. Let's take advantage of this opportunity.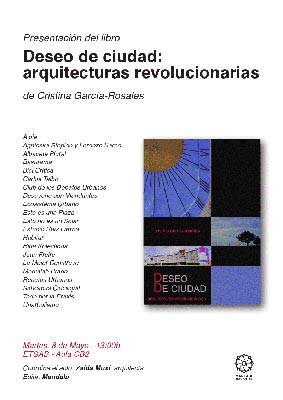 Presentation of the book  "Deseo de Ciudad" in the Escuela de Arquitectura de Barcelona on May 8 at 13:00 h. Classroom CB2.
Present the act: Zaida Muxí, architect.
The groups, architects / ace and theoretical represented they are: A pie, Agnieska Stepien y Lorenzo Barnó, Albacete Plural, Basurama, Bici Crítica, Carlos Taibo, Club de los Debates Urbanos, Desayuno con Viandantes, Ecosistema Urbano, Esto es una Plaza, Esto no es un Solar, Estudio Ruiz Larrea, Habitar, Hiria Kolectiboa, Juan Freire, La Mujer Construye, Medialab Prado, Recetas Urbanas, Salvem el Cabanyal, Todo por la Praxis yand Unarbolismo.
Edit: Mandala Ediciones.
Búsqueda para satisfacer el conocimiento de la actividad arquitectónica y tangentes que se generan. La idea es crear un espacio para divulgar los diversos proyectos en busca de nueva inspiración y de intercambio.