Kazuyo Sejima (Ibarki, 1956) answers to the mobile phone. It says that is glad and grateful and requests to talk with more intimacy, a time later. It is in a bus, path of its office. Is arranged to work one Sunday night. It is of course its profile miles away is of those architects that pilot its own one jet. Its architecture also. Naturally, is this latest what has done him to win the Pritzker Prize to her and to its member Ryue Nishizawa (Tokyo, 1966), with which founded the study SANAA (Sejima and Nishizawa and Associates) 15 years ago. "He did me to doubt of all. I knew that should offer him be my member", explains, although each maintains own projects and housing sign them individually. That a prize Pritzker works as a student results revealing.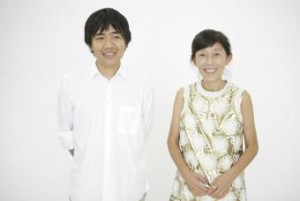 Architects Ryue Nishizawa and Kazuyo Sejima | takashi okamoto
So it seems to have it expert the jury that the award has granted them for "its constructive frankness and for the contrast that offer compared to the apabullante architectural"rhetoric. Although its projects are described frequently as light and transparent, its means economy is not a simplification of the architecture. It is very complicated to improve things. But Sejima and Nishizawa research and they analyse all possibilities of the errands so that the complex thing seems simple, light, transparent, all those adjectives associated with its polished works that the jury has qualified "of a precise"beauty.
"Does not interest us to do many projects. We we interest doing with time", account Sejima. She and Nishizawa dedicate 15 work schedule daily newspaper to delete space hierarchies within a property, to achieve that all dancers have views from its greenroom (Theatre Kunstline in Almere, Holland), to research to use everyday materials in a subtle and precise way (Pavilion of Glass of the Art museum of Toledo, Ohio) or to extrusionar plants to lay down a building in its context and achieve more light in its hinterland (New Museum of Contemporary Article, New York, 2007). They do "it because we do not know to work faster", without skimping efforts. And without theories.
If numerous cities have been filled already of "collections of prizes Pritzker", the most significant award of the architecture has demonstrated its willpower of maintaining that position awarding a prize, now, to Sejima and Nishizawa. They are architects of the change. They have filled the new architecture of ideas, but nor they have ideario nor have written theories. In spite of lacking ideological books, Sejima was appointed commissioner of the next Biennial of Architecture of Venice, whose Leon of Gold obtained in 2004.
Architects of SANAA, that work in the future Museum Louvre of Lens (in the north of France), and that earned does a decade the contest for the extension of the Instituto Valenciano de Arte Moderno (IVAM), that was never built, admit to eat and to have dinner in the study. And until sleeping, from time to time, under its work table: "They are naps repairers. Later on still work". This journalist has seen how one of its collaborators ended the carpaccio of one Sejima inapetente without the need for to request it, lengthening the holder. It of deleting hierarchies just has not done it in its housing, seems be.
"Delicate and powerful, precise and fluid, its architecture is at the same time dupe and sagacious, and it explains, as few other, leads of the team work", the jury underlined. And although is not this the first time that the Pritzker recognises a work together (Herzog and Of Meuron earned it in 2001) yes is the first occasion in which share honors a man and a woman. It can seem anecdotal. Does not be it. Denisse Scott Brown, that beyond buildings had signed also seminal books as Learning from Las Vegas with its husband Robert Venturi, he had to please with to listen how its husband thanked him the lent support in the discourse after receiving the prize.
Sejima, that so strained and it has subtly arrived at the summit, has been moved forward to the one which, does already almost three decades, was its schoolteacher, Toyo Ito. "In the seventy, Ito achieved that people trusted small houses to the architects. It was significant. Later on Nishizawa made me to see things otherwise", explained to this newspaper. Of course, the one which Sejima and Nishizawa are moved forward does not invalidate to the author of the New Hotel Carries Fira of Barcelona such as a candidate, but does not stop being eloquent that a disciple takes advantage.
It neither be this the first time that a woman earns the Pritzker. Zaha Hadid was made with the award in 2004. But yes is the first occasion in which, beyond the architecture, the Pritzker seems to recognise another way of working. According to Sejima: "To do big works have to grow and to use a large study. A woman can do that, but large projects usually are related to the policy. And there, at least in Japan, do not have it easy. We have not prepared us to fight with the to be able to".
The Pritzker has insisted at work as a team. And in Tokyo the ones collaborating with award winners it celebrate with nocturnal work schedule. "Its buildings want to build more context that object. It does not be better explorers of the space group", the jury pointed out. Sejima takes away importance to the nocturnal dedication. "Need time. Our projects have grown and are more complex. In order to be able to control all details need even more time".
anatxu zabalbeascoa
+ www.elpais.com
Búsqueda para satisfacer el conocimiento de la actividad arquitectónica y tangentes que se generan. La idea es crear un espacio para divulgar los diversos proyectos en busca de nueva inspiración y de intercambio.