The International Fairground of the Natural Stone, STONE, organized by IFEMA (Fairground of Madrid) and the Spanish Federation of the Natural Stone (FDP) organize jointly the PRIZE OF ARCHITECTURE STONE 2010. Is an international prize for works that have made use of Spanish natural stones in productions of construction of any gender, in which his uniqueness, innovation, application techniques, aesthetic achievement, etc.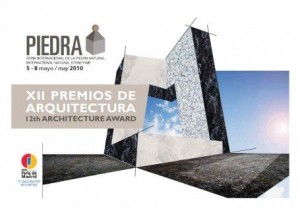 The date in which finishes the introduction is on MONDAY 29 MARCH 2010.
+ www.ifema.es
Búsqueda para satisfacer el conocimiento de la actividad arquitectónica y tangentes que se generan. La idea es crear un espacio para divulgar los diversos proyectos en busca de nueva inspiración y de intercambio.