The recollectors of resíduos do a fundamental work for the recycling of resíduos. An activity of great environmental and social value realized with carts. Mundane, an artist of São Paulo is asking for collaboration for the collective financing of Pimp my carroça, a project of customización and improvement of carts of classifiers and it is doing it across Catarse, a network of crowfunding very popularly in Brazil.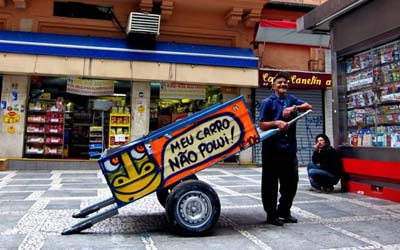 The project consists of mounting a 'pitstop' to attend to the classifiers that want to take part with his carts: they come to the stalls, and if they want, one installs safety signposting to them, there becomes they an artistic customización, one offers them information about sanitary services, cooperativism, residues.
[…]
+ article is published in basurama
Búsqueda para satisfacer el conocimiento de la actividad arquitectónica y tangentes que se generan. La idea es crear un espacio para divulgar los diversos proyectos en busca de nueva inspiración y de intercambio.