Photocertamen takes graduates as an aim in the present edition, the organization of an exclusive contest of photography for students and young women, supporting hereby the permanent training of the professional futures of every discipline. Photocertamen puts within reach of these a scholarship that offers to them the possibility of complementing his formation or labors of investigation, or in his case, to consolidate his situation on the labor market, at the same time as it puts to his disposition on the possibility of taking part in academic contests under conditions similar to that of the professional contests.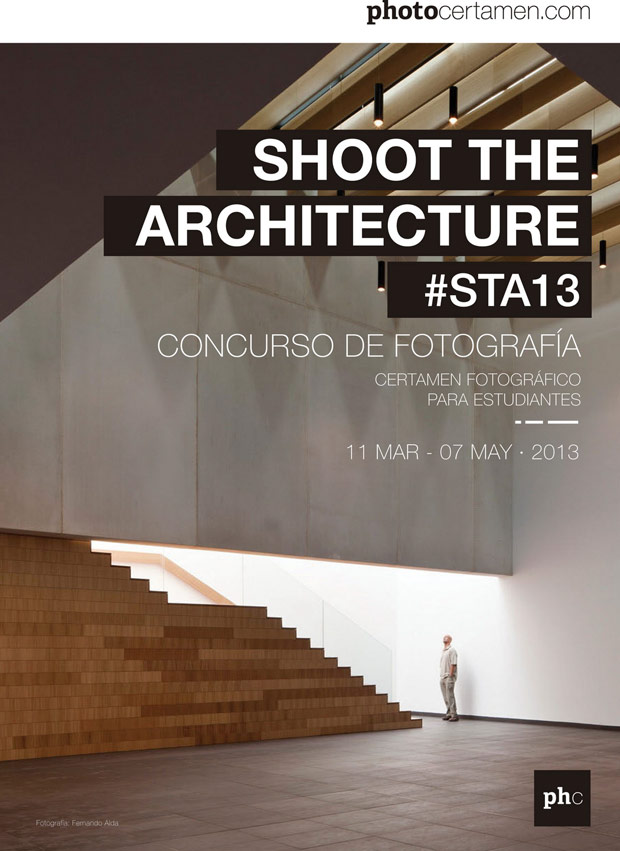 THE ONE WHO CAN INFORM
These summons is of public character and is directed for all the students who, to the date of opening of the term indicated in the calendar as special, could accredit somehow his student's condition. Equally, there will be able to take part qualified young persons who have finished his studies with posteriority on March 7, 2008.
JUROR
Fernando Alda, Photographer
Juan Pedro Donaire, Architect
Alexander Gümbel, Photographer
Kavi Sánchez, Photographer
PRIZES
Scholarship with economic endowment of 1.000 € 9
Honor's Mentions
Tanto el trabajo premiado como los mencionados formarán parte de una exposición gratuita que, dedicada en exclusiva a este certamen, tendrá lugar en la Escuela Técnica Superior de Arquitectura de Sevilla (ETSAS) durante el mes de Junio de 2013.
Búsqueda para satisfacer el conocimiento de la actividad arquitectónica y tangentes que se generan. La idea es crear un espacio para divulgar los diversos proyectos en busca de nueva inspiración y de intercambio.