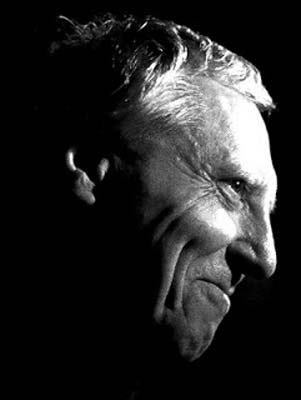 In the series of texts that have designated Architects and Film-makers and that relate the realisation of a film with the construction of a building, have gone publishing some of directors, as Ingmar Bergman, Walerian Borowcyk, René Clair, John Ford, Amos Gitai and Dziga Vertov; of an actress, Viola Dana and of some researchers, Sigfried Giedion.
It does little I met again a text of Peter Greenaway, an artist that a filmmaker could never have considered only and in that I am interested very much since I saw in a night session of the Alphaville The Draughtsman's Contract, later, at the end of the eighties, was a year of my life penetrating into his work – the fruit of this investigation was a book published by Editorial Cátedra– since then I could not have stopped being interested me for great and diverse activities that it has developed and, in fact, I have written some articles about his last works and have given some conference – it is very possible that in October of this year it gives other one – on his complex path, which goes from his juvenile epoch as cinematographic mounting block to the current one in which it gives multitudinous concerts as video – jockey.
Greenaway's text belongs to a realized interview when it released The Belly of an Architect – certainly certainly, here there is my very ancient article about this movie – and is the following one:
«It seems to me also that there is a clear analogy between the manufacturing process of a movie and that of a building … since the producers the architects conceive big projects that bring into play important budgets and that finish for never realize. In addition concerning both professions one finds the same heterogeneous sample of prominent figures: producers, financiers, organizers, critics, public, etc. After both the architect and the producer has used time, money, and imagination, they can see, ultimately, since it begins to lose his project».
It is true that, as was saying Greenaway, the prominent figures, sometimes Machiavellian, who surround both the filmmakers and the architects, they can frustrate his intentions, but also it is true that often these intentions are pernicious and is more beneficial for the company – fodder, especially, in the architects – who do not conclude.
Jorge Gorostiza, architect. Author of the blog Arquitectura+Cine+Ciudad
Santa Cruz de Tenerife, april 2012
Doctor arquitecto, proyecta y construye edificios y desarrolla trabajos de urbanismo. Desde 1990, publica numerosos artículos sobre cine y arquitectura en medios de su localidad, revistas como Nosferatu, Nickleodeon, Academia, Lateral, Cahiers du Cinema… y en varios volúmenes colectivos. Entre el 2000 y el 2005 dirige la Filmoteca Canaria. Imparte conferencias sobre arquitectura y cine en instituciones como el CAAM en Gran Canaria, la UIMP, el CENDEAC en Murcia, INCUNA en Gijón, Fundación Telefónica, la ETS de Arquitectura y el CCCB de Barcelona, las ETS de Arquitectura de La Coruña, Sevilla, Valencia y SEU madrileña, La Ciudad de la Luz en Alicante, la UNED en Pamplona, en varios colegios de arquitectos, así como en las universidades del País Vasco, Gerona, Valladolid, Málaga, Granada, SEK en Segovia y CEES de Madrid. Jurado en varios festivales cinematográficos, como los de Alcalá de Henares (2001), San Sebastián (2002), Sitges (2003), Las Palmas (2005) y Documentamadrid (2005), y comisario de las exposiciones Constructores de quimeras. (Centro Conde Duque, Madrid, 1999) y La arquitectura de los sueños (Capilla del Oidor, Alcalá de Henares, 2001).
He publicado bastantes libros y muchos artículos, he impartido conferencias, he sido comisario de exposiciones y jurado en muchísmos festivales. Si quieren saber más no duden en consultar mi blog ARQUITECTURA + CINE + CIUDAD.