During the 20th century the Andalusian cities, in tuning in with the western world, experienced a growth of an importance not known up to the date. This development generally associated with the lack of identity and the urban congestion, was a product of the joint action of architects, engineers, town planners and sociologists who were looking for the progress and the social well-being of Andalusia. It is these two values, the progress and the well-being, which we consider to be the patrimonial fundamental contribution of the culture of the 20th century and find in the architecture the vehicle to start them.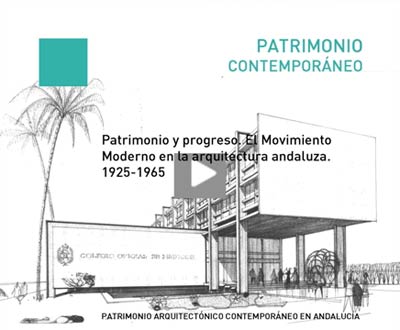 Does the commitment of the IAPH as for Contemporary Heritage gather the sensibility arisen concerning the extension of the horizons of the heritage, an attention that was translated in his beginnings in the accomplishment of the record and exhibition on architecture of the Modern Movement in Andalusia? Buffoonery (1999). More recently, the development of the Andalusian Record of Contemporary Architecture (2005-2009), the celebration of the Seminar on Settlements of Settling (2006), the annual celebrations of the courses of Intervention in Contemporary Heritage (2009-2010), and the continuous work with the organization do.co.mo.mo from the Andalusian Institute of the Historical Heritage they are recognized as germ of the video present of Contemporary Heritage.
This initiative developed from the Andalusian Institute of the Historical Heritage, tries to announce the architectural contemporary Andalusian heritage from very diverse perspectives using an audio-visual entertaining, reflexive and understandable language, directed to serving as complement to the formation in this heritage from the schools, institutes and universities.
Author/s: It is a work realized by the Center of Documentation and Studies and the Direction of Strategy and Communication, 2010. Coordination: Marta Santofimia Albinana and Candela Gonzalez Sanchez. Script: Placido Gonzalez Martinez and Marta Santofimia Albinana. Image and edition: Calumma Producciones
Publishing house: Junta de Andalucia. Consejeria de Cultura. Instituto Andaluz del Patrimonio Historico
+ article is published in Instituto Andaluz del Patrimonio Histórico Consejería de Cultura Junta de Andalucia
Búsqueda para satisfacer el conocimiento de la actividad arquitectónica y tangentes que se generan. La idea es crear un espacio para divulgar los diversos proyectos en busca de nueva inspiración y de intercambio.