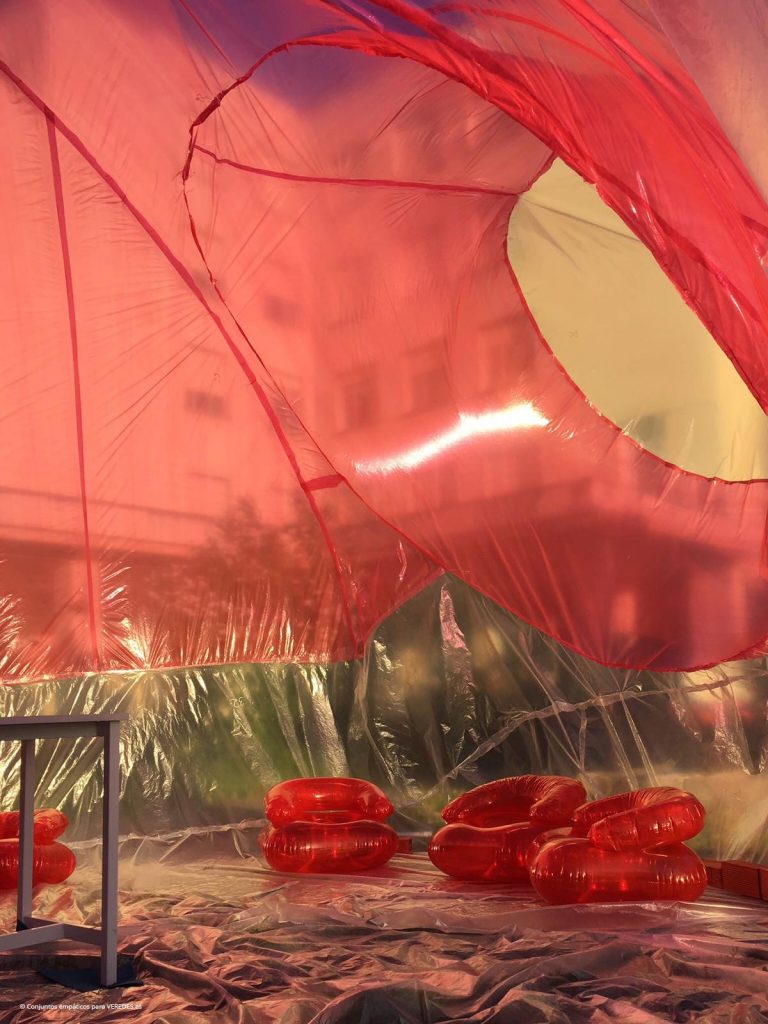 This ephemeral pavilion is constructed for the celebration of the holiday of closing of the International I Congreso of Architectural Communication, developed between May 17 and 19, 2017. The object is designed and produces as an element of pneumatic architecture that is located in the rose garden of the Technical Top School of Architecture of Madrid, and uses as support for programmatical activations, sheltering intermittent actions that unleash or reactivate ephemeral programs in environments not destined expressly to the needed function.
The pavilion consists of 126m2 and 441m3 that have been delimited by the construction of a membrane of polyethylene consisted of pieces welded between yes. His form is formed depending on the air flow that is issued from 3 different income and of the conviviality with the wind currents of the environment at which it lodges. In the design of his pattern design, there have been foreseen two spaces differentiated by the color of his surrounding one, consisting both of a great visual connection with the exterior. His access is in the intermediate point, the entry being facilitated by the meeting between both atmospheres.
Work: Pavilion pop-up for programmatical activation in COCA
Location: In the rose garden of the Technical Top School of Architecture of Madrid, Madrid, Spain.
Year: 2017
Authors: Conjuntos Empáticos (Sálvora Feliz + Marta G. Soler + Andrea Briz + Tomás Pineda)
Collaborators: Marta Benito Ortiz, Bernat Breu Martinez, Miriam Bue Díaz, Mathilde Claudel, Laura Dominguez Valdivieso, Alberto Ferrero de la Vega, Aleksantrina Ivaylova Marinova, Daniel Martinez Villarroya, Laura Morato Costa, Hannah Olmedilla Lord, Luis Carlos de la Rosa Beuzille, Diego Sancho Cardalliaguet, Paula Vargas Torres y Pablo Vives Peña.
Photography: Conjunto empáticos
+ conjuntosempaticos.com
Búsqueda para satisfacer el conocimiento de la actividad arquitectónica y tangentes que se generan. La idea es crear un espacio para divulgar los diversos proyectos en busca de nueva inspiración y de intercambio.