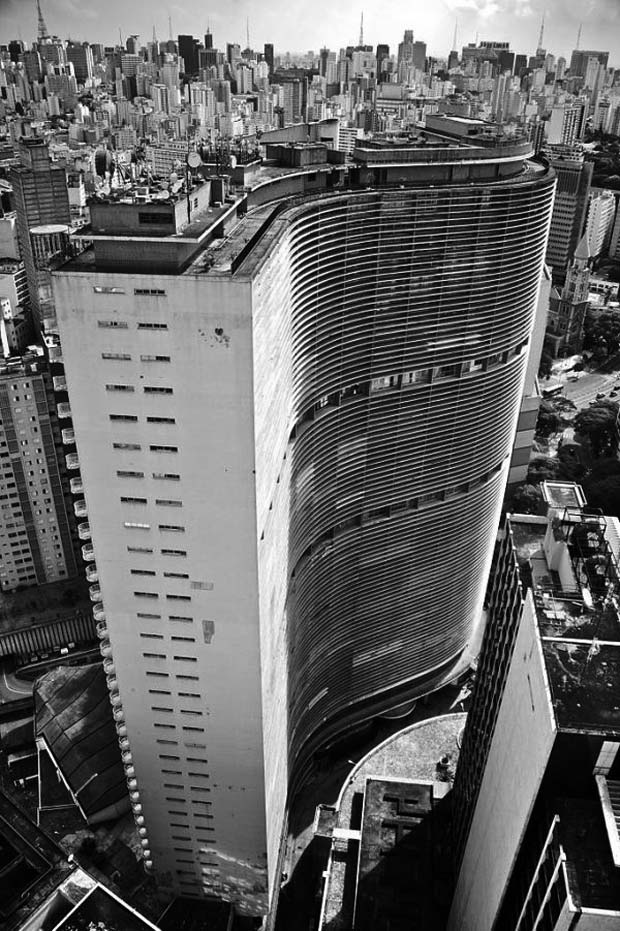 I overcome the fence that the political reality us stretches every day to all and decide to speak1 of Oscar Niemeyer (1907-2012) whose longevity stopped in December, 2012.
Already once I wrote that it had had the privilege of conversing with him in his study of the Atlantic Avenue opposite to Copacabana in 1994. We speak about his Brief of Latin America, joint that had finished it was doing (slightly (1989), of his house in Rio-Gávea that I have never stopped admiring and of other things that already I forgot, adorned with any recollections of his already very distant visit to Caracas in 1956 for the project of the Museum of Modern Art entrusted for nocente Palacios (1908-1996).
Man of voice stays and to speak interrupted, of low stature and rather succinct warmth, it was very communicative and up to affectionatly during the hour and so many people that he me dedicated, always having on the table a sheet of paper of sketch in which, with small explanatory drawings, it was documenting his speech. The previous day I had been with Lucio Costa2 (1902-1998) who had spoken to me about João da Gama Filgueiras Lima, Lelé (1932) gives Range as an interesting architect of the new generations, so I mentioned it and it expressed in admiring terms and of friendship on someone of a younger generation. But up to there his comments came towards it of out, because Niemeyer seemed to be totally delivered to yes same, very conscious of his value personal and slightly ready to speak about others, including to whom they it could have influenced, as for example Corbusier, with regard to whom I asked for a comment him remembering his collaboration with he for the Department of Education in Rio of Janeiro, 1936.
He said very little in spite of being undoubted that Niemeyer's early work was influenced by the Swiss – Frenchman and that in addition it was joined to him by a natural admiration that is left to see in the letter dated in January, 1963, published in the Le Corbusier, complete works, in which he says of the work:
What a beauty! What an extraordinary work! What a lesson of idealism and professional conviction!
An admiration that was not implying subordination but aptitude to understand not only other one, to the diverse one, to the different one, but also to the Teacher. From whom it was differing as it was re-elaborating with his personal points of view the modern legacy.
Because nothing is more superficial that to claim, as insist on indicating the Anglo-Saxon journalists (to see The Ecomomist's obituary) that Niemeyer is a refutation of the modern funcionalism of Le Corbusier, to which it gave to him poetry. Comment that shows, besides ignorance, the North American obsession (and very of journalist) of classifying to avoid to think.
Anyhow, to this pun they contributed put them recent of Niemeyer on 3 having been interviewed3. From his return to the Brazil post-dictatorship in 1985, Niemeyer had started being an imitator of yes same rather feverishly; and if in him his genius of artist continued fluttering, his works of this period begin to suffer from a mannerism that the Kitsch rubs. From which always he suffered a bit but that in his final years was irritated. And already later it gave him for doing trivial literature and to the general taste with the curves, the woman and the poetry, of a way that had hearing great but so superficial as his insistence in praising his communism of lounge.
This sluggishness is obvious already in the Mausoleum to Juscelino Kubitschek, work of 1981 that suffers from a monumentalismo based on the size and the effects up to turning JK into an Emperor. Or in the Pantheon of the Patria Tancredo Neves, constructed in 1985, immense dark space in which they pass miniaturized, events museográficos linked to the history of the Brazil, without consideration to the thin grain that any architecture demands.
Both in these buildings and in the works that late constructed in these final decades always the artistic genius of an exceptional man, who did of his works departs from the Brazilian art heritage.
I have had opportunity, apart from the works of Brasilia, of visiting the Brief in Sao Paulo and Niteroi's Museum in the suburbs of Rio de Janeiro. If regarding Brasilia, it cannot refuse that the Plaza of Three Power but especially the set of the Congress enriched with Athos Bulcao's internal murals and other extraordinary works of art, it is a transcendent architecture, I believe that Itamaraty (State Department) inaugurated in 1970, is a central work of the century twenty. I cannot say the same of the Memorial or Niteroi. On one hand I add to the critique that I heard in Sao Paulo Joaquim Guedes (1932-2008) as for the structural excesses of the Brief, but the worse thing is the very awkward managing of the natural light in the Library and the environment of room of game of the Audience. As for Niteroi an evil looks like to me A Museum without it prevents me from recognizing the impeccable straining to achieve effect of the unpublished white volume reached on the rocky littoral.
For confirm almost everything what Niemeyer did from Pampulha (1940-41) up to Brasilia (1960) it is supported in the architectural modern tradition strongly own and patrimonial solid vocation. Since it is the case of the building There corner (1951-57), which here we show, surprising building of housings, trades, cinemas and theatres which formal characteristics marked by the eaves of solar protection that reflect the natural light to the interior of the housings, his sinuous path and his risk as headquarters of diverse uses, overcome fully the problems of habitability that they it have affected.
And I summarize saying that Niemeyer's architecture reached very high moments, but that the credit lived so much it did not help and rather it touched it with the banality that there show many of his recent works.4
Óscar Tenreiro Degwitz, Architect.
Venezuela, february 2013,
Entre lo Cierto y lo Verdadero
Notes:
1. To a little time to begin to study architecture at the end of 1955, I had in my hands a book on Oscar Niemeyer's work, signed by Stamo Papadaki, someone of small whom I could have quarrelled apart from the fact that he was a historian and to criticize whose legacy rests in the Library of Princeton's University in USA. It was put in my hands by my brother Jesus who already for this then was approaching at the end of the career, and I could see at the time the images of the work of this architect who was starting sounding in the world with a lot of force.
The Pampulha's already most famous church was there certainly with the murals of Cándido Portinari's blue rollers. And his influence strictly between ourselves was making be obvious to few local meters where we were sitting down in the mornings between classes in the old building of the Faculty, today Engineering: in the university dining room that Villanueva had constructed in 1951. This dining room, of ceilings arched to which it was coming near for a roofed sinuous corridor that was starting in a small pavilion that was the university bookshop and was redressed in blue rollers, was a clear reflection of the impact that there had caused in our architect the set of Pampulha construído in 1941 in Belo Horizonte for Niemeyer, under Juscelino Kubitschek's initiative, by then Governor of the State of Mines Gerais, Brazil. Our dining room should be demolished in the seventies in spite of the campaign in against led by Paulina, the daughter of Villanueva, who faced without success these arrogant take-offs of the democracy of, perfect precedents at the time of the dictatorship that today we have. And to the dining room that great we liked there happened a lamentable building entrusted a friend of the party in the Power at the time. As today it is done. There are many motives for being surprised?
But let's continue, he was speaking about Papadaki's book. In him there were appearing again and again the buildings of the very young Niemeyer (48 years), those of prismatic volumes, accompanied always of a few sketches that they were trying to demonstrate that to follow the columns up to the soil was a mistake, which had to be gathered in columns of two tops, of rounded edges, which were liberating the Ground floor and were awarding the wished of integration transparency with the surrounding landscape. This gesture was an undoubted influence of Marseilles-Corbusier, but Niemeyer had elaborated the design by means of the elegance that him was own, until did of the columns autonomous objects (those of Marseilles show clearer his debt with the strictly constructive thing) that were announcing what should happen only five years later in the first palaces of Brasilia.
I was impressed personally by it that I am called an elegance, when in 1958 I crossed the Ground floor of the Hospital South America in Rio de Janeiro, close to the Lagõa, natural lagoon that uses as focal point in a zone of the city, one of these buildings as regular porticoes and prismatic volume that Niemeyer constructed in this time. I liked much and I was interested specially in the idea of separating the distance of doctors and patients from that of the visitors, in parallel adjacent corridors to the fronts, resource that apparently was too costly to take it as an example. And the ground floor, in effect, was allowing the visual integration towards the beautiful gardens that it seems to me they belonged to Roberto Burle Marx (and here I come to Carola Barrios's help who will illustrate me in the matter scarcely read this).
2. My reunion with Niemeyer's work would be already in May, 1961 with a visit to Brasilia inaugurated the previous year that motivated my first article about architecture, published in the magazine of our Faculty Point, in the number of November, 1961. Already there, it that I am called an elegance in the design and that might deserve another name, was demonstrating in the columns of the palaces of the Plaza of Three Power. His first accomplishment had been in the Palace of the Alvorada (wonderful name certainly), far from the Plaza, finished maybe two years before the inauguration, which images had circulated along the world. This way of joining the porticoes between yes in the long sense of the building with graceful curved girders of great curvature and the development of bigger than broad minor from his base towards the top top, was an aesthetic, sculptural event in the best sense of the word and especially, I have to detain in this, radically original. Always I have wanted to visit this Palace so protected from the onlookers that only one sees to the distance from the railings, because I think that it is a question of the only, unrepeatable building, that it summarizes the better of the aesthetic mature language of a great artist, an icon of the art of whom I have been called again and again an exceptional man.
Palacio en el-del Planalto, sede del Ejecutivo, el heno otra versión de ellas que también está muy lograda por la escala especial de este gran edificio, cuyas plantas superiores, estafa oficinas que dan hacia unos hermosísimos jardines internos, pude visitar en ese entonces.
My visit followed interesting courses but I detain here because I think that in this short space I must speak about other rather anecdotal things.
3. To mention for example that I was a witness (very youngster, you upset fifteen years and was preparing myself to enter in the Faculty), of a conversation between Niemeyer and our Fruto Vivas (1928) in that this one him was asking for the "presence of the people in the architecture". I do not remember Niemeyer's response but yes the occasion and the place. It was in the terrace of the building South of the Bird. Bolivar (Arq. Cipriano Domínguez 1904-1995) building directly influenced by the Department of Niemeyer-Corbusier's Education. There, in a few offices that seemed to me to be fabulous in whose mezzanina was working the Architects' Venezuelan Company, between volumes and sinuous walls covered with ceramic mosaic of a terrace with sight to the Bird. Bolivar in full construction, realized the inaugural holiday of the Congress IX Pan-American Architects', they were allowing which to inscribe the students. I it was not still, it it would be in one more month because the Congress took place in september of 1995 ( or august?). I remember this conversation as I remember Maurice Rotival (1892-1980) saying in English before a group and indicating with a wide gesture to the whole center Simón Bolívar where already the structure of the towers was concluded:
…"When I planned this…"
Before the look a bit stupefied of the presents, me incluído. Other times I have written on this, so marked I have it in the recollection, because for me, in certain way, it reflects what was the Venezuela of then for the young architects: land of many promises.
The circumstances of Niemeyer's visit puzzle me today. Fruto Vivas, whom I called to confront memories, says to me that Niemeyer had come for it from the project of the Museum of Modern Art and it coincided with the Congress.I have another version because I remember with all clarity that when Oscar was in it of the Museum of Modern Art it gave a chat in the Faculty of old Architecture at which I was present already as student. In her Niemeyer spoke certainly about the columns of two or three tops and his relevancy; and of other projects or constructed buildings, drawing schemes with charcoal on papers opened in an easel, to the best way Le Corbusier. It was doing it with extraordinary skill and on having concluded the chat the nearest students to the easel rushed on the drawings them to remain.
This chat had to be at the end of 55 or in 56, in order that I could have been already a student, apart from the fact that 56 it is the date that is recognized for the project of the Museum. Already I will expect for the verdict, here also, from Carola Barrios, but meanwhile I contradict to Fruit saying that Niemeyer came two times with a few months of difference. Already the protagonists, in any case, have been going away of our world; including one that could have tackled the difference of dates: Henrique Hernández (1930-2009) who close to Fruit and others collaborated in the Project of the Museum.
Also I remember other minor things of this holiday that me turns out to be enterteining to mention here. One that I, in spite of my extreme youth, was feeling like in house; other one, which was serving itself a buffet in which there existed up to pigs of this that take an apple in the mouth; the third one, which scarcely came near to the alcoholic necessary level the youngest started dancing filled with enthusiasm, being outlined almost as leader of the group to Luis Jiménez (1933-1993) who undertook it with a Charleston (it was the mode – retro of then) having as pair, if badly I do not remember, to Mariluz Bazcones; and the fourth one very importantly for me: this place, this terrace of the building South was an exultant manifest of the modern architecture of this time. And it happened in a small country of Latin America that it was appearing to the modernity. Venezuela had then only 4 millions of inhabitants and Caracas almost a million.
4. I lengthen today too much these notes, but it cannot to me be able only without saying here anything that for us the Venezuelans it should be a central education.
Oscar Niemeyer occupied an enormous space in the Brazilian architecture during all his longest life. In the sixties of last century, when scarcely it was finishing the experience of the first Brasilia, he was monopolizing the scene. Because Brasilia in his more important monumental buildings is his exclusive work.
I do not believe that it has been comfortable for all the Brazilian architects. But if it was like that, very small it came out towards out. There were architects of very much weight (let's think nothing more about Vilanova Artigas, Rino Levi, Sergio Bernardes, Paulo Mendes Da Rocha, Joaquim Guedes, enclosed the great Alfonso Eduardo Reidy who died in 64, or Lelé, whom I mention in the note, and many more than escape from me) that had all the credentials to be present in the capital of the most out-standing country of way. Lelé had a decisive presence, it is true, in the University of Brasilia (building known as the Minhocão – the serpent or elro worm) but the others very small, at least the one that knows itself.
And what I am interested in emphasizing is that, in spite of all this excessive and permanent presence, Oscar's buildings have remained impeccably and even they have been executed by all the governments, included the dictatorship that took it to the exile. They have respected and supported over any personal consideration and especially of any idea of political exclusion. That it is an attributable merit like being a Brazilian, something like respect to the special talent, me it would seem of an exceptional value. I do not dare to assure it but I throw it as one of the hypotheses. Other one might be that in Brazil, such a big country with a private very powerful sector, in which, in addition, the Public Power is very decentralized and the governments of the different States they have autonomy great, with economically strong Mayoralties, spaces of participation were kept for the architects, independently of what it was doing the federal government. The latter looks like a commendable enough hypothesis, but what more is interested is that Niemeyer's presence was in certain way associated with the calm one and very mature acceptance of his value, in spite of that already in the last years there was proving up to irritant the weight of a man who was accusing senility.
"All that, definitively, contrasts with the unusual attitude of political exclusion that has been typical of the Venezuelan world. That has reached scandalous levels in recent times for misfortune of our architecture and our culture".
Es un arquitecto venezolano, nacido en 1939, Premio Nacional de Arquitectura de su país en 2002-2003, profesor de Diseño Arquitectónico por más de treinta años en la Universidad Central de Venezuela, quien paralelamente con su ejercicio ha mantenido ya por años presencia en la prensa de su país en un esfuerzo de comunicación hacia la gente en general de los puntos de vista del arquitecto acerca de los más diversos temas, entre los cuales figuran los agudos problemas políticos de una sociedad como la venezolana. Tenreiro practica así lo que el llama el "pensamiento desde y hacia la arquitectura", insistiendo en que lo hace como arquitecto en ejercicio, para escapar de los estereotipos y cautelas propios de la "crítica arquitectónica". Respecto a la cual no oculta su desconfianza, que explica recurriendo al aforismo de Nietzsche sobre el crítico de arte "que ve el arte desde cerca sin llegar a tocarlo nunca".