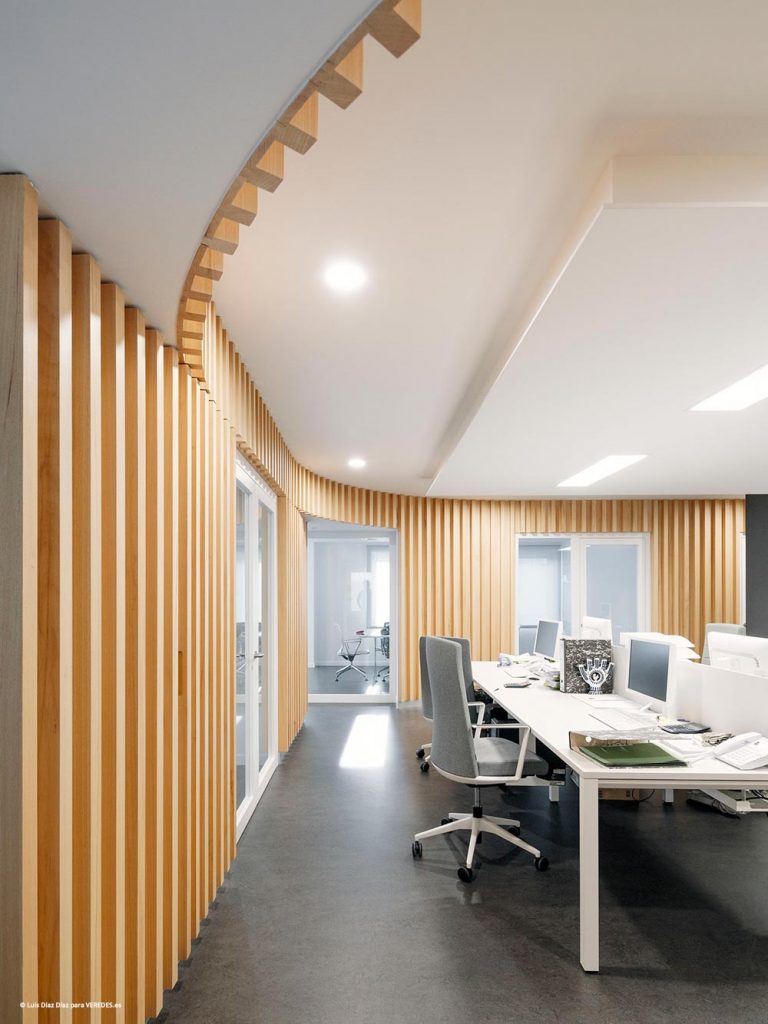 The new premises are located on the second floor of an isolated building that was originally designed for office use. The space had never been occupied before and, with the exception of the toilets and the basic structural elements (outer walls, common spaces and general) the rest of the infrastructural elements were missing.
The intervention is a work of interior design that seeks to accommodate the different workspaces of a service company dedicated to the intermediation and optimization of commercial resources. It was necessary to plan a choice of working areas that could be eventually modified depending on specific workloads and activities. As a precondition, it required a reception hall, common areas with shared services, individual and double offices, meeting areas, open spaces for telework and a break room.
The proposal maintains the location of the toilets, adjusting their size. Moreover, it considers  the layout of the floor plan, which is practically a square with windows on three sides (south, east and west facades), and plans a central space that is to be accessed directly and that, by means of a singular treatment of its outer perimeter, is intended to act as a space representing the company.
The interior enclosure gains thickness by integrating, in addition to the existing vertical structure, the new installations, the storage areas and the interior glass carpentries that solve, not only access, but also the visual relationship between the different spaces. Thus, the interior enclosure presents itself as a wooden skin having a geometry, materiality and construction system that defines the spatial and functional organization of the premises. It also qualifies the central space by establishing a contrasting relationship with the outer area, luminous and with views.
Work: Possum offices
Location: Santiago de Compostela. Spain
Year: 2016
Authors: ARROKABE Arquitectos SLP (Óscar Andrés Quintela and Iván Andrés Quintela)
Photography: ARROKABE Arquitectos SLP | Luis Díaz Díaz
+ arrokabe.com
Búsqueda para satisfacer el conocimiento de la actividad arquitectónica y tangentes que se generan. La idea es crear un espacio para divulgar los diversos proyectos en busca de nueva inspiración y de intercambio.