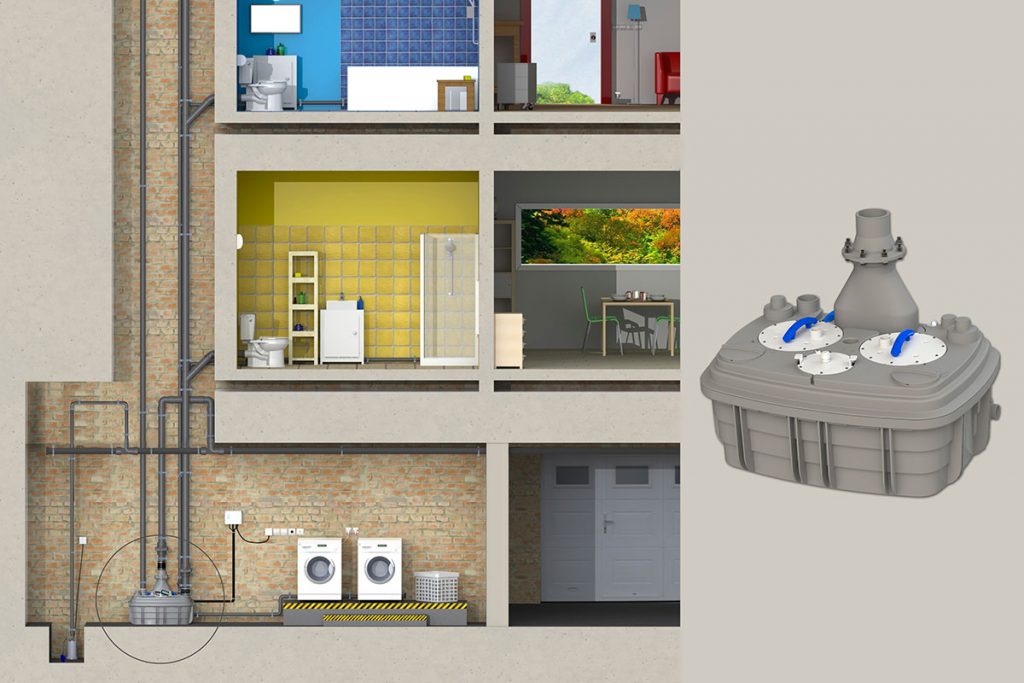 The SANICUBIC 2 XL is the most powerful equipment in the catalog of high-performance pumping stations of SFA Sanitrit, the European leader in sanitary shredders and evacuation pumps. It is located in the upper area of the range composed of the experienced models SANICUBIC 1, SANICUBIC 2 Classic WP and SANICUBIC 2 Pro WP, thanks to a set of benefits clearly superior to those of the latter.
It is a team prepared to carry out the evacuation of water at the highest level: with a maximum evacuation flow of 40 m3 per hour, the SANICUBIC 2 XL is specially indicated to satisfy the intensive use that requires the evacuation of waste water , both black and gray, in residential or commercial environments. The Sanitrit SFA pumping station, thanks to its large volume 120 liter tank, supports installations with multiple bathrooms equipped with numerous toilets (toilets, bidets, showers, etc.), and kitchens equipped with sinks, dishwashers or washing machines, since it supports temperature peaks of up to 70ºC. It can also treat corrosive condensates from boilers and air conditioning equipment.
High power for high flow rates.
The two 2000 W high power motors of the SANICUBIC 2 XL are specially adapted for applications in communities, buildings and, in general, in those environments with a high demand for wastewater evacuation such as professional buildings, restaurants, industries, schools, hotels or shopping centers. Its two powerful motors, working alternatively or in parallel and equipped with Vortex turbines exclusive of SFA Sanitrit, make it possible to evacuate black and gray water up to 13 meters vertically and 110 horizontally, the latter with a slope of only 1% .
Benefits for a high autonomy and security.
But,
What makes the Sanicubic high-performance devices?
Not only its power and versatility, but also its tightness, autonomy and high operational reliability.

Let us know better your letter of guarantees:
SANICUBIC 2 XL has five multidiameter inputs between 40 and 110 millimeters and one more for ventilation. The electronic control block is independent and can be placed in a more remote and secure location. The unit with mechanical equipment and motors has been equipped by SFA Sanitrit with a maximum IP68 insulation, which guarantees its water and dirt tightness. However, if any incidence of operation occurs, the system is equipped with full alarm functionality that warns against excess water level in the tank, overloading the motors or a power cut. In addition, these warnings are displayed on a remote panel connected by cable, so that the system can be monitored from a location away from the location of the equipment.
In addition to a great ease of installation
"Directly on the ground",
the SANICUBIC 2 XL complies with EN 12050-1 (pumping station for wastewater containing feces), apart from the European guidelines on construction products, electrical safety and electromagnetic compatibility.
https://youtu.be/ZEJJymrL9oc
Búsqueda para satisfacer el conocimiento de la actividad arquitectónica y tangentes que se generan. La idea es crear un espacio para divulgar los diversos proyectos en busca de nueva inspiración y de intercambio.