Tom Emerson studied architecture in Bath's University, in the Royal College of Art and in the University of Cambridge, where later he exercised the education, as well as teacher in Architectural Associatio and in 2010 in the Swiss Federal Institute of Technology in Zurich. It has published articles about architecture, literature and art. There has gained different prizes as the medal RIBA 2010 for the gallery of art Raven Row placed to the east of London or the New London Architecture Award 2011, for the acclaimed South London Gallery.
The conference "Never Modern" will turn on the social influence in the planning of the building of different zones of the same city. Across the works of the French philosopher and social anthropologist Bruno Latour, Architects has forged the bases of the study 6a, founded in 2001 together with Stephanie Macdonald. Emerson defends that the pupils need more practical skills for his future profession, of which in 6a Architects centres on alive projects, which help in the innovation and knowledge. Due to this way of executing the projects, East, it has turned into one of the most important of the United Kingdom.
"The architecture is fundamentally a work of do-it-yourself arisen of between the rubbles of the history and the comedies of the daily life (…)"

Tom Emerson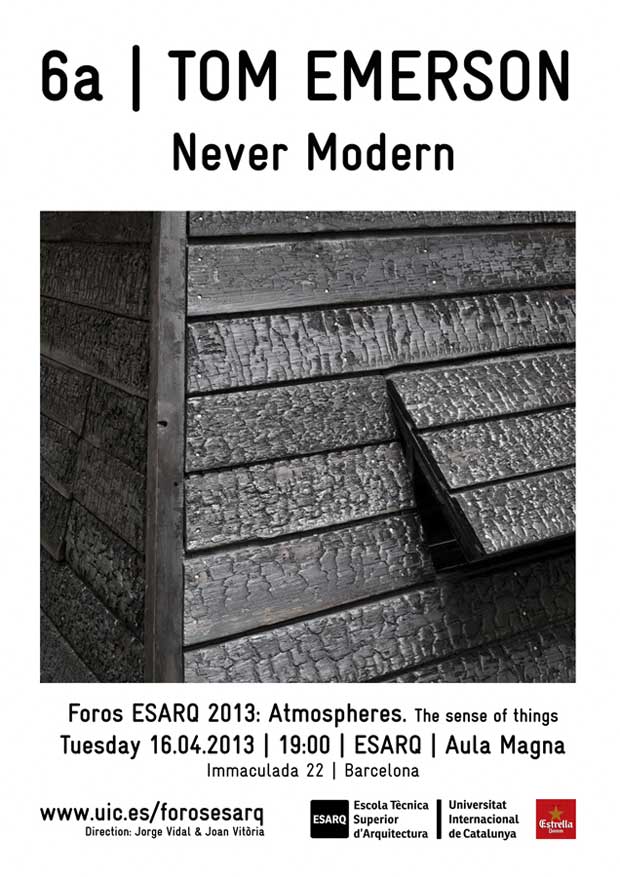 The conference is included inside the FORUMS ESARQ 2013, which is realized in the Technical Top School of Architecture of the Universitat Internacional of Catalonia, ESARQ-UIC. The act, which will be opened the public, will take place at 19:00 in the Assembly hall in the campus UIC.
Date: On Tuesday, 16, april 2013
Hour: 19.00 h
Location: Escuela Técnica Superior de Arquitectura de la Universitat Internacional de Catalunya (ESARQ-UIC). Aula Magna -C/ Immaculada, 22, 08017 Barcelona

Búsqueda para satisfacer el conocimiento de la actividad arquitectónica y tangentes que se generan. La idea es crear un espacio para divulgar los diversos proyectos en busca de nueva inspiración y de intercambio.