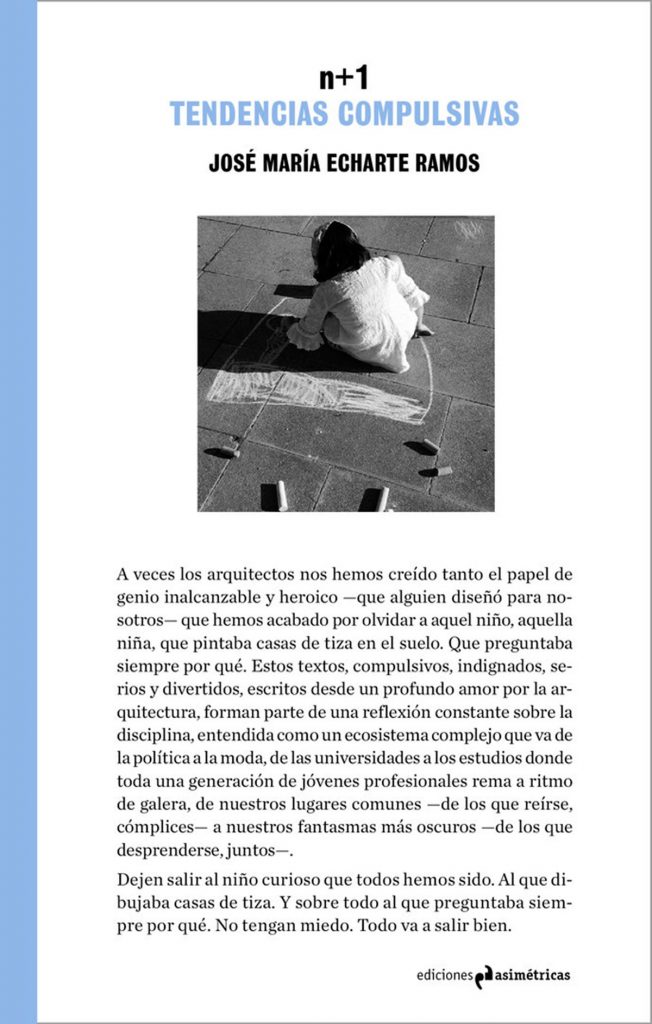 Sometimes the architects we have believed ourselves so much the paper of unattainable and heroic genius – that someone designed for us – that we have finished for forgetting that child, that girl, who was painting houses of chalk in the soil. That was asking always why.
These texts, compulsive, indignant, serious and enterteining, writings from a deep love for the architecture, form a part of a constant reflection on the discipline understood as a complex ecosystem that goes from the politics to the mode, from the universities to the studies where the whole generation of professional young women rema to pace of galley, of our common places – at which to laugh, accomplices – to our darker ghosts – with which to part, together-.
Stop to go out for the curious child that we all have been. To the one that was drawing houses of chalk. And, especially, whom he was asking always why. Do not be afraid. Everything is OK to going out.
José María Echarte Ramos, (Almeria 1973), architect for the ETSA Madrid in 2000, is A Teacher of Projects and Theory and Critique in the King Juan Carlos University and coeditor of n+1, Blog of Architecture and Critique. It has developed his labor in the field of the public work, the Administration, the teaching and the critique. In this area it raises an investigation that proyectual tries to go beyond and purely aesthetically, understanding the architecture as a socioeconomic complex ecosystem.