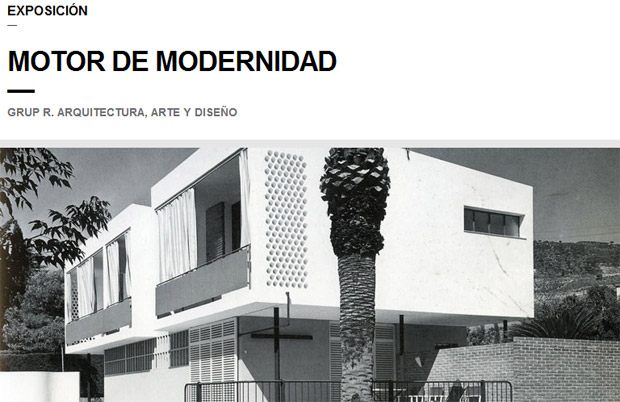 In 1951 there is constituted in Barcelona the Grup R, an association which aim, according to the first one of the articles of his bylaws, is " the study and spreading of the problems of the contemporary art and especially of the architecture ". Under the letter R, to come to terms with Renovation and cultural and architectural Recovery, the Group was assembling members of two generations of architects: those who initiated his studies immediately before the Civil war and those who did it on having finished the contest. Two generations interlaced by the GATCPAC, as the first modal, and the concepts inherited from the magazine AC and for the sophistication that was detaching the magazine D'ací d'allà. They were joined also by the common interest to promote an international architecture from the modern movement and his later critique, opposite to the architectural panorama of the first period of the Franco's regime.
This exhibition recalls the ideas and the works of this set of architects, whose action helped to consolidate an own version of the modern aesthetics under the pro-Franco regime. His constructions – today good examples of the architectural modern heritage – and especially the exhibitions and the debates that they organized, fed and internationalized the Catalan culture of that moment, politically very darkly, but creativamente very dynamic. Comisariada for Fernando Marzá, the exhibition proposes to re-place in the present an essential episode to understand the tensions between modernity and forefront in our country from the second half of the 20th century to the present day.
Josep constituted the Grup R Oriole Bohigas, Jose Antonio Coderch, Joaquim Gili, M. Martorell, Antoni de Moragas, Josep Pratmarsó, Josep M. Sostres and Manuel Valls. In 1955 they enter officially Guillermo Giráldez, Josep Antoni Balcells, Manuel Ribas and Joaquim Bassó and give of it lowers officially Coderch and Valls. Finally, in 1958 they deposit Pau Monguió and Francesc Vayreda.
Durante su trayectoria el Grup R contó con la colaboración de Ricard Giralt Miracle y de Joan Josep Tharrats para el grafismo y de Francesc Català-Roca para la fotografía.
Date: on February 6 – June 24, 2014. Commissioner: Fernando Marzá. Organization and production: Museu d'Art Contemporani of Barcelona (MACBA).
Búsqueda para satisfacer el conocimiento de la actividad arquitectónica y tangentes que se generan. La idea es crear un espacio para divulgar los diversos proyectos en busca de nueva inspiración y de intercambio.