Ecoproyecta has designed a few banks and tables type picnic that they are made by profiles of plastic recycled (Ecorenova company). This one is a resistant, stable material and that does not need any type of maintenance.
It comes from the valuation of the packings that we we all separate in the yellow containers, and that after a process of selection and later pressing ends up by shaping a few bars or strips of great density and resistance.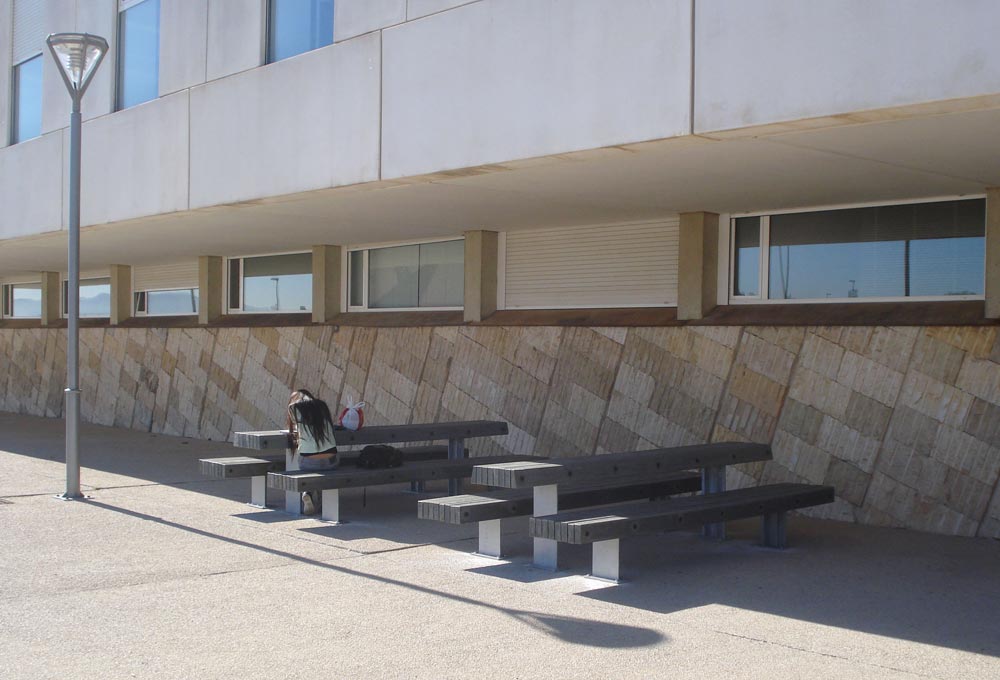 The banks have established themselves in the entry to the Faculty of Psychology of the University of Murcia, in Espinardo's Campus.
This zone was lacking furniture for students and teachers, of there that there was designing this model who serves so much to sit and to think a rest as also to work or to do a picnic in group.
The design has the peculiarity of which the table uses simultaneously as support, so that it is possible to sit down with a view to the table or of backs and to rest on her.
For it the corner of the table has been cut in angle to allow the support of the back of comfortable form.
To the being a furniture for exterior was necessary that it was resistant to vandalism and was not suffering due to the climatic agents, already out the solar radiation or the rain.
For it a few metallic supports have been in use by means of platens of galvanized steel and a few bars of recycled plastic, with a sufficient dimension for providing with hardiness at par that elegance to the furniture.
Work: Street furniture made with recycled plastic
Author: Ecoproyecta [Pablo Carbonell Alonso – Juan Miguel Galera Miñarro]
Promoter: Universidad de Murcia
Recycled material: Ecorenova
Mounting blocks: Panasán
Year: 2014
Photographies of assembly: Ecoproyecta
Búsqueda para satisfacer el conocimiento de la actividad arquitectónica y tangentes que se generan. La idea es crear un espacio para divulgar los diversos proyectos en busca de nueva inspiración y de intercambio.