The Technical Top School of Architecture of the Universitat Internacional of Catalonia (ESARQ-UIC) organizes next Tuesday, the 26th of June a round qualified table " Catalonia-ciutat " in the one that will inform the Hble. Mr Lluís Recoder, Minister of Territori i Sostenibilitat of the Autonomous government of Catalonia of Catalonia.
The act will preside at it the rector, Pere Alavedra, will possess a presentation of the director of the ESARQ-UIC, Vicente Sarrablo, and the intervention of the impellers of the event; the teachers Pere Vall and Carmen Mendoza, joint managers of the Master Oficial Regenerating Intermediate Landscapes.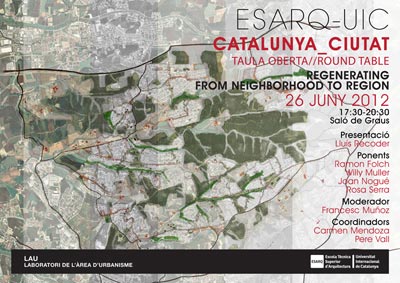 After the intervention of the minister Recoder, course will be given for an opened table moderated by Francesc Muñoz, the director of the Observatori de la Urbanització, in which there will intervene Ramon Folch, The Director of ERF, Gestió i Comunicació Ambiental; Willy Muller, General manager of Regional Barcelona; Joan Nogué, Professor of Geography Humanizes of the Universitat of Girona and The Director of the Observatory of the Landscape of Catalonia, and Rosa Serra, Coordinator of the Area of Knowledge and New Technologies of the Diputació of Barcelona. In the row 0, there will represent recognized architects like Bet Alabern, Marta Benages, Romina Canna, Carles Llop, David Martínez and Daniel Mòdol. In the meeting, the experts Reflexionarán concerning the principal challenges of the contemporary Catalunya_Ciudad.
After the round table, a glass of wine-cellar will be served and there will do to itself delivery of the book LAU2 Regeneration of Intermediate Territories, the second publication of Urbanismode's Laboratory the ESARQ-UIC, signed by Carmen Mendoza and Pere Vall.
[mappress mapid="48″]
Búsqueda para satisfacer el conocimiento de la actividad arquitectónica y tangentes que se generan. La idea es crear un espacio para divulgar los diversos proyectos en busca de nueva inspiración y de intercambio.