"The trip is the meeting of something that we cover searching, without knowing what is with accuracy. It is the search of a language with which to be capable of drawing the shades of our ideas. Moving in the space and in the time, the trip is not but the history that pirates us; it is the expansion of our pupil the one that illuminates the space and there we find unknown regarment of intimacy".

Luis Moreno Mansilla (1959 – 2012), "Notes of trip to the interior of the time"
Yes today we will speak about trips, but not how to do them or to where we might go (if it is for what you look, you will be able to find it in this section in previous interviews), if not on the maps, these objects that we use before, during and later to one of these elopements.
From the classic map of thumbtacks to the magnetic map in which to mark your trips for the world, this way there might be defined the Mapnético project that there has developed two young of Malaga architects, Marina Díaz García and Daniel Natoli. His passion for the trips and the objects has crystallized in the development of a map imantado, an evolution of the classic one of cork or of paper with thumbtacks or pins.
"To whom would not it like to indicate on a map those unforgettable vacations or those places to whom it would want to travel at some time in the life?"
On this map you will be able to place of precise form thanks to the different colors of magnets the cities, countries, and all kinds of travelling routes that you have visited or try to realize, of form personalize for what you arrange infinite possibilities.
We all know the classic map of cork or of paper in the one that to the most travelling likes to plan his routes for the world with thumbtacks or pins. Nevertheless, Mapnético has reinvented now this map and has turned it into a map imantado of design into the one that is possible to place magnets of precise form in all the capitals or cities that you have visited or to plan the way of all your routes for the planet.
And what more? … Since continue reading estimated readers, you vais to remaining totally surprised.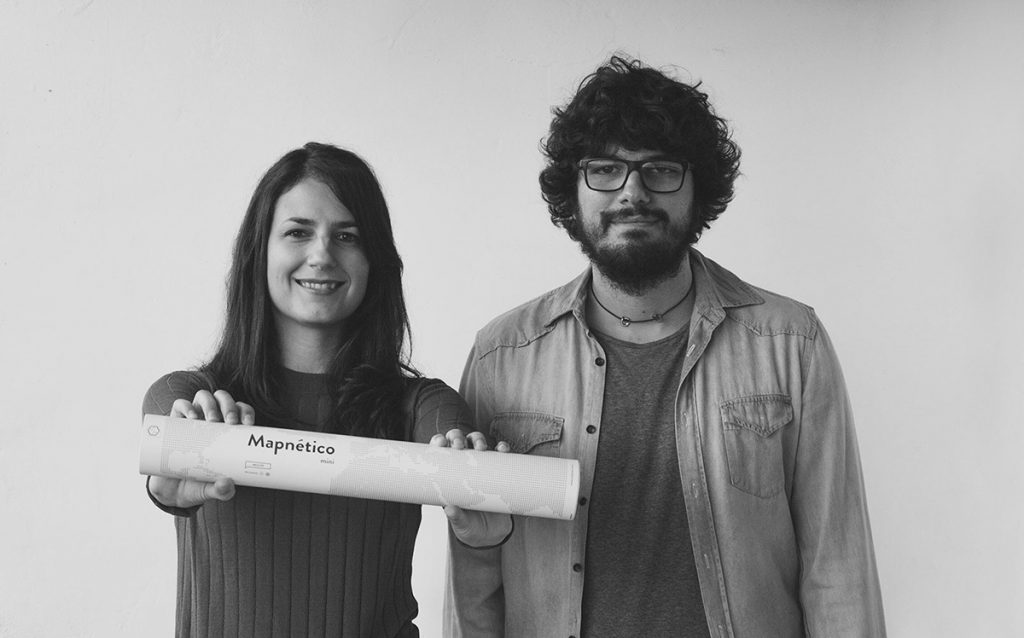 How would Marina and Daniel be defined?
Architects licensed by the University of Malaga at the end of 2013, Sea-coast was employed for different studies of architecture at Denmark and Finland before returning to his natal city and to meet again with the Sun. Dani reconciles the cinema with the web design, though his curiosity for exploring other fields is almost infinite. For both, to travel is an almost a need because it makes them feel that they are alive. In this sense, Mapnético is not any more than the professional result than this drive, a new window that is opened to be able to look at other horizons.
How, when and why does Mapnético arise?
Mapnético's concrete idea arises giving a walk along the streets of Tallin (Estonia), in 2015.
Immediately after a previous experience that we had with the design of a rucksack, often we were thinking of creating a brand or I study where we could design objects and commercialize them. This joined our passion for travelling did that that cold morning we ended up by combining design + trips and it happened to create a magnetic map to us where to be able to mark the cities or countries visited with magnets of colors.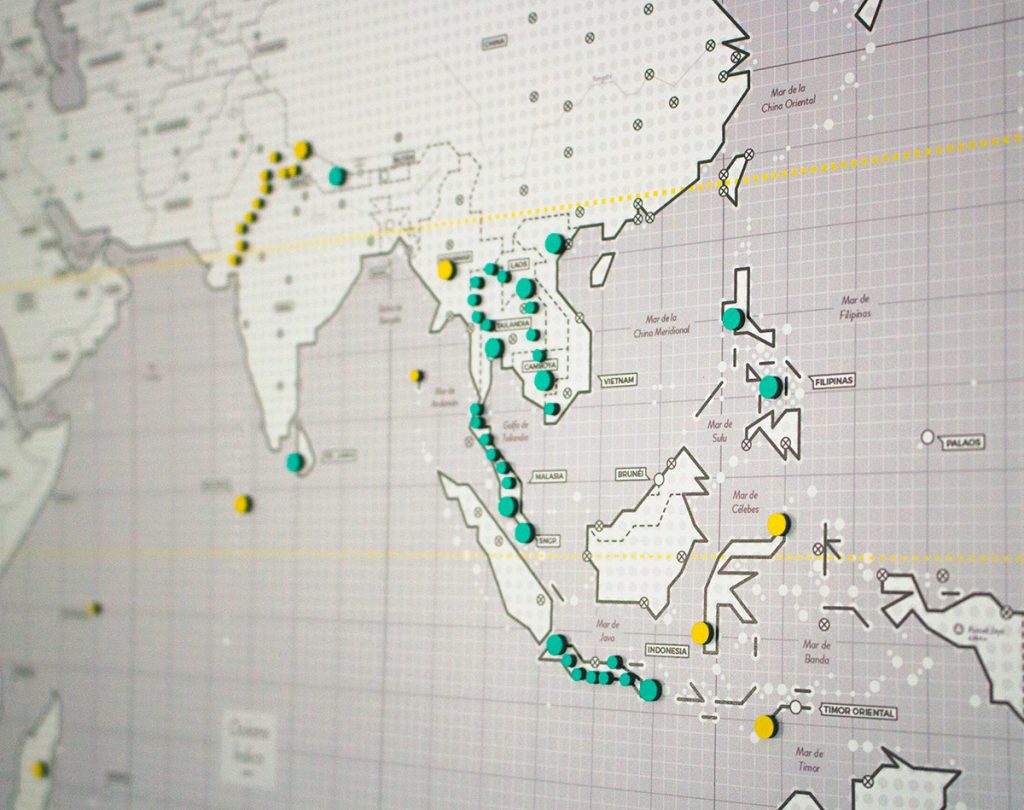 Did you meet many difficulties? Which were the most problematic?
We were almost one year investigating magnetic materials: his manufacturing processes, his costs, his finished ones, his functioning … we had clear that we wanted to do a qualit object and it took us many hours of investigation and test.
Nevertheless, though we invest enough time in the manufacture of the map, the most difficult thing it was not to throw the product in yes – of fact we think that any architect is more that qualified to develop a product with the knowledge and skills that are acquired during the career-, for us the most complex task was that of being persistent as soon as we had thrown the product. To insist, about calling to many doors in order that the map was announced, in order that it was coming to a wide public. For us this labor of marketing (foxglove and off-line) was the real challenge of the project.
How is it process of design, development and commercialization of your products?
In general, we think that any artistic process or of design develops of very similar form in what to his conceptualization it refers. To project a building is far from designing very much an object or from doing a short, at least not in his way of raising an idea and of being coherent with her until the end.
In case of Mapnético the first thing that we appear was how to draw the map. Our intention was that the map was a great linen in white, which every person could personalize according to his own travelling experience, and at the same time as it was a map of the world of design, which had own personality and which these values were recognizable as the stamp of Mapnético's distinction.
Of this form, basing on Miller's cartographic projection, we draw a polygonal atlas across an abstract reticle of points, which allowed us to provide to the map of this personal design that we were covering looking at the same time as it was managing to index the geographical necessary coordinates to locate a great quantity of relevant cities all over the planet. As soon as we had the complete drawing, we decide to apply a chromatic range of gray to the cartography and to play with three colors for the magnets. The result was a map of the world very minibadly that is acquiring similar color the persons are travelling.
As soon as we had the design we work with the different manufacturers and suppliers to take this idea to the reality. After testear and several prototypes prove pulimos the design until we close it in a definitive way. Later we themselves take charge distributing the product to the different shops and bookshops with which we work nowadays, though the majority of the stock we support it in store since the sale of our maps is realized largely across the web.
The last phase of all this chain would be the messenger company and the attention to the client. Every order that enters it has to send to his target correspondent and certainly it is necessary to fulfill always the period and treat well each of the clients.
Which are your references?
It would be difficult to enumerate all the influences and personal references in that we are interested, but for to naming some related to Mapnético we might speak about "Cereal", "Collective Quarterly" or "El Dorado Experience". We are charmed with this type of projects that combine the trip with the audio-visual one, the storytelling and the product design. In 2012 we develop a project that was approaching this idea, he was called Derivasia. Though we amuse ourselves very much carrying out it, the certain thing is that it did not stop being sustainable. Now we have begun Mapnético with all this baggage to the backs and having learned of the mistakes. We construct the framework little by little, but in a future much would like to bring this type of models over.
To what clients' segment do you go? Which are the orders more defendants?
Basically we go to those persons to whom it likes to travel and they estimate the design. Many of our clients are architects and designers, but also there buy us many travelers and globetrotters to whom it is charmed with crossing the planet. There are people who is interested in our maps because it wants to do a special gift to an amigo/a, pair or hijo/a, and also them there is that they want to use it to decorate his house or office. Our public is wide and diverse enough.
As for the more demanded, undoubtedly our major product is the Mapnético Original, a map imantado of 120x60cm, perfectly for tematizar any stay. This it gives very much game.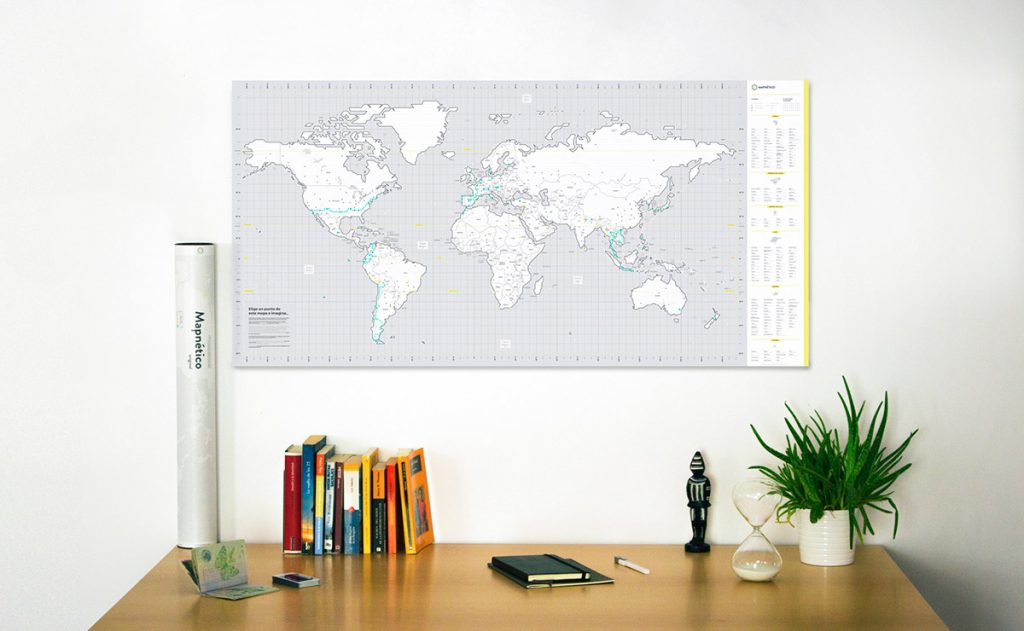 How and why do you use the "new technologies" ? Has "network"  facilitated your labor?
The network is our more effective way of coming to the people. We use many Instagram, not only to promote our products, but also to narrate the life and Mapnético's histories. For us it is important to show this Mapnético's emotional factor, we like that some type of bow exists or of be interested jointly between the person who buys the product and the own brand, and in this sense the networks work very well to be able to communicate this type of values.
Certainly, also we use all the tools to our scope to position ourselves better in seekers and marketplaces. And though the democratization of the digital thing provokes that the competition -and the quantity of information that us appears- is brutal, undoubtedly the network opens a very interesting range of possibilities.
How is it day after day in Mapnético?
Provided that for the present we are two, we are employed at many fronts at the same time. Every day we do of designers, web programmers, community managers, distributors, commercial, and in every moment what touches, trying to distribute and to organize in a most effective way, always with discipline and working for aims to mark small small goals.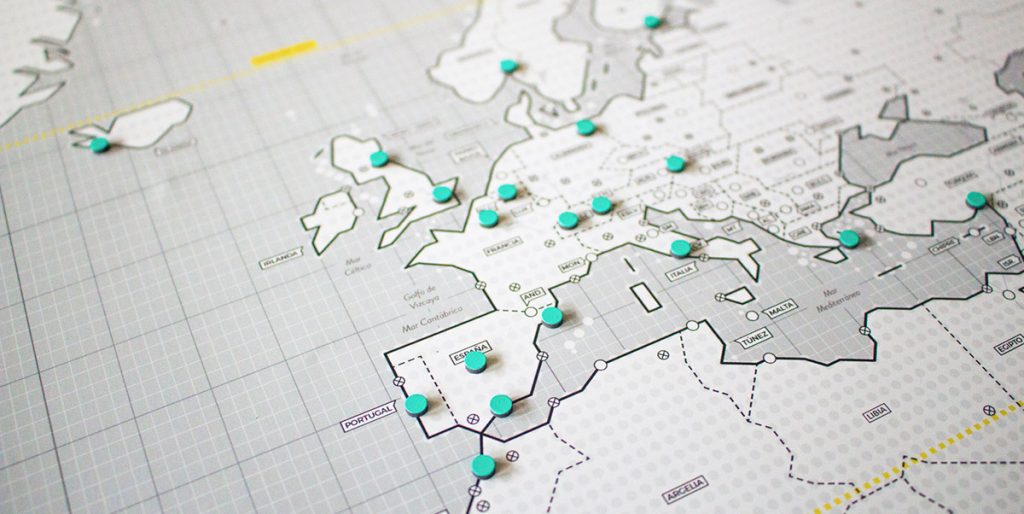 Do you arrange or complement this activity with other labors or in other fields?
Nowadays we reconcile Mapnético with the web design, the cinema and punctually someone that another collaboration in studies of architecture. In this respect to be defined becomes slightly enough complex, but we might say that for some time we are in a species of transition in which momentarily we leave the architecture – understood from his more classic form – to enter other territories.
The architecture, it has opened many fronts of battle (LSP, Bologna, unemployment, labor precariousness, Spades, ETSAs, emigration, communication, etc), will not they be too much for the existing polarization inside the same one?
Really, today many scenes of conflict coexist. It is the dreg that was formed during decades and that now we have inherited when the glass remained empty. We do not think that on any problematics, if they are on the table it will be for any motive, it is more, sometimes not at least visibilizan and not for it they stop existing. As for the polarization, there is not any more than the result of small collective conscience that always existed in our sector…
How do you see the future of the architecture? And that of the profession?
It is the eternal debate, the major question in all the architects' forums for years. If the response was simple probably it would not be insisted so much in her. Nevertheless, the only thing that one listens and is reflected in all the spaces of thought is they recycle and one every man for himself that he warns of the confused of the situation and of the disorientation generalized for lack of beacons and of points of anchorage in our commonness. In the relative thing to the future of the profession we take an a bit pessimistic position, not for lack of illusion -that always existed and it will have in our attitude-, but rather as hopelessness and indifference of almost any sphere of power.
What improvements you believe that they are fundamental and that they should be started of immediate form?
This situation exceeds the limits of the own sector for what it is evident that the solutions cannot come exclusively from the architecture. It is a political, transverse and heterogeneous question, which cannot be answered only by one or two improvements corporativistas, needs of a holistic exposition, and it is neither slightly simple nor immediate. We us have to stop thinking to us themselves as architects who have difficulties concrete and isolated to start analyzing our problems inside the company in which we live. The question is not palliative what we can apply in order that our profession meets benefited, is what economic model we want as company, which is the educational model for whom we bet, in what type of cities we want to live, what paper plays the culture, since we coexist with the nature… the response to all this set of questions will do that our living conditions, as civil architects, it is better or worse.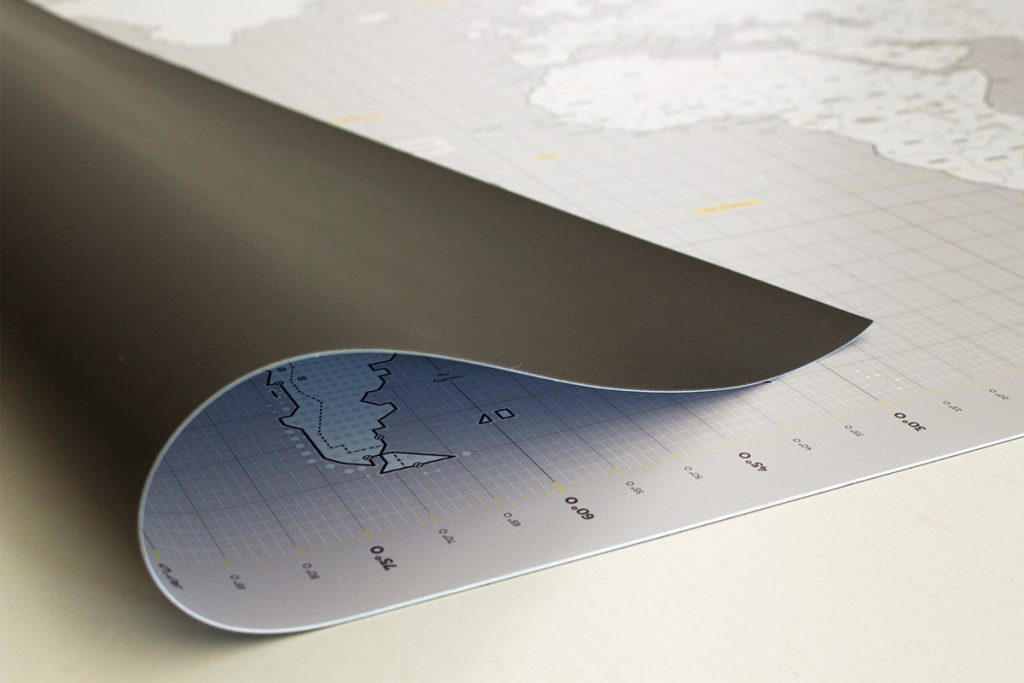 As "entrepreneurs" what do you think of the architects who "open and / or recover" new fields and / or approaches of the profession?
On the one hand it seems to us to be perverse that exemplify this type of exits as a collective solution to all the problematic ones of the sector, this speech of recycle, of be saved who and since it could on that we were commenting previously. It is very dangerous to turn this option to "undertake" in an obligation. Beyond it, nothing to object. It seems to us to be very interesting and more than worthy that each one could adapt his knowledge and forward them towards new approaches. That the architecture expands his field of action it is a sample of creativity that dignifies and demonstrates the resources of our formation.
Are you satisfied with the path realized till now? What projects of future do wait?
Very satisfied. Nowadays we walk planning the campaign of Christmas and if everything is OK next year we will start commercializing our maps in the European Union. To medium term – length term we would like to continue designing products and to be extending the catalogue, already be under the brand Mapnético or major other one that includes all our designs.
To finish, what would you advise the current students and future professionals of architecture?
Especially that enjoy this stage of his lives, it is the most important thing. That travel quite what they could, that take curiosity as everything, that they question any speech, which questions do to themselves and for which his own answers look. Definitively, that are useful this time to the maximum because one is not really conscious of the valuable thing that they are these moments until the years do not happen.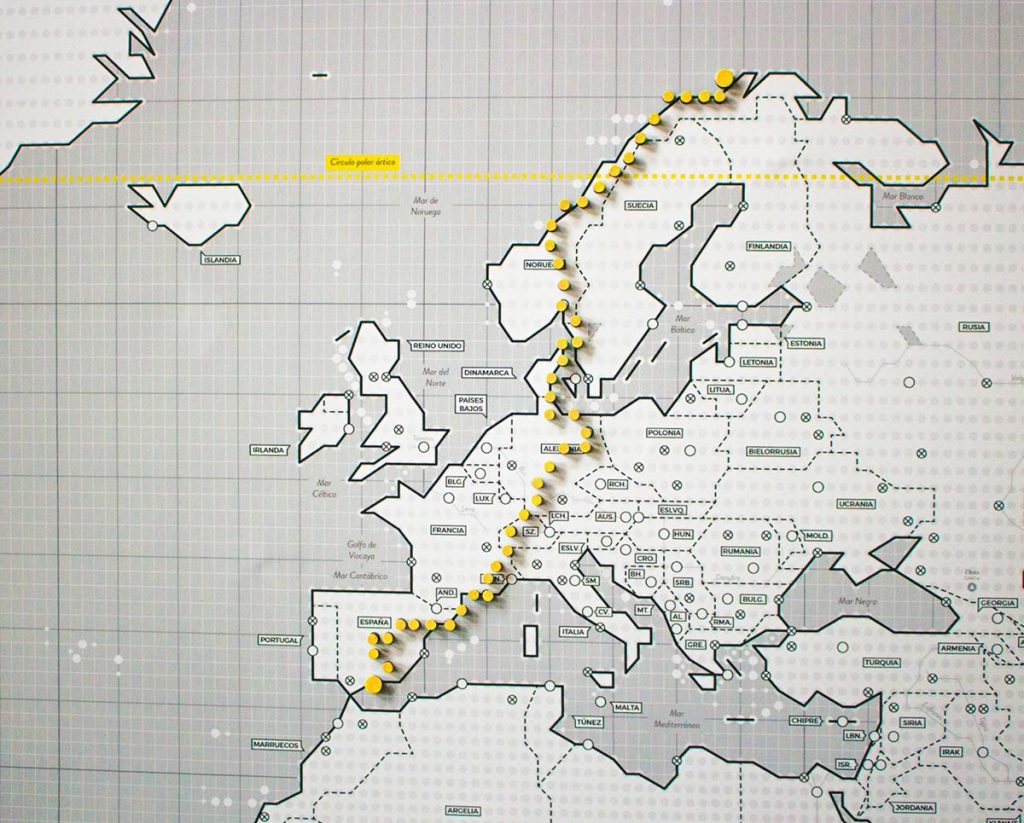 Marina Díaz García – Daniel Natoli Rojo · Mapnético
November 2017
Interview realized by Ana Barreiro Blanco and Alberto Alonso Oro. To be grateful for Marina and Daniel his time and predisposition with this small space.