Vari Caramés's photographic work (Ferrol, 1953) establishes a communication between the look of the photographer and that of the spectator across the temporary tenuous suspension of an instant and an atmosphere that emphasize elements that in a beginning possess a rather secondary character but that shape finally a universe temporary space in which there rest objects and beings who appeal to the deepest and personal aspects against those who contemplate his images. The photographies that shape Mar aberto, realized by the Galician artist in Teixeiro's jail and in the CAPD of Net achieve that the spectator penetrates of extremely respectful form in a world remote and not known for the majority of the people across the details, small instants of multiple and different histories that arise now to slant the chamber revealing before the observer the common and recognizable points between his world and different these.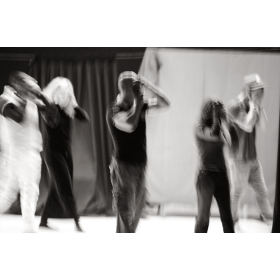 Close to Sea aberto, the Foundation Luis Seoane will expose a series of historical images of Conxo's sanatorium, between which Conjo's Album is included. It is a question of an album edited in 1907 that he gathers dress of the building and of the activities of this psychiatric center of Santiago de Compostela, a few images in which it estimates the distribution of the building, so much depending on his uses as the separation for social classes. The photographies that integrate the above mentioned album document the nineteenth-century conception and the imaginary one of the assistance to the persons with psychiatric problems and give faith of a way of understanding the psychiatry, of the medical practice associated with the psychic dysfunctions, of the borders of the acceptable thing and normativizado and of the exclusion and imprisonment that some groups and persons were suffering.
Date: May, 2012 – September 15, 2012
Artist: Vari Caramés
+ info
Búsqueda para satisfacer el conocimiento de la actividad arquitectónica y tangentes que se generan. La idea es crear un espacio para divulgar los diversos proyectos en busca de nueva inspiración y de intercambio.