"Providing that you teach, it teaches also to doubting what you teach."

José Ortega y Gasset
The philosopher Robert Swartz defends that to teach to think is something basic in the infantile education to promote the desires of learning and apprehending, to the adult futures.
Inside this philosophy Arquiexploradores is born, an initiative of two arquitectas Valencian, Mª José Torregrosa Mira and Loles Simó Bailén. Arquiexploradores is an educational project based on the architecture that has as aim develop skills and creative aptitudes across the work for competitions and the education for projects (EpP).
"To recognize, to register, to inquire or to verify with diligence a thing or a place, it is the definition that he gathers RAE her of "exploring".
Arquiexploradores, as other educational initiatives, was incorporated into the report on architectural Education for children "Manifiesto sobre educación, arquitectura e infancia", I demonstrate proved from both meetings on architecture and infancy celebrated in Madrid and Barcelona, in May and July, 2014, respectively.
We leave you with the interview that we they have realized in order that they are the own authors, make clear to us closely his offer.
Which has been your formation and professional previous path to arquiexploradores?
We knew ourselves ending the career of Architecture and from the first moment we connect. Each one was possessing a few rather different skills, for example Mª José always had had inclination towards the marketing and the company and Loles to the manualidades. Loles was employed for four years of technician at a construction company and Mª José ended a few months ago a máster in Marketing management and Communication, after a series of orders related to the design for companies.
The study plan of the School of Architecture of Valencia and the world of the teaching were a habitual debate between us. And, suddenly, the IDEA arose.
What did lead you to opening way you in the education? Why principally with children?
Who has not th one person questioned ever the content or the structure of the matters that he studies? For fortune, the Architecture agglutinates a great number of disciplines, both scientific and artistic. The Education did not have porqué be less.
Both we had worked with children previously and the experience had been positive. The difference is that we do not propose a 'matter ruled', a few 'fixed' lessons that to give. We are not teachers, are a species of 'coach' that accompany to exploring the world of the architecture, and across him the children extract experience and apprehended knowledge.
¿Teníais alguna experiencia previa?
As we were commenting on you, both we had worked with children. Loles to particular level and Mª José with groups. This question was giving us a bit of dizziness initially. Soon it us passed, since actually the children us do not come as a teacher to the use, we enter with them the adventure. Our activity in yes same is not a subject as such, and they perceive it immediately.
Did you meet many difficulties? Which were the most problematic?
To undertake a business always is complicated, and if the idea is new more. The socio-economic circumstances of today do not help, but when we speak with teachers or parents of the benefits and Arquiexploradores's methodology, end up by being they those who encourage us to continue fighting.
Being honest, we believe that nowadays the principal problem is the economic situation of the families. Besides this question, always the difficulty is added of explaining to the general public what is Arquiexploradores, a new idea that wraps the Architecture and the Education for Projects … ehhh??? Jeje.
Are you satisfied with the reached aims?
Arquiexploradores is a long-term project, in which the principal investment is our time and illusion. We are rather perfectionists and cautious. We try to mark ours royal and tangible aims. To go stepwise. We begin to be employed at him only two years ago and the project is evolving with our experience. We have given workshops in different places of Valencia and know that the activity works. Now we are incorporating into the project the vision and the knowledge of different persons who devote themselves to the Education to finish of the following step professionalizing and giving it. The truth is that little by little we are fulfilling goals.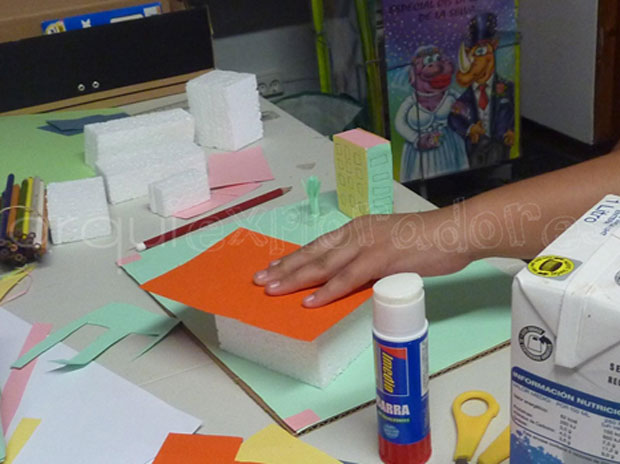 Do you think that to study Architecture has been a fundamental passport to have come to your current work?
Certainly, to give Workshops of Architecture yes … jaja. Nevertheless, the educational system has an arduous task ahead, so our children / aces have born in the 21st century and he lacks sense that they follow ' being formed ' how, and in matters, of the XXth. There exist other many initiatives that come from other fields and are really interesting.
And we see this also in ours day after day, in the works that each one, for his account, reconciles with Arquiexploradores. Our formation has given us a very vast base wherefrom to nourish ourselves and gives us the competitions and skills to develop tangential works … already it is a company, design, interiorismo, graphically, organization of events, works for technical companies…. The possibilities are infinite.
What expectations and projects of future have you for arquiexploradores?
Just now we are employed at two lines.
On the one hand, taking advice from teachers in order to be able ' to speak his language ' and implement Arquiexploradores as an out-of-school activity in the Educational Centers, for the present for Primary, hereinafter iremos extending … Our goals they are high, since you see, we apply to us themselves what we teach to our arquiexploradores.
On the other hand Arquicoach, our new line, has derived precisely of being enterprising we themselves. We realized that the Work for Projects was promoting many necessary skills for almost any task that implies collaboration. So we have dared to throw Arquicoach, where the way is so important as the result.
Do you arrange or complement this activity with other labors or in other fields?
We are Arquiexploradoras!!!, to get in different ' wash you ' it goes with the title … jaja.
We reconcile other works with Arquiexploradores, but all of them related to the architecture, the design of interiors and the construction.
Are this type of initiatives profitable? Do you feel remunerated well by the labor that you realize?
The beginning always are hard. But we are not fitted by doubt that once you have a volume of orders important the numbers go out.
Would you encourage other architects to follow your steps? What steps do you consider that they should give? How to complete his studies? What other advices would you give them?
The way that we have undertaken is an option as valid as any other one. The good of the Architecture is that it touches tangentially others many conscious disciplines, and to be of it is an added bonus. For example, the architects we are in the habit of being very organized and conscientious, why not to be employed at a company of logistics or at quality control?
Here the important thing during the first years of career is to be thinking what aptitudes I have, at what field I would like to be employed and, from there, to specialize. We encourage ours to which you do a car – arquicoach and do not lose it of dress while you vais forming.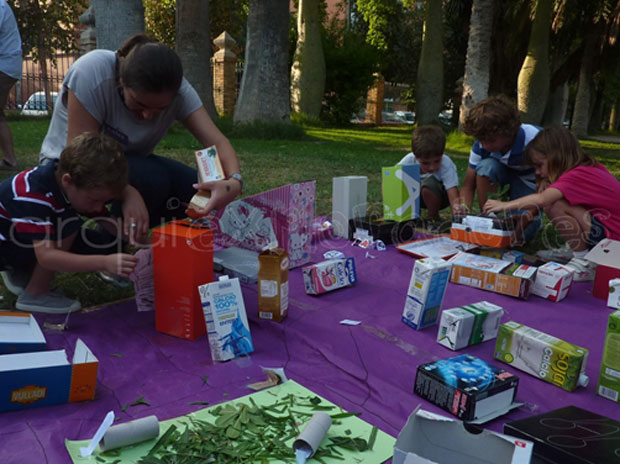 Do you believe that the architects in Spain we should continue opening new routes of work to go out of the "most "traditional" cabin of projecting given the current situation of the construction in our country?
Certainly! In Spain the architects were be very accustomed to being sat in his offices. Thankfully for them, the work almost was coming only. It is not necessary to remember that the situation is different well nowadays.
Now we are great more licentiates and the sector is very stopped. The Architects we have many aptitudes and capacities for exploiting, so, without doubting it we say:
' YES … TO RENEW OR TO DIE'.
What do you think of those that they have been going to work abroad?
Sincerely, all the architects who have graduated recently have appeared it seriously, thankfully or unfortunately this profession has a contained vocational high place.
We have great part of our colleagues abroad. For our part, we have chosen to be hot up to the last cassette. Always we will support the one that decides to go away … though this ESCAPE OF TALENTS hurts us deeply.
How do you see the future of the profession?
Very different to of now, we wait for it. Always the traditional Studies of Architecture will exist, but we are sure that others many we will undertake new initiatives that will have links with the marketing, the company, the design of scenes for video games, specialists in planning … and, with all our forces, Arquiexploradores.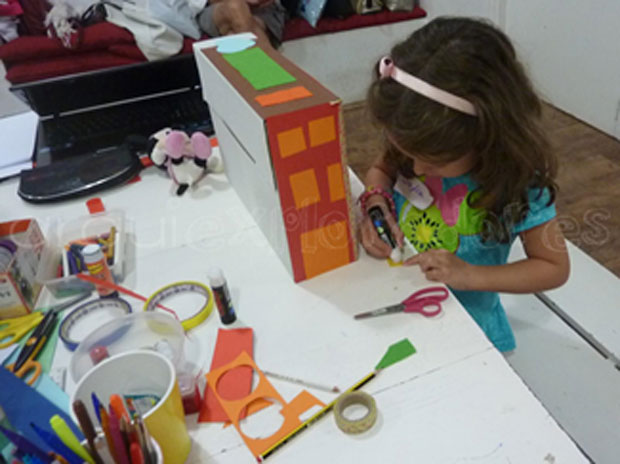 Mª José Torregrosa Mira-Loles Simó Bailén · Education | arquiexploradores
December 2014
Interview realized by Ana Barreiro Blanco and Alberto Alonso Oro. To be grateful to Mª José and Loles his time and predisposition with this space.