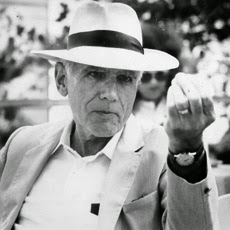 In previous income I have been gathering opinions about architecture of the diverse directors like Woody Allen, John Ford, Ingmar Bergman, Valerian Borowczyk, René Clair, Dziga Vertov, Peter Greenaway, Abbas Kiarostami, Raúl Ruiz, the actress Viola Dana, the essayist Sigfried Giedion. In case of the director Amos Gitai, his movie profession was coinciding with that of architect, the same thing happens with Luigi Comencini, that he studied architecture in Milan between 1934 and 1939.
In 1974 the French magazine Positif published an article in the one that was counting himself as Comencini, speaking with his former companions of the School of Architecture of Milan, it was affirming:
"A house is first of all an object to live, done in proportion to the man; a movie is first of all a spectacle directed a popular public. The aesthetic complacency like end in yes same is the degeneracy of the architecture, and the same thing happens with the cinema. Not bear in mind the reasons by which a movie is done, it means to betray her".
The "object to live" Le Corbusier resembles the repeated and famous motto: the machine of living, with regard to that the movie is "first of all a spectacle directed a popular public", lucky and evidently it is not true, as for the "aesthetic complacency", it is clear that it does not have felt for yes same, to sorrow that it seems to many current architects to be sufficient, and if a building does not expire with his function, sense does not make construct it.
Jorge Gorostiza, architect. Author of the blog Arquitectura+Cine+Ciudad
Santa Cruz de Tenerife, september 2014
Doctor arquitecto, proyecta y construye edificios y desarrolla trabajos de urbanismo. Desde 1990, publica numerosos artículos sobre cine y arquitectura en medios de su localidad, revistas como Nosferatu, Nickleodeon, Academia, Lateral, Cahiers du Cinema… y en varios volúmenes colectivos. Entre el 2000 y el 2005 dirige la Filmoteca Canaria. Imparte conferencias sobre arquitectura y cine en instituciones como el CAAM en Gran Canaria, la UIMP, el CENDEAC en Murcia, INCUNA en Gijón, Fundación Telefónica, la ETS de Arquitectura y el CCCB de Barcelona, las ETS de Arquitectura de La Coruña, Sevilla, Valencia y SEU madrileña, La Ciudad de la Luz en Alicante, la UNED en Pamplona, en varios colegios de arquitectos, así como en las universidades del País Vasco, Gerona, Valladolid, Málaga, Granada, SEK en Segovia y CEES de Madrid. Jurado en varios festivales cinematográficos, como los de Alcalá de Henares (2001), San Sebastián (2002), Sitges (2003), Las Palmas (2005) y Documentamadrid (2005), y comisario de las exposiciones Constructores de quimeras. (Centro Conde Duque, Madrid, 1999) y La arquitectura de los sueños (Capilla del Oidor, Alcalá de Henares, 2001).
He publicado bastantes libros y muchos artículos, he impartido conferencias, he sido comisario de exposiciones y jurado en muchísmos festivales. Si quieren saber más no duden en consultar mi blog ARQUITECTURA + CINE + CIUDAD.