After an initial period narrowly tied to the market of Santiago de Compostela, Supplies 2.0 it decides to extend his limits and to begin the expansion of his ideology with a place placed in the small seaworthy villa of Rail, in Vilagarcía de Arousa.
A humble building afoot of beach that along his history had uses as unlike as that of control of the maritime traffic, of carpentry of ribeira or of ship of storage of naval effects.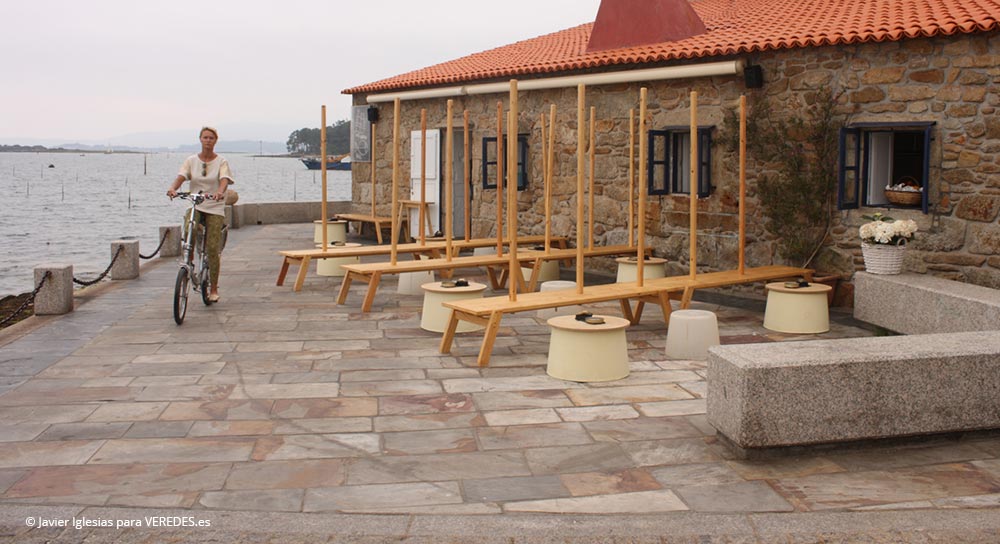 The intervention has as aim reinterpret the traditional Beach stall, playing with concepts as the temporary character of the solución, the improvisation, the polyvalency or the use of re-used materials and of low cost.
The pieces of furniture both of the interior spaces and of the terrace are conceived for a shared use, something that it comes given by the need of utilization of the scanty space, a major rapidity in the installation and the reduction of the space occupied for storage.
The conception of the kitchen is born of the will to fuse it with the dining room in the same space, creating from the central island of work the only elongated table and integrating in the same piece production, presentation and degustation.
A concept that evokes the origin of Supplies 2.0 and moves it to her Ría de Arousa.
Work:  Loxe Mareiro. Beach stall
Descriptive title: Conditioning place for hotel and catering business
Location: Carril. Vilagarcía de Arousa (Pontevedra, Galicia, Spain).
Year: August 2013
Authors: cenlitrosmetrocadrado (Xabier Rilo, Ricardo Tubío, Manuel del Río)
General design, development of furniture and supervision of work: Cenlitrosmetrocadrado
Promoter: Abastos 2.0
Electrical equipment and lighting: Gonzalec
Kitchen equipment: Grupo Roig
Painter: Colorfer
Carpintaría and furniture: Carpintería Óscar Penedo, J.C. Botana Carpinteros
Photography: Javier Iglesias
+ cenlitrosmetrocadrado.com
+ Publications
Búsqueda para satisfacer el conocimiento de la actividad arquitectónica y tangentes que se generan. La idea es crear un espacio para divulgar los diversos proyectos en busca de nueva inspiración y de intercambio.