The Series of arches of Nuevos Ministerios will take in, from 11 of March until 18 of April, shows 'her The Brilliant ones 50', organized by the Ministry of Housing, that will include 35 works of outstanding Spanish architects in the decade of the 50. Between picked works emphasizes "the winner of the contest for the center Azca of Madrid, possibly the first operation fulfilled in Spain for way of contest to intervene in the organization of the city serving of the architecture", is specified from Beatriz Corredor's department.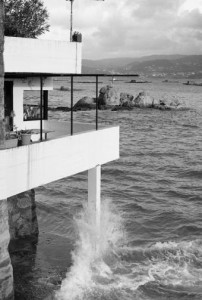 by coagvigo
Thirteen of exposed works correspond to residential projects, both urban and rural; four single-family housings, three industrial buildings, three churches and five constructions for the education and the investigation. The seven remaining ones belong to uses several: a trade-union house, an embassy and a soccer field. The relationship alone directs on which were needs and worries of the Spanish society and in which fields the best results were given.
In the field of the housing, the most significant work is the housing set of Rafael De the Sickle in Montilla (Córdoba), where the investigation and effort of the architect took him even to design the furniture and to pose a housing concept that a remarkable advance supposed when it comes to minimum necessary and in the use of the available space.
Besides, emphasizes the resource to the modulation and the effort for rationalizing constructive processes to allow the system-built element incorporation or of series with which to cheapen costs so that the benefit of the architectural new ways arrived to all social strata.
Industrial material incorporation
"This way, are added to the material architecture of the industry as the asbestos, veneer, block of mortar. That desire of rationalizing is perceived with clarity in the work of Ortiz Echagüe and Echaide or Coello", organizers point out.
Works emphasize, according to developers of shows her, for his authors' sensitivity for the social question, that is specified in the worry for the housing problem to the one which were given "of keen"way, but with limitations of the emergency and the lack of economic wherewithals and technicians of the period, of which are shows buildings of Artal or Recaséns.
Likewise, "reflect better the architectural reality of Spain in that decade that works consecrated by the critic", ensured from the organization. "It can that selected authors are not between first-rate considered schoolteachers, but they showed brilliance in his creations and a series of common features that a portrait allow shaping of those years'"Spanish architecture, point out from the Ministry.
Búsqueda para satisfacer el conocimiento de la actividad arquitectónica y tangentes que se generan. La idea es crear un espacio para divulgar los diversos proyectos en busca de nueva inspiración y de intercambio.