Lalabeyou arises in February, 2012 as a gallery – workshop of jeweler's shop comtemporánea. A space of exhibition and a place for the formation and the creation.
Which has been your formation and professional path before Lalabeyou?
I studied Top Architecture in the Technical university of Madrid from 95 to 2003. In 2003 I moved to Barcelona where I was employed at Roberto Suso's office for 3 years.
In 2005 I realized a course of waxes for smelting to the wax lost in Barcelona and in 2006 the Massana Permanent of workshop of jeweler's shop for 4 months.
To the return to Madrid, I registered in the School of Arts and Trades N º where I dealed the studies of Artistic Jeweler's shop.
In 2010 I approved the examinations to project teacher of jeweler's shop, and was giving class of Materials and Technology as domestic help during the course 2010-2011
In February, 2012 I inaugurated the gallery-workshop Lalabeyou,  in the neighborhood Chueca in Madrid. I have arranged the work of arquitecta and designer of jewels up to the current importance.
What did you lead to opening way you in the design of jewels
I was charmed with the immediacy of the process. When you design a building it can happen a lot of time until you see it finally constructed. A jewel you can design and realize it during one evening it, depending clearly it is, of the complexity of the same one.
It is a wonderful world for impatient architects.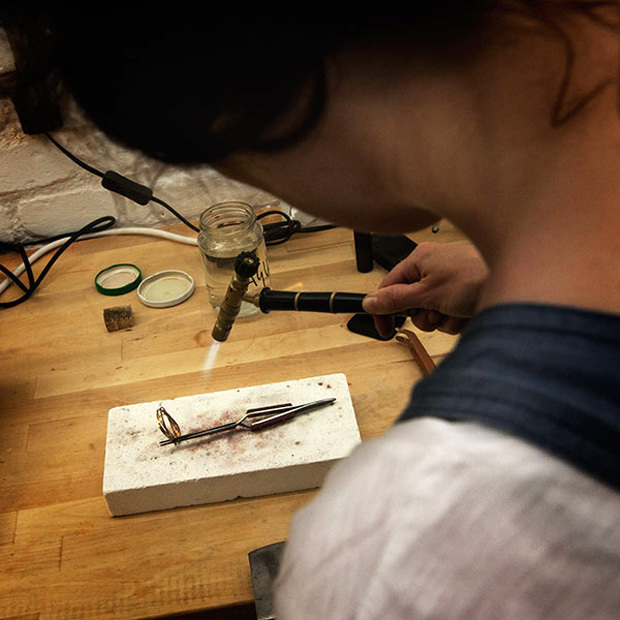 Did you meet many difficulties in his putting in march?
The reality is that it was quite enough fluid.
I was looking for place for several months, without hurry, and finally I found it in one of my favorite zones. It had small reform that to realize and therefore few economic investment. The pupils were coming rapidly across the mouth-to-mouth resuscitation.
Do you think that to study Architecture has been a fundamental passport to have come to your current work?
Undoubtedly. The architect's formation has given me the whole aptitude to design and compose projects, to any scale. The jeweler's formation has given me the specific technology of the work with the noble metals.
Are you satisfied with the reached aims?
I cannot be more satisfied. Every day I get up with desire immense of coming to my place and seeing my pupils. It is not difficult to me to forestall anything, everything says it, not?
Would you encourage other architects to follow your steps? What steps do you consider that they should give? How to complete his studies? What other advices would you give them?
Certainly. In fact many of my pupils are architects. It would encourage them to be thrown especially to the swimming pool. The architect's formation has done us the real some suffering. In the nights without sleeping, endless projects of end of career… Mounting a business is for so much in comparison.
We are lucky to possess many resources.
Do you believe that the architects in Spain we should continue opening new routes of work to go out of the "most "traditional" cabin of projecting given the current situation of the construction in our country?
I believe that the architecture in the next years is going to give a draft to be adapted to the current situation. We must forget ourselves of the new work, and to think more about the rehabilitation and the intervention about public consolidated spaces.
What do you think of those that they have been going to work abroad?
That it makes the whole sense. If you are formed well and speeches languages it is natural to look for the ideal employment for the one that you are qualified though it is not in your country.
I of not having mounted lalabeyou, possibly also would have done it.
Laura González Sanz · Diseño de joyería | lalabeyou
December 2013
Interview realized by Ana Barreiro Blanco and Alberto Alonso Oro. To be grateful for Laura his time and predisposition with this space.