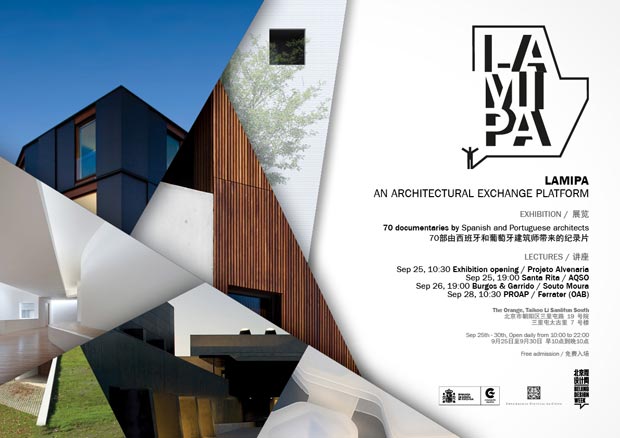 Beijing Design Week Film Festival, the Embassy of Spain in China and theEmbassy of Portugal in China are pleased to announce the opening of LAMIPA exhibition in Taikoo Li Sanlitun, Beijing.
LAMIPA is an architectural exchange platform showcasing architectural projects and services from Spain and Portugal. LAMIPA offers the remarkable architectural style that resides between the Spanish and Portuguese culture. This style emphasizes on a special combination of simple forms, neat details, functionality and sustainability.
The exhibition counts with 70 short documentaries showing architecture from a new perspective. LAMIPA also organizes special talks where architects show their works. These will include renowned architectural firms such as CML / Projeto Alvenaria(Bruno Silvestre + Alexandre Dias + Luís Spranger), Santa-Rita, AQSO arquitectos office, Burgos & Garrido, Souto de Moura, Proap and OAB Carlos Ferrater.
Venue:
The Orange
Taikoo Li Sanlitun South
Chaoyang Disctrict. Beijing. PR China
北京市朝阳区三里屯路 19 号院 – 三里屯太古里 7 号楼 100032
Búsqueda para satisfacer el conocimiento de la actividad arquitectónica y tangentes que se generan. La idea es crear un espacio para divulgar los diversos proyectos en busca de nueva inspiración y de intercambio.