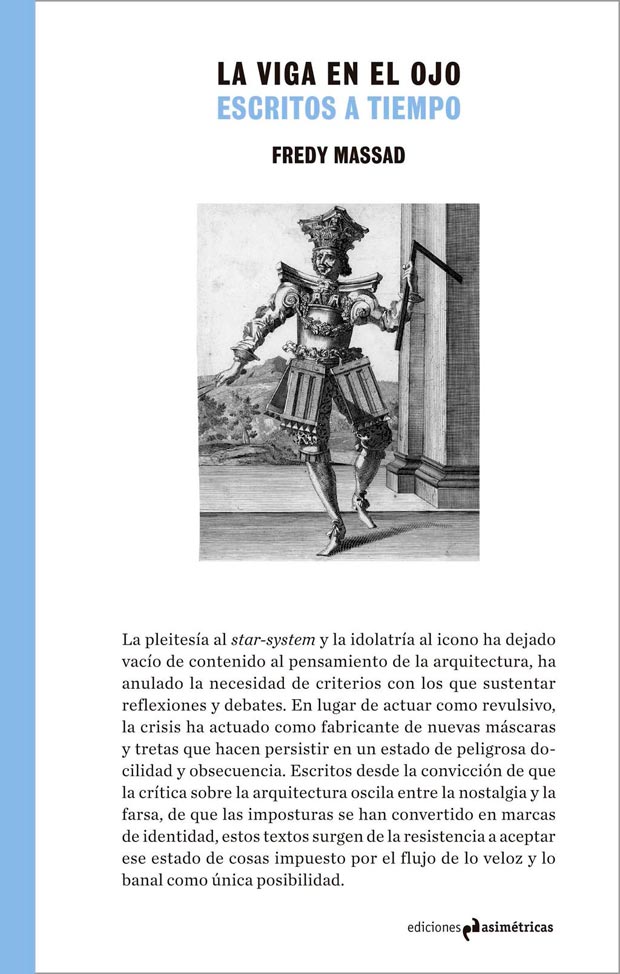 "The writings of this book arise from the pessimism that wakes up the puerile optimism of this time, this acobardamiento before the uncertainties that it leads to sticking to any mirage of salvation. From a personal look. With the will to indicate what seems moralist goes unlikely without any intention but of putting the eye there where I think that the things clearly do not work or seem to be deceits.

It wanted that this book was seen as an insistence in reacting to the sickly persons hegemonías and fes of an epoch.

All the opinions that here I present prefer being wrong to sticking fast blind to nothing or to nothing. They want to affirm that a critical attitude serves to destabilize, to break inertias, to destroy myths, to put topsy-turvy any supposition, to be able like that to allow a discussion Franc, free in the possible of ties and prebends, and constructive".

Fredy Massad, Extract of the prologue of La viga en el ojo.
The book contains forty articles structured in six sections, which present reflections concerning protagonists and phenomena that have been defining the architectural dynamics of last decade, between 2008 and 2015.
The intention of the volume is of fact to reveal how the homage to the star-system and the idolatry to the icon they have damaged to the thought of the architecture, it emptying and annulling the need of criteria with which to sustain reflections and debates, a condition that the current recession has aggravated furthermore deeply.
«Writings from the conviction of which the critique on the architecture ranges between the nostalgia and the farce, of which the deceits have turned into brands of identity, these texts arise from the resistance to accept this state of affairs imposed by the flow of the fast thing and the banal thing as the only possibility»,
Fredy Massad explains from the cover of this volume.
Búsqueda para satisfacer el conocimiento de la actividad arquitectónica y tangentes que se generan. La idea es crear un espacio para divulgar los diversos proyectos en busca de nueva inspiración y de intercambio.