I have insisted very much on this space on what it can be looked in the Power if it has come near to him after a personal process in which a vision of a more just world, a perspective that we might call humanitarian associated ideal politicians and a philosophical "figure" of the reality, has taken place. It is this case of a minority inside this jungle of opportunism and improvisation that characterizes our political operetta, but I do not hesitate to think that she is constituted by the best, the least ready to trade his affirmation in exchange for privileges or advantages. Though they enjoy them, because this way the things come given in the moment through that we live. And they are those who "support" to the Regime doors out.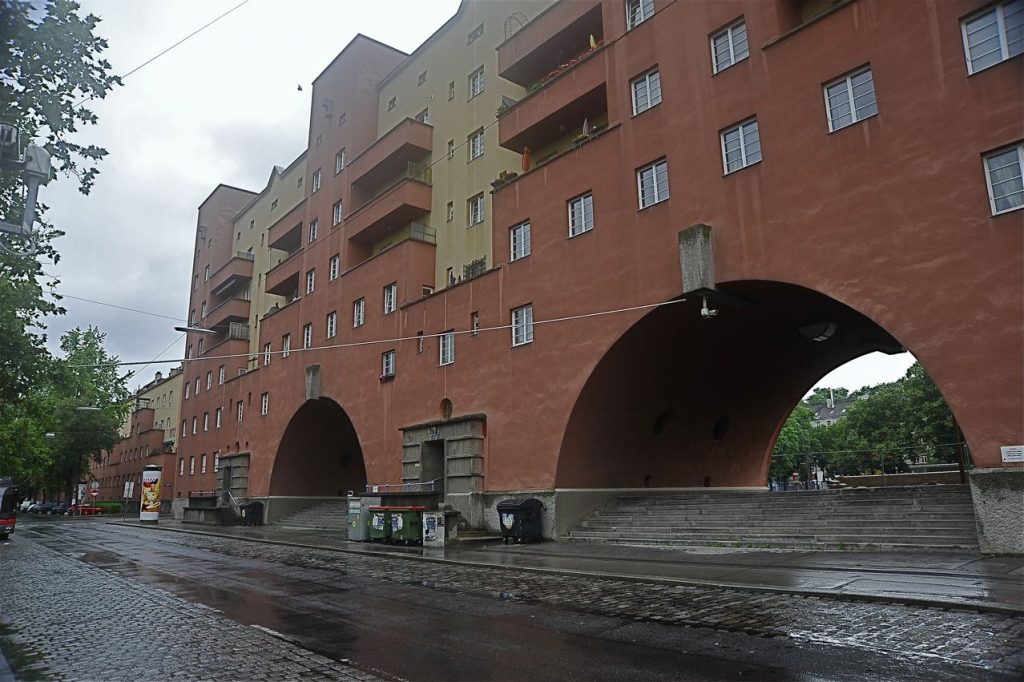 It is to this to that I dedicate the today reflection, stimulated by the visit to the Joint Karl Marx Hof Complex, built in Vienna as social housing in times of the Red Vienna, when the Socialist party associated with the communists took the Power democratically in 1918 and retained it until 1934 being replaced with a government of authoritarian cut, of rights, which lasted up to the "annexation" to Germany (Anschluss) executed by Hitler in 1938.
There was constructed between 1927 and 1930, in one of the exclusive sections of the city, the District 19, which was looking like a political provocative gesture of very much impact. It was financed by a special tax that allowed also the execution of similar sets done by renowned local and international architects.
His architect was the Viennese Karl Ehn(1884-1957), disciple of a central personage of the architecture of beginning of 20th century in Vienna, Otto Wagner (1841-1918), person in charge besides urban offers for the widening of the city. The apartments (almost 1400, with an area between 30 and 60 m2 by unit) were provided with private baths, an innovation at the time for this level of income, and they are characterized by generous balconies that were considered to be an own luxury of richer sectors.
An exceptional work.
The set was including green very generous areas, playparks, a library, laundries, pre-school and schools, services of health and offices. It turned into a luck of socialist symbol and during what was called the Civil war of Austria, in February, 1934, was a strong square of the paramilitary Socialists who were fighting against his conservative counterparts and the infiltration Nazi before the "Anschluss". In the hard combats it was bombarded by the artillery of the Austrian Army who intervened in favour of the conservatives, and suffered destruction that only was repaired in 1951.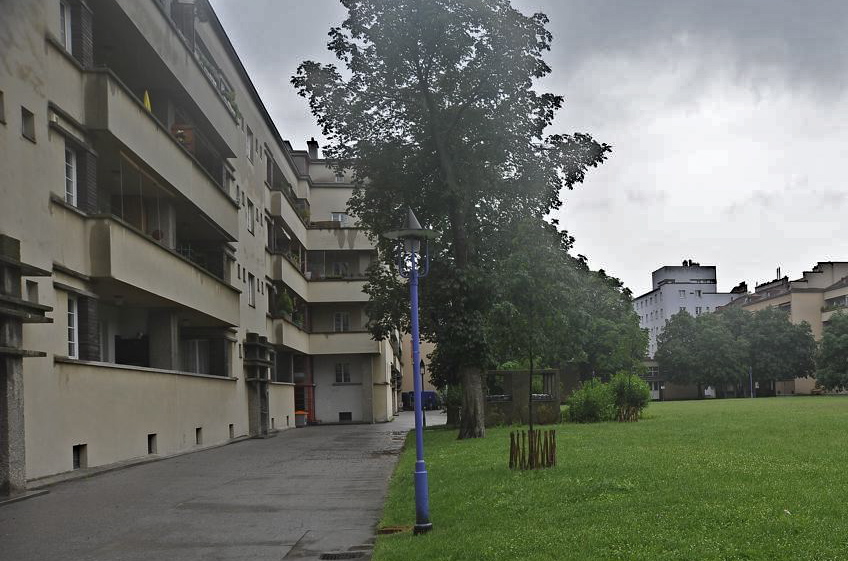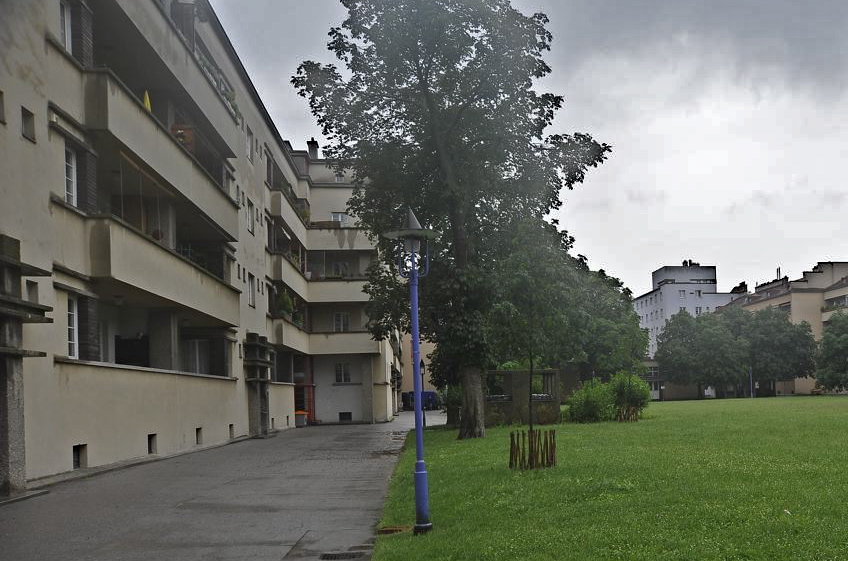 Karl Marx Hof, is undoubtedly some notable work, not only for what it represented in his time, following the way that in Germany were indicating the famous "siedlungen" (of the German "siedlung": urbanization or accession) also stimulated by the social democracy of the Republic of Weimar, but for the social dimension of the effort and his quality, which keeps her today active and in very worthy condition eighty years after his inauguration in 1931. Up to technologically it is of interest because the building has more than one kilometre of length, orientated one of his sides towards green wooded areas and other one towards a route of little traffic.
But what I am interested in emphasizing is his paper of symbol of the ideal political – social one, sample of Claudius Petit's maxim that so often I have mentioned, that identifies the political intentions with the intention of constructing. Of the Red Vienna there stay in effect for the posterity, among other things that are a history, testimonies of a will to establish new manners of conviviality of the man in the city. To do these things, inside the difficulties and confusions of a historical moment and to make it like bequeathed to a company, it is worth a sorrow coming to the Power.
Thinking.
And here it is where I aspire to place the reflection of these persons that I mentioned initially. How there can be thought that of the confusion in which there move the intentions of constructing housing that they express today here from the Power, a reinnovating tradition is going to arise from what is the housing and his insertion in the city?
What comes out towards out, with the presence televised of the Commander as central matter, nothing has to see with the intention of proposing analogous experiences, all the guarded distances, as which we comment today. If in little more than one decade 60.000 housings were constructed, only in Vienna; in times of enormous crisis eonómica and political, here, in the full century twenty-one, with enormous resources in hands of the State, the crisis of housing in Caracas and his zone of influence has justified the most unusual improvisations in the latter months.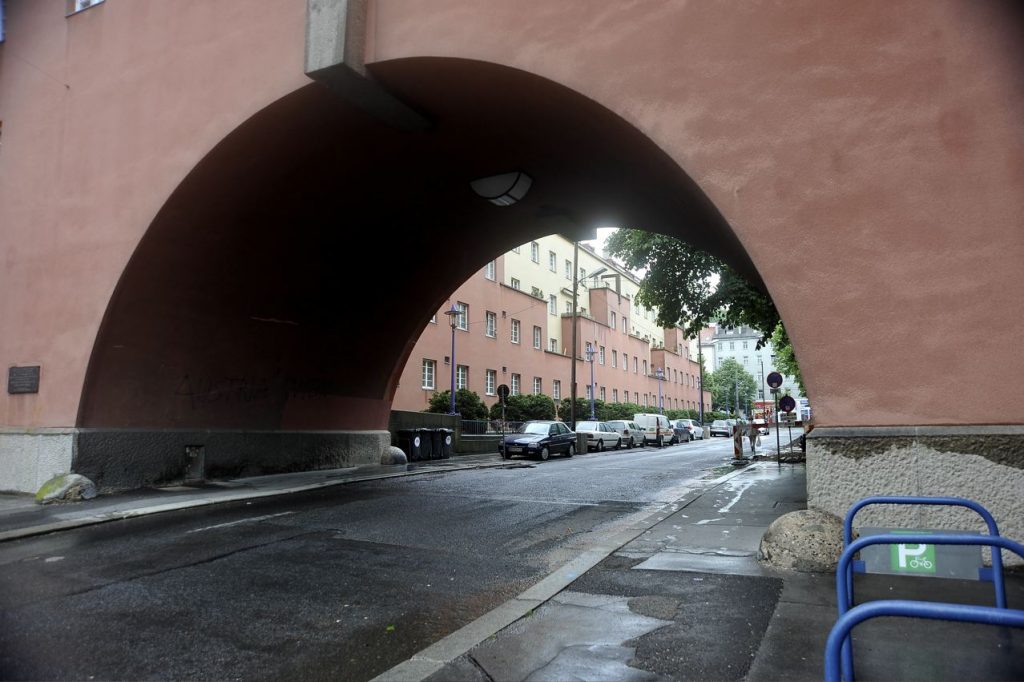 And which will be the "internal" reality protected by the walls of the political exclusion? Much worse, I assure it. Those who direct the program are docile executors of unwise and unjustifiable impulses. Contracts are done "key in hand" with bielorusos, Iranian, Chinese, Brazilian and every "amicable" foreigner at the cost of the national knowledge, by the idea absurd and misled of not giving him economic space to the "exploitative local middle class". They are not known, are secret, the presentations of the proposed developments, the quality that one proposes. They are confidential, only accessible to the employees of the Power and to the contractors friends.
How similar madness can be understood but as extravagancies of a Petro-condition of authoritarian vocation, defined by the worship to a personality that is characterized by deliriums and absence of direction? Can one speak here of ideal humanitarian?
On this I aspire that is thought over. One cannot think that the ideal ones are subordinated in all the cases and in all the situations, to the opportunism.
Óscar Tenreiro Degwitz, Architect.
Venezuela, juny 2011,
Entre lo Cierto y lo Verdadero
Es un arquitecto venezolano, nacido en 1939, Premio Nacional de Arquitectura de su país en 2002-2003, profesor de Diseño Arquitectónico por más de treinta años en la Universidad Central de Venezuela, quien paralelamente con su ejercicio ha mantenido ya por años presencia en la prensa de su país en un esfuerzo de comunicación hacia la gente en general de los puntos de vista del arquitecto acerca de los más diversos temas, entre los cuales figuran los agudos problemas políticos de una sociedad como la venezolana. Tenreiro practica así lo que el llama el "pensamiento desde y hacia la arquitectura", insistiendo en que lo hace como arquitecto en ejercicio, para escapar de los estereotipos y cautelas propios de la "crítica arquitectónica". Respecto a la cual no oculta su desconfianza, que explica recurriendo al aforismo de Nietzsche sobre el crítico de arte "que ve el arte desde cerca sin llegar a tocarlo nunca".