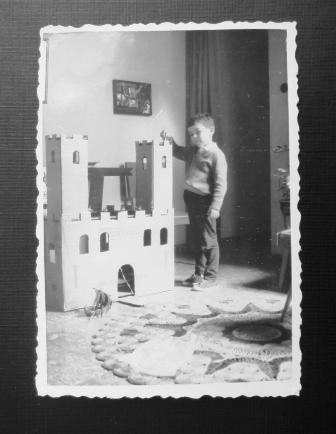 The father of Jorge bought the device of television very soon, so much that had not even begun the emission in the Islands. The box was enormous, or it seemed to Jorge, and his father with the patience and the skill that always had had, it turned her into a castle of carton that almost it was not fitting in the dining room, for prompt what it disappeared, after suffering irreparable hurts when Josechu fell above and squashed him one of them toast.
The television, a German Körting with wings imitating wood, he placed in the room with the sofa and the armchairs turned towards her and the life of the family changed. Jorge reminded his father and his mother reading each one a book silently, or listening to a disc, also kept silent, from that the first images penetrated in the room, the room encouraged, one was speaking, friends were coming to see the parties, his father was calling the presenters of the Television newscast liars … only there was silence during some movies.
The animation was reigning opposite that device, something like fire of the chimney that it had never fitted in that floor, and at the same time a window – it yes in white and black – opened towards other places of the World. The fiction had penetrated in the most sacrosanct place of the reality, inside the home, and already nothing would return to be like before.
The years happened and many people thought that that device was not worth being occupying a privileged site, for what they it concealed in so called "quarter of the TV", while sometimes they were placing other one in the bedroom. Now there was color and later more chains by what different programs could be seen – though in the bottom identical – to the unison.
The flat televisions had to come with big screens, in order that the devices were returning to the places of honor of the rooms, but also they appeared in the kitchens, and in the bedrooms of the children, and up to in some bathrooms. These devices not only were serving to see what the chains were issuing, to receive information, but one started being able to enter his interior, to which one was the protagonist of unusual adventures and in addition they joined other devices and turned in intelligent, from his screens it was possible to control the own house … and the televisions transformed in something more than an inert mechanism, were indispensable, and the fiction fused furthermore with the reality.
The certain thing is that today, I happen century after that television was entering his house, Jorge remembers perfectly the first images that it saw on his small gray screen, but almost he has forgotten how it was the castle of carton that his father constructed him.
Jorge Gorostiza, architect. Author of the blog Arquitectura+Cine+Ciudad
Santa Cruz de Tenerife, february 2011
Doctor arquitecto, proyecta y construye edificios y desarrolla trabajos de urbanismo. Desde 1990, publica numerosos artículos sobre cine y arquitectura en medios de su localidad, revistas como Nosferatu, Nickleodeon, Academia, Lateral, Cahiers du Cinema… y en varios volúmenes colectivos. Entre el 2000 y el 2005 dirige la Filmoteca Canaria. Imparte conferencias sobre arquitectura y cine en instituciones como el CAAM en Gran Canaria, la UIMP, el CENDEAC en Murcia, INCUNA en Gijón, Fundación Telefónica, la ETS de Arquitectura y el CCCB de Barcelona, las ETS de Arquitectura de La Coruña, Sevilla, Valencia y SEU madrileña, La Ciudad de la Luz en Alicante, la UNED en Pamplona, en varios colegios de arquitectos, así como en las universidades del País Vasco, Gerona, Valladolid, Málaga, Granada, SEK en Segovia y CEES de Madrid. Jurado en varios festivales cinematográficos, como los de Alcalá de Henares (2001), San Sebastián (2002), Sitges (2003), Las Palmas (2005) y Documentamadrid (2005), y comisario de las exposiciones Constructores de quimeras. (Centro Conde Duque, Madrid, 1999) y La arquitectura de los sueños (Capilla del Oidor, Alcalá de Henares, 2001).
He publicado bastantes libros y muchos artículos, he impartido conferencias, he sido comisario de exposiciones y jurado en muchísmos festivales. Si quieren saber más no duden en consultar mi blog ARQUITECTURA + CINE + CIUDAD.