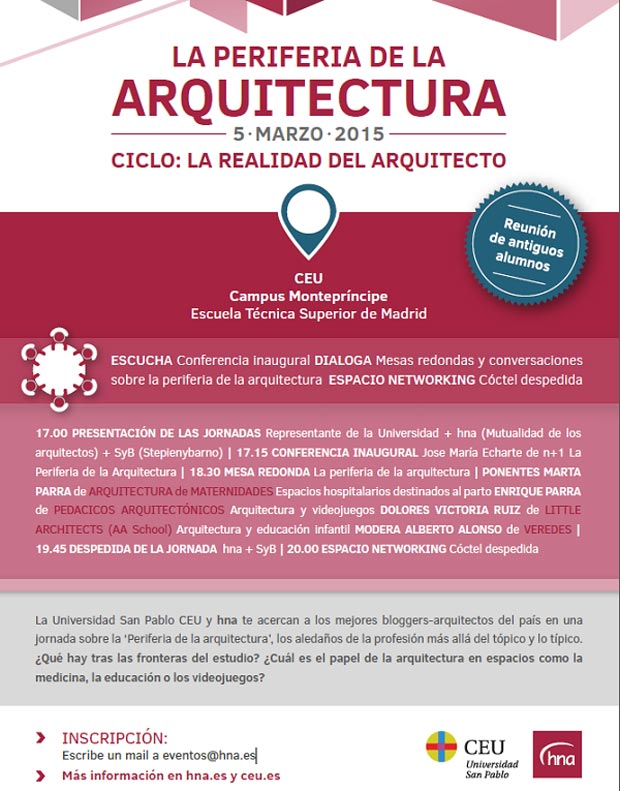 On Thursday, the 5th of March, there will take place the first day, The periphery of the architecture, of the cycle that the hna will organize under the title "The reality of the architect".
It is a question of a series of events that will be celebrated in several Universities of the country and, in all of them, Stepienybarno will have the luck of playing the role of commissioners of the same ones.
This way, for this first day, in the CEU San Pablo de Madrid, we will have with us referees of authentic luxury as Jose Maria te echar (n+1), Alberto Alonso (Veredes), Marta Parra (Arquitectura de Maternidades), Enrique Parra (Pedacicos arquitectónicos) and Dolores Victoria Ruiz (Semibasement / Little Architect).
PROGRAM:
17:00 – 17:15
PRESENTATION OF THE DAYS
CEU + hna + Stepienybarno
17:15-18:30
INAUGURAL CONFERENCE:
José María Echarte de n+1 _ The periphery of the Architecture.
18:30-19:45
DIALOGS _ ROUND TABLE _ The periphery of the Architecture.
Referees:

Marta Parra de Arquitectura de maternidades_ Spaces hospitalários destined to the childbirth.
Enrique Parra de Pedacicos de arquitectura _ Architecture and video games.
Dolores Victoria Ruiz de Little Achitects (AA School) _ Architecture and infantile education.
Moderate: Alberto Alonso de Veredes.
19:45-20:00
FAREWELL OF THE DAY
hna + Stepienybarno
20.00
SPACE NETWORKING
Coctail dismissed
Obligatory INSCRIPTION in: writting an e-mail to eventos@hna.es
ORGANIZE: Hna (Mutualidad de los arquitectos) + Universidad CEU
CURATORS: Stepienybarno
Headquarters: Universidad CEU
Búsqueda para satisfacer el conocimiento de la actividad arquitectónica y tangentes que se generan. La idea es crear un espacio para divulgar los diversos proyectos en busca de nueva inspiración y de intercambio.