The success obtained with the exhibition and the book dedicated on the occasion of his centenary, ' The conquest of the slenderness ', has allowed to Félix Candela the Foundation Juanelo Turriano the accomplishment of a project for a long time dear: to remember, studies and to spread the figure of the engineer Ildefonso Sanchez of the Rio Rammer, contemporary of Eduardo Torroja, Carlos Fernandez Casado or of own Candela, and unfortunately little known. The select format is similar to that of the honoring to Félix Candela, exhibition and book. Since in that occasion the volume edited by Pepa Cassinello and Bernardo Revuelta Pol, gathers texts of different authors (Fernando Sáenz Ridruejo, Javier Manterola or Jose Antonio Torroja between others), that offer a complementary vision of the creative and fruitful personality of Sanchez del Rio.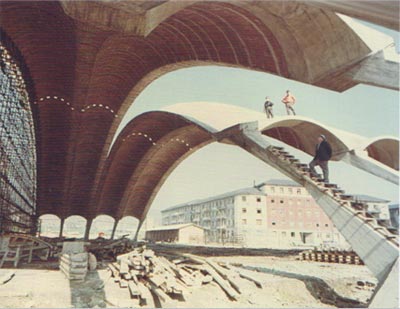 The texts place his contributions inside the context of the modern architecture and the engineers of the Generation of 27, and cover his diverse activities and projects.
[…]
Alejandro Bernabeu
+ article is published in Arquitectura Viva
P. Cassinello, B. Revuelta Pol (Eds.)
Ildefonso Sánchez del Río Pisón. El ingenio de un legado
Fund. Juanelo Turriano
Madrid, 2011
Búsqueda para satisfacer el conocimiento de la actividad arquitectónica y tangentes que se generan. La idea es crear un espacio para divulgar los diversos proyectos en busca de nueva inspiración y de intercambio.