"Perhaps us are to bring closer a moment from crisis of the city life and invisible cities are a dream that is born of the heart of the cities invivibles."

Italo Calvino "As cidades invisibles"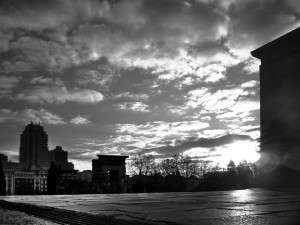 This city is born to the riverside of the imagination of each one, is transformed and tour on herself with every visitor so that always shows a different side. It transforms colors of the constructions, of windows, of the calles…la vegetation is stirred and it grows indistinctly, sometimes likes of piling in a point and other is spread until where the view does not be able to her to follow. People changes his respondents as though of a dice departure se to deal and which a day were still other if they move as though it had been them the life sometimes irons were laid for enormous structures forming tangled plots refulgent and colossal where they keep long and complex talk with birds, in other, stone and concrete rivulets flow following to trail of the humidity and the light in the morning], giving place to collected ways and lineales…Porque this city reveals a different image in every gaze, in every avenue, in every viaje…de way that when made the view back no more are able to admit the melody with which if they moved gestures.
Artwork: The changing city
Author: Roi Alonso Padin
Year: 2009
Location: Madrid
Memory: Roi Alonso Padin
Búsqueda para satisfacer el conocimiento de la actividad arquitectónica y tangentes que se generan. La idea es crear un espacio para divulgar los diversos proyectos en busca de nueva inspiración y de intercambio.