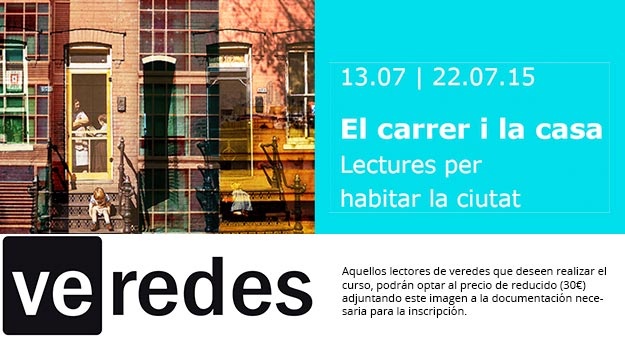 Institut d'Humanitats Course in Barcelona.
We tend to think that he marries and street, inside and out, publicly and privately, they can exist independently, almost like opposite. This division, nevertheless, ignores up to what point the house is a social construction, politically connoted, and the street a place to be lived and not only a space of traffic or of consumption. This course tries to reconsider the relation between the house and the street, the common space and the domestic space, from the contribution of four unavoidable thinkers. The point of item is that the house, so much as the street it is a collective question, and that his paper is equally structural in the form and the content of the urban thing.
Monday | 13.07.15 | Zaida Muxí reads to Jane Jacobs
Wednesday | 15.07.15 | Celia Marín reads to Hannah Arendt
Monday | 20.07.15 | Francesc Muñoz reads to Richard Sennett
Wednesday | 22.07.15 | Carmen Rodríguez reads to Walter Benjamin
The course forms a part of the programming parallel to the exhibition «Piso Piloto. Medellín-Barcelona»
Price of the entry
Precio normal: 45€
Reduced (students, Amigos of the CCCB, unemployed, retired and major of 65 years): 30 €
Those readers of veredes that want to realize the course, they will be able to choose at the reduced cost (30 €) attaching this one image to the documentation necessary for the inscription.
Búsqueda para satisfacer el conocimiento de la actividad arquitectónica y tangentes que se generan. La idea es crear un espacio para divulgar los diversos proyectos en busca de nueva inspiración y de intercambio.