The cycle of conferences Project + Investigation 3 he proposes an approximation to one of the logical processes of the ideación, to his systematizing and transmission by means of the analysis of the works of two of the relating architects of the 20th century in the use of the essential method: Luis Barragán and Alejandro de la Sota.
Both architects, Barragán and de la Sota, in an evident parallelism in the time, they exercise his teaching proyectual in both shores of the Atlantic Ocean submitting his creations to a process of constant purification. This fact allows them to re-articulate the vernacular thing with the modernity of a way independent from the language, from the form presencial, used by both.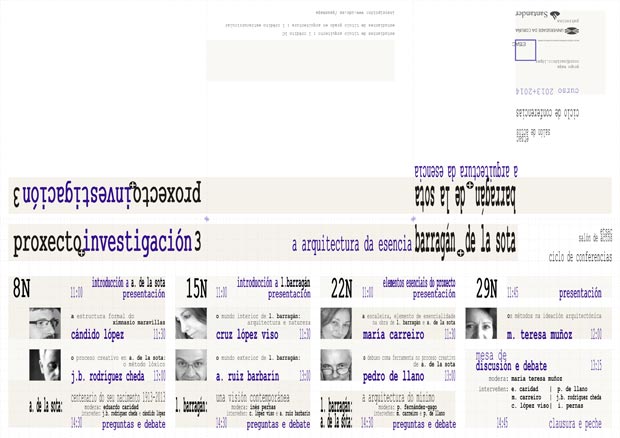 For it, one proposes the following calendar, with a double morning session of conferences of 11:00 to 15:00 hours, during every Friday of November:
1. JOSÉ BENITO RODRÍGUEZ CHEDA On November 8, 2013
The creative process in A. of the Jack: the logical method
Three you act: Gymnasium You Astonish (1961), one-family Housing Mr. Domínguez in The Caeyra, Pontevedra (1976) and Urbanization in Alcudia, Majorca (1984)
2. CÁNDIDO LÓPEZ GONZÁLEZ On November 8, 2013
The formal structure of the Gymnasium You Astonish: technological relations with two relating works: the Fronton Recluses and the Racetrack of the Operetta
3. CRUZ LÓPEZ VISO On November 15, 2013
Luis Barragán's interior world: architecture and nature
Four you act: Gardens of the Stony area (1945), House – study of Tacubaya (1947), The Groves (1958-62) and The Clubs (1962-64)
4. ANTONIO RUIZ BARBARÍN On November 15, 2013
Luis Barragán's exterior world: the neoplasticismo, the relation with Of Stijl, Rietveld and Grain. The House Gilardi (1975-77)
5. PEDRO DE LLANO CABADO On November 22, 2013
The drawing like tool in the creative process of A. de la Sota
6. MARÍA CARREIRO OTERO On November 22, 2013
The stairs, element of esencialidad: House – study of Tacubaya (1947), L. Barragán and He Marries Arvesú (1955), A. de la Sota
7. MARÍA TERESA MUÑOZ JIMÉNEZ On November 29, 2013
A space of discussion and / or reflection
Búsqueda para satisfacer el conocimiento de la actividad arquitectónica y tangentes que se generan. La idea es crear un espacio para divulgar los diversos proyectos en busca de nueva inspiración y de intercambio.