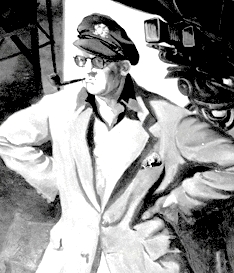 In this series on the relations between constructing a building and rolling a movie that I have titled Arquitectos and filmmakers, after having assembled texts of other directors, as René Clair, Amos Gitai and Ingmar Bergman, now there touches the shift the great John Ford who, when they were asking him if it was improvising in the set, was affirming that it was doing it rarely because it was bringing already prepared the movements of chamber and was comparing this preparation with the architectural project:
«What would think you about an architect who was coming to his building and did not know where to put the stairs? A movie "does not "consist" in the set; a predetermined composition is applied to the movie».
Ford was continuing with the comparison between the creation of a movie and a building:
«It is erroneous to compare the director with an author. It looks like more an architect, if it is creative. An architect conceives his planes from certain given premises: the purpose of the building, his size, the area. If it is intelligent, it can realize something creative inside these limitations " and it was finishing justifying itself for not achieving a masterpiece in each of his movies: " The architects not only create monuments and palaces. Also they construct houses. How many you marry are in Paris for every monument? The same thing happens with the movies. When the director creates a small jewel occasionally, an Arch of the Victory, it has the right to do more or less current movies».
Jorge Gorostiza, architect. Author of the blog Arquitectura+Cine+Ciudad
Santa Cruz de Tenerife, october 2011
Doctor arquitecto, proyecta y construye edificios y desarrolla trabajos de urbanismo. Desde 1990, publica numerosos artículos sobre cine y arquitectura en medios de su localidad, revistas como Nosferatu, Nickleodeon, Academia, Lateral, Cahiers du Cinema… y en varios volúmenes colectivos. Entre el 2000 y el 2005 dirige la Filmoteca Canaria. Imparte conferencias sobre arquitectura y cine en instituciones como el CAAM en Gran Canaria, la UIMP, el CENDEAC en Murcia, INCUNA en Gijón, Fundación Telefónica, la ETS de Arquitectura y el CCCB de Barcelona, las ETS de Arquitectura de La Coruña, Sevilla, Valencia y SEU madrileña, La Ciudad de la Luz en Alicante, la UNED en Pamplona, en varios colegios de arquitectos, así como en las universidades del País Vasco, Gerona, Valladolid, Málaga, Granada, SEK en Segovia y CEES de Madrid. Jurado en varios festivales cinematográficos, como los de Alcalá de Henares (2001), San Sebastián (2002), Sitges (2003), Las Palmas (2005) y Documentamadrid (2005), y comisario de las exposiciones Constructores de quimeras. (Centro Conde Duque, Madrid, 1999) y La arquitectura de los sueños (Capilla del Oidor, Alcalá de Henares, 2001).
He publicado bastantes libros y muchos artículos, he impartido conferencias, he sido comisario de exposiciones y jurado en muchísmos festivales. Si quieren saber más no duden en consultar mi blog ARQUITECTURA + CINE + CIUDAD.