After the interesting conference of yesterday I half-close to the relation between the seat and the architecture, today we you bring over the communication of a new event the near Wednesday On May 16, since sabeis on eve of the Day of the Galician Letters, and where Cibrán Rico, Suso Vázquez (desescribir) and the photographer Luis Díaz Díaz they were presenting a new publishing Galician project Fabulatorio, publishing house that there is born in addition accompanied of space blog and own ideology and the first qualified book  "A casa do Oscar" that will present us.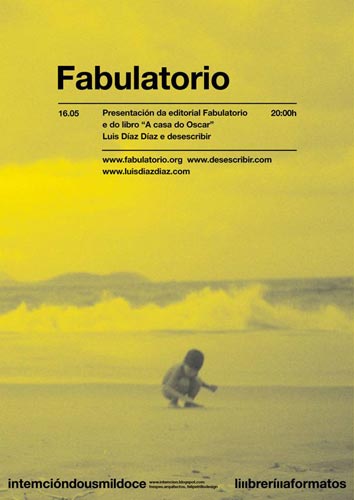 Fabulatorio é un proxecto editorial.
Fabulatorio nace como un acto de amor polos libros.
Fabulatorio é un espazo para experimentar.
Fabulatorio é un lugar para as historias que aínda non
foron contadas.
Fabulatorio é en lingua galega.
Fabulatorio é un espello de desescribir.
Fabulatorio comezará a ser na primavera de 2012.
+ intemcion.blogspot.com
Búsqueda para satisfacer el conocimiento de la actividad arquitectónica y tangentes que se generan. La idea es crear un espacio para divulgar los diversos proyectos en busca de nueva inspiración y de intercambio.