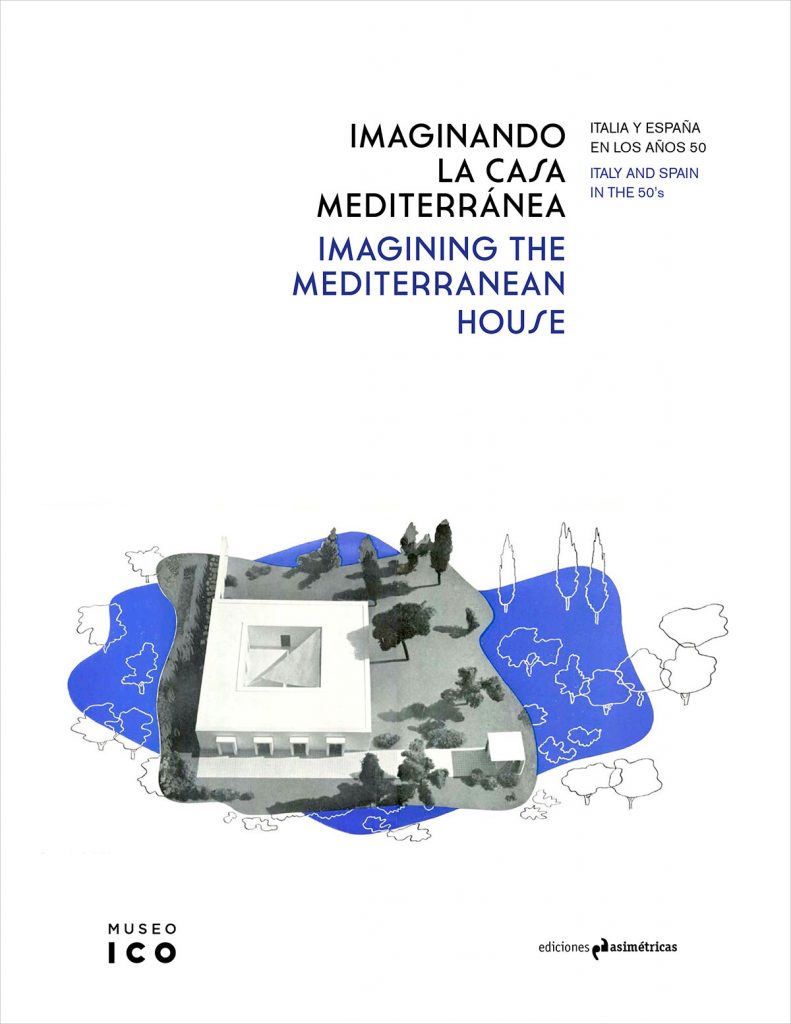 This catalog focuses on the theme of "the Mediterranean house" investigating its operational presence in a limited historical environment: the fifties. Period characterized by the decisive influence in Spain of two masters of international architecture – Gio Ponti and Alberto Sartoris – whose ideology is based on a weighted mediation between tradition and modernity.
It is a cultural project of wide scope that was disseminated mainly through an updated idea of the domestic, emphasizing the well-known typology of the "Mediterranean house"; paradigm that outlines its identity from the uniqueness of its interrelations with the environment, the use of certain materials, a peculiar distribution of interiors and the resource – also symbolic – to some figurative patterns; strategies carried out in order to satisfy the basic instances of contemporary existence, in controversial opposition despite the alienating uniformity of a mechanized urban civilization.
Through different documentary sources of diverse nature – projects, drawings, magazines, correspondence, publications and photographs – the implications of a reflection on architecture that integrates historical, landscape and anthropological approaches, as well as personal and professional contacts that are established among leading protagonists of modern architecture.
Texts by Antonio Pizza, Lucia Miodini, Ugo Rossi, Salvador Guerrero, Carmen Rodríguez Pedret, Ornella Selvafolta, Gemma Belli, Carolina B. García-Estévez, Julio Garnica, Iñaki Bergera, Angelo Maggi, Fernando Álvarez Prozorovich, Jorge Torres Cueco and Mar Loren -Méndez.
Antonio Pizza (ed.) Is Professor of History of Art and Architecture at ETSAB-UPC. He collaborates with various national and international publications on topics related to art, literature, architecture and cinema in metropolitan contexts. Some of the exhibitions and catalogs in which he has intervened as curator and editor: GATCPAC 1928-1939. A new architecture for a new city, [FAD 2007 award]; A.C. The G.A.T.E.P.A.C. 1931-1937; Architectures without place 1968/2008; Depero and the Futuristic Reconstruction of the Universe and, most recently, Imagining the Mediterranean House. Italy and Spain in the 50s (ICO MUSEUM, October 2019). His most recent books are: Milan, Paris, Berlin, Rome. The Cities of Italian Futurism. Life and modern art  [selected FAD 2015]; VV.AA., Immaginare il Mediterraneo. Architettura, Arti, Photography; Parigi and Baudelaire. Letteratura, arti e critica nella città modern; Inhabitants of the abyss. Literature, art and criticism in the Paris of Baudelaire [FAD finalist 2018] and Intersections. Urban culture, art and architecture in the 19th and 20th centuries.
Búsqueda para satisfacer el conocimiento de la actividad arquitectónica y tangentes que se generan. La idea es crear un espacio para divulgar los diversos proyectos en busca de nueva inspiración y de intercambio.