Already it is quite prepared in order that it gives I begin next 30th and 31st of January the Meeting Point's second edition lignum, Find Online of Innovation in Madeira, which organizes the network Lignum Facile, project led by the Cluster da Madeira of Galicia. The principal topic of this year will turn environment to the Time of the social architecture, where out-standing architects will expose his real time works. The point of meeting will be across the portal www.meetingpointlignum.com and the internauts will be able interacturar with the referees across a forum activated for this effect.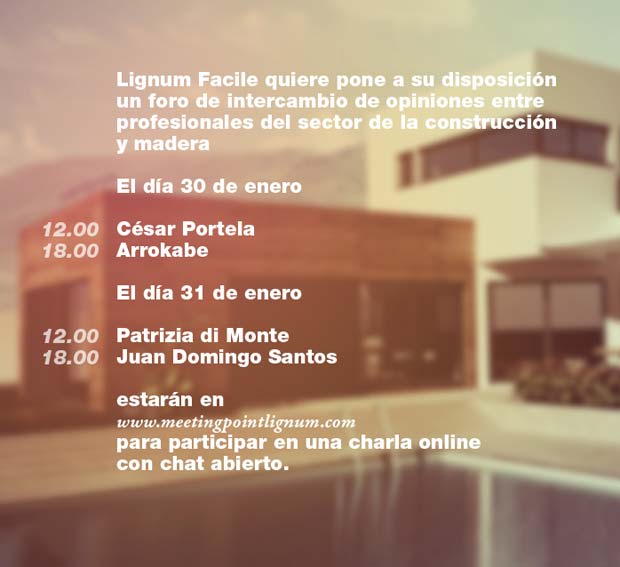 The meetings will be chargeable to Cesar Portela, one of the big ones of the Spanish contemporary architecture and National Prize of Architecture in 1999. Carry it it will offer a tour for eight of his projects realized in wood in the last years, as the bridge Azuma, Museum Toga-Mura, Walk of the Horse-shoe, Park The Toruños, Bridge Arnoia, Museum Native Tells the history, Cafeteria park Rosalía of Castro and the Center of Catoira's Interpretation.
Other one from the presentations will come at the expense of Juan Domingo Santos, Great Prize Enor 2011 for his work Museum of Lanjarón's Water, which received also last year a recognition in the Biennial show VIII Latin-American of Architecture and Urbanism. In addition, recently the international contest has gained with Álvaro Siza Porch of the Alhambra.
The study Arrokabe Arquitectos will realize an exhibition across his more typical works in rehabilitation and sustainable construction, I stand out where they have an extensive experience and in the one that they have been recognized by numerous award winners. In addition, at present they form a part of the itinerant exhibition Metagénesix. Architecture of Galicia nongoes, taking part in cycles of conferences in Lisbon, A Coruña and Santiago de Compostela.
Finally, Patrizia di Monte he will present the initiative This is not a lot, action that it carries out with the Town hall of Saragossa to rehabilitate left lots providing them with value across the use of sustainable materials and revitalizing marginal zones.
To take part in these meetings, only it is necessary to connect across the web page to follow live the presentations. The purpose is to create a forum of knowledge in which they give themselves constructive sustainable solutions.
Búsqueda para satisfacer el conocimiento de la actividad arquitectónica y tangentes que se generan. La idea es crear un espacio para divulgar los diversos proyectos en busca de nueva inspiración y de intercambio.