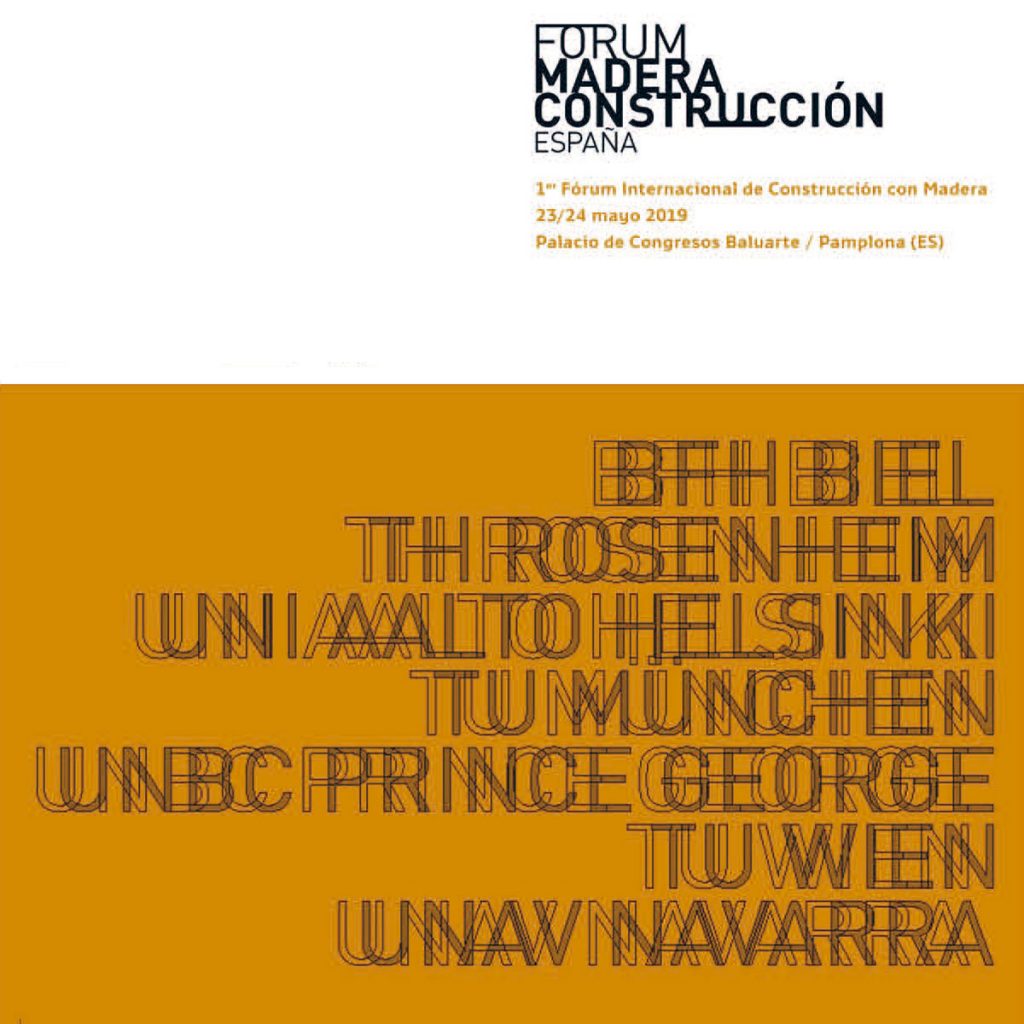 The 1st International Forum of Construction with Wood arrives in Spain, organized by the FORUM HOLZBAU platform.
The next International Forum of Construction with Wood, organized by the Forum Holzbau platform, in collaboration with the Chair of Wood of the University of Navarra, will be held on 23 and 24 May 2019 at the Baluarte Conference Center (Pamplona).
It is undoubtedly a fundamental appointment for anyone who wants to know first hand the development that is having the construction sector with wood in our country and around the world.
It is a congress focused eminently on technical and practical issues, focused on the professional world. Parallel to a program of lectures by speakers of maximum international relevance, an exhibition of the main companies in the sector is held, where you can meet and show the latest advances in products and techniques. In addition, on the night of Thursday 23 a buffet dinner is organized to facilitate the exchange of contacts and the creation of synergies among all the participants.
The International Forum of Construction with Wood from Spain derives from the "Holzbau-Forum", the international reference congress in the sector, which has been held for decades in Garmisch (Germany) and is organized by forum-holzbau, an international platform which includes the universities of Helsinki (Finland), Munich and Rosenheim (Germany), Biel (Switzerland), Vienna (Austria) and Prince George (Canada).
In addition to the central congress of Germany, annual congresses organized by "forum-holzbau" are held in other European countries such as France, Italy, Sweden / Norway, Poland, … which Spain now incorporates in response to the growing interest that construction with wood wakes up in our country.
The Forum is addressed to all the agents involved in any phase of the construction process, and is an essential appointment for all those who are interested in the new possibilities offered by wood construction in Spain, Europe and the rest of the world.
It also gives the opportunity, both to institutions (from the Administration, Associations and control bodies) as well as professionals (from architects, consultants and engineers to technicians and operators on site) and students, to obtain and exchange information more updated on the sector.
Information and registration (limited capacity)
+ forum-maderaconstruccion.com
Búsqueda para satisfacer el conocimiento de la actividad arquitectónica y tangentes que se generan. La idea es crear un espacio para divulgar los diversos proyectos en busca de nueva inspiración y de intercambio.