DHabitat is a project of Education for the Development, which it is born in the Technical Top School of Architecture of the University of To Corunna in consortium with the association Architect Sen Fronteiras and with the economic support of the Autonomous government of Galicia of Galicia.
Between the formative activities and of awareness that they form a part of the project, the organization of a course is included given on line, titled " Habitat to Human Scale ". This course was designed by Architects Sen Fronteiras, being the educational materials realized by out-standing professionals worldwide.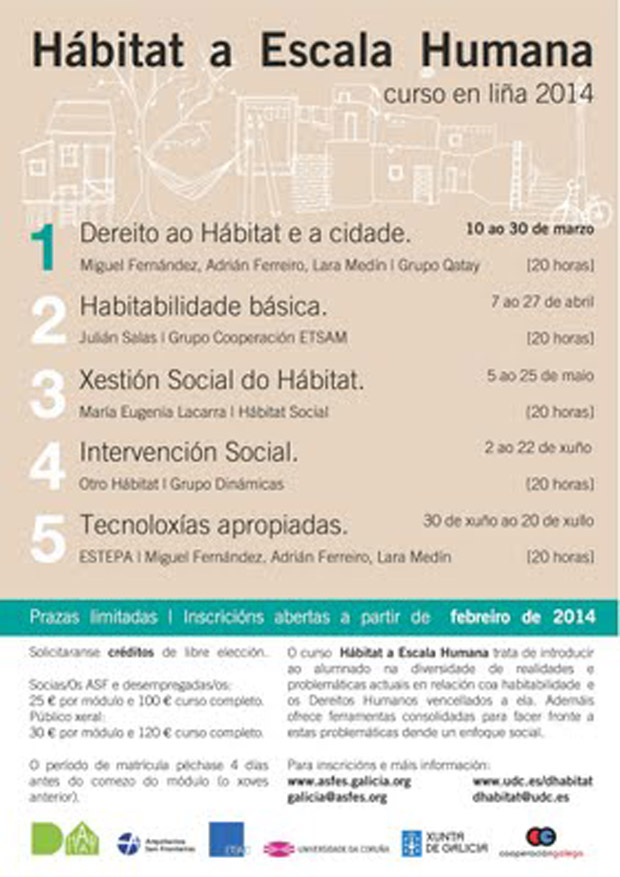 The course tries to introduce to the student body in the diversity of realities and problema'ticas current in relacio'n with the habitability and the Human rights linked to her, beside offering him tools consolidated to face these problema'ticas from a social approach. This way, there is objective of same this most ample group of population that so much in the countries least favored since in the local contexts they are not in the habit of being attended by the architecture or for other disciplines that work concerning the habitat. They treat each other about professional and even geographical areas, today emergent, generally absent in the study plans of the schools of architecture.
PROGRAM
The complete course is structured in 5 thematic modules. The school load of every module is estimated in 20h, and for the complete course 100h, so that there is foreseen a weekly dedication of 5h for or his correct follow-up. The educational materials are available in Galician and in Castilian. There will be requested credits of free choice and academic full recognition for pupils of the University of To Corunna.
MODULE 1 Law to the habitat and the city 10-30 March
MODULE 2 basic Habitability 7-27 April
MODULE 3 social Management of the habitat 5-25 May
MODULE 4 social Intervention 2-22 June
MODULE 5 appropriate Technologies On June 30 – July 20
Búsqueda para satisfacer el conocimiento de la actividad arquitectónica y tangentes que se generan. La idea es crear un espacio para divulgar los diversos proyectos en busca de nueva inspiración y de intercambio.