Circulo de Bellas Artes de Madrid. MARCH 9, from the 17,30 hrs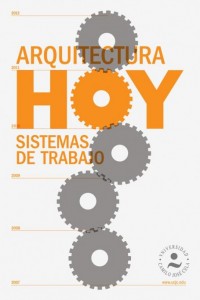 CONFERENCE 01: Share / Collaboration ·
Which means the incorporation of the strategies of produced relationship and interaction for the net when it comes to phenomenon that social behaviors not only modify but also the way of operating of architecture studies, and his marketing strategies?.
The associations' phenomenon, as a consequence of the need of adapting to an actual market saturation professional and the amount of resources required to form a new architecture study able to face for example contests, and also to keep a creative' activity 'or of investigation once finished studies.
The Share if his paradigm transformation in nightmare, Markus Miessen, has developed an exploration middle of the book, in particular of the Atlas concept, where it turns around an object that using the 'share' that is mechanisms of the net, explores the difference that new means add in our perception of the world as actual and his movements.
+ www.todayarquitecturahoy.tk
Búsqueda para satisfacer el conocimiento de la actividad arquitectónica y tangentes que se generan. La idea es crear un espacio para divulgar los diversos proyectos en busca de nueva inspiración y de intercambio.