After forty four years of his construction, Habitat 67 it continues being an architectural Utopia. This conglomerate has the value to be one of few constructions carried out in the area of the Utopias of the 50 and 60. Much more than a simple impulse to the thought of the epoch, his materialization separated it from the innumerable offers of architectures of text and paper. It is a question of a complex of housings located in Marc Drouin's wharf in Montreal, Canada. Work of the architect Moshe Safdie, Habitat 67 turned into a thematic pavilion visited by thousands of persons of the whole world and was also a temporary residence during the own Expo.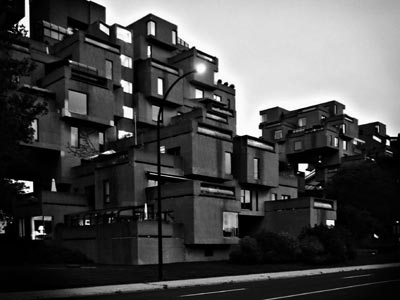 It was conceived by the aim to integrate the diversity of particular housings spread across a compact building and of high density.
[…]
+ article is published in lugadero
Búsqueda para satisfacer el conocimiento de la actividad arquitectónica y tangentes que se generan. La idea es crear un espacio para divulgar los diversos proyectos en busca de nueva inspiración y de intercambio.