Google Keep is a service offered by Google very similar to the one that offers Evernote, which consists to allow you to take notes while you sail in Internet (it is, in fact, Google Notebook's replacement, service descontinuado in 2012).
Google Keep is an available service for devices Android and for pages in Internet; the latter is available as an attaché to Google Drive (this way it is since synchronizes the notes).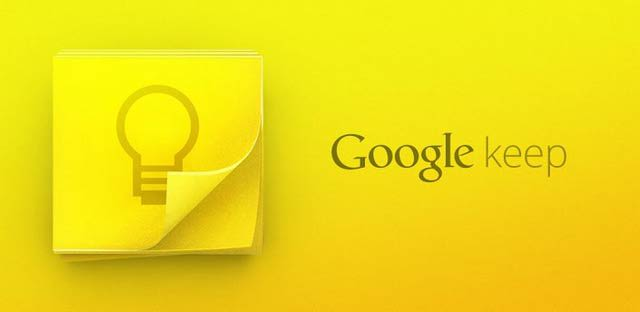 Google Keep allows to create and to organize notes introducing text, voice or images captured by means of the chamber of the used device. The notes synchronize by means of Google Drive, allowing with this to accede to them in any place across the web and to do modifications, guarding them automatically.
These notes appear to the beginning of the application of way predetermined in the shape of mosaics with the possibility of changing the type of visualization, as well as the color of every note.
Also there is had the option to file the annotations that are needed to support, concealing them of the beginning, but without eliminating them completely.
"It aims rapidly at everything what you passes for the head and receives a follow-up in the precise moment or in the suitable place. It records a follow-up of voice be where you are and it will be transcribed automatically. He guards a photo of a poster, of a receipt or of a document and organize it or find her easily later with the search. Google Keep allows you to aim what you think, to create lists and to share your ideas with your relatives and friends easily."
Captured your ideas
• It adds notes, lists and photos in Google Keep. Have you hurry? It records a follow-up of voice and Keep will transcribe it in order that you could find it later.
Shared ideas with friends and relatives
• It plans easily a surprise holiday sharing your Keep's notes with other users and editing them real time.
Finded rapidly what you need
• The notes identified by colors and the labels allow you to organize rapidly your day after day. If you need to find something that you have guarded, only you have to look for it.
Always your scoped
• You can use Keep in telephones, tablets, computers and wearables Android. Everything what you add synchronizes in all your devices in order that you could accede to your information be where you are.
Búsqueda para satisfacer el conocimiento de la actividad arquitectónica y tangentes que se generan. La idea es crear un espacio para divulgar los diversos proyectos en busca de nueva inspiración y de intercambio.